2014 All School Reunion
Sorry we have to share space, 2002 photos follow this one.

Our 1st, 100th and 200th registration Felix Pin winners.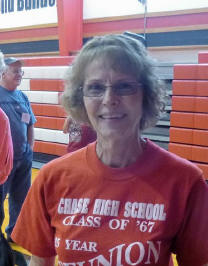 1st~~Jeri Kopfman Vonda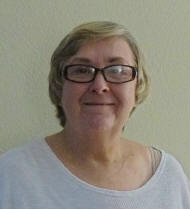 100th~~Marilyn Dupont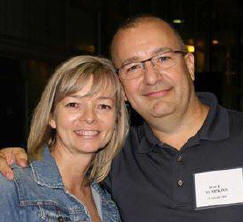 200th~~Robin Lumpkins Butler
Atrium Area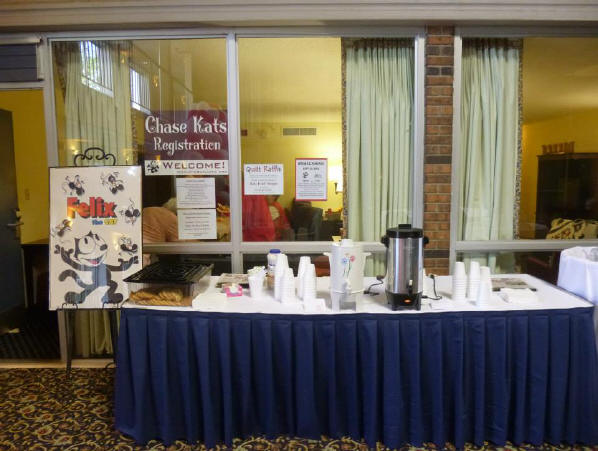 Registration Room and Coffee table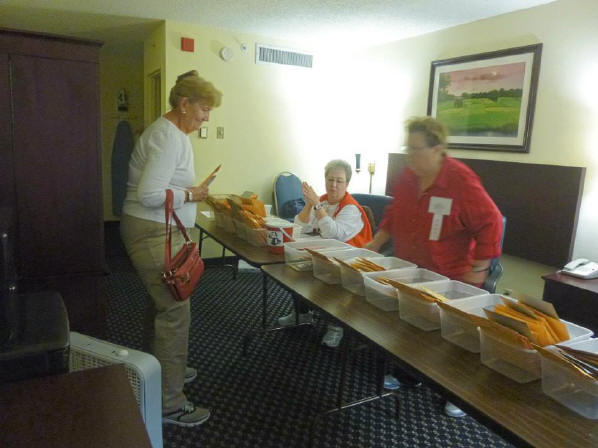 Paula Bliss Bieberle & Pat Werther Douglas working hard.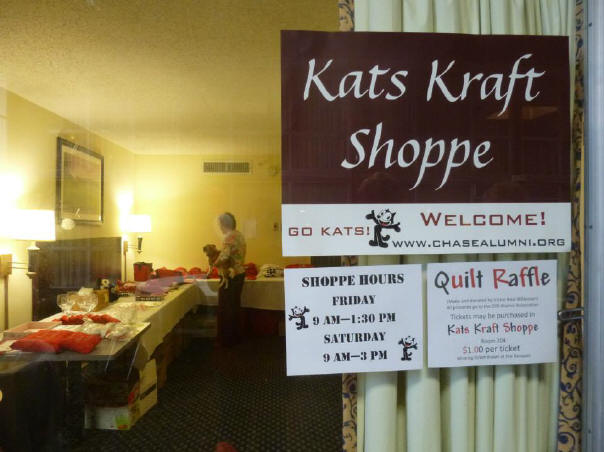 Kats Kraft Shoppe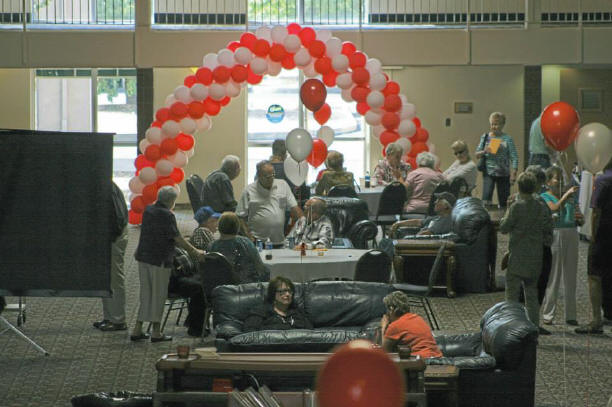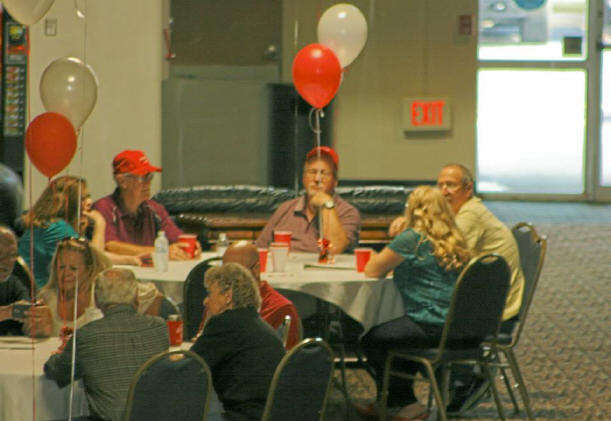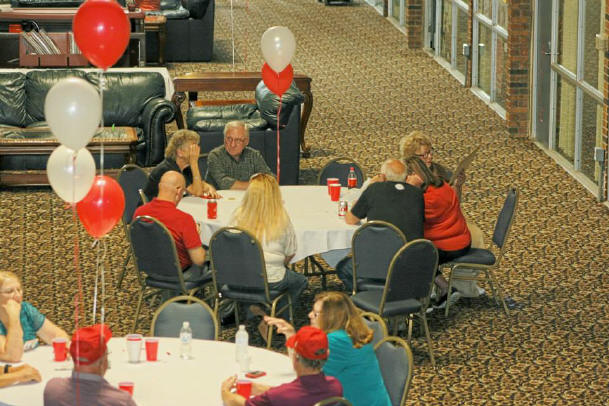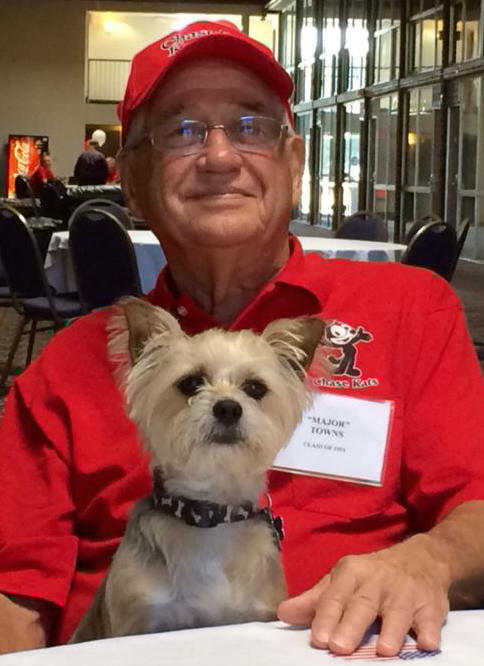 The Atrium mascot and watchdog, Danner
along with Major Towns
Thursday Burger Night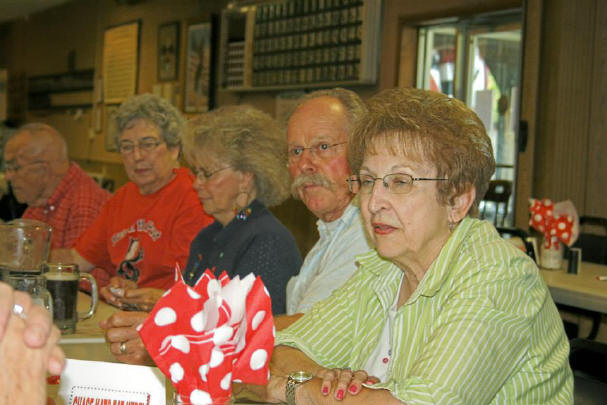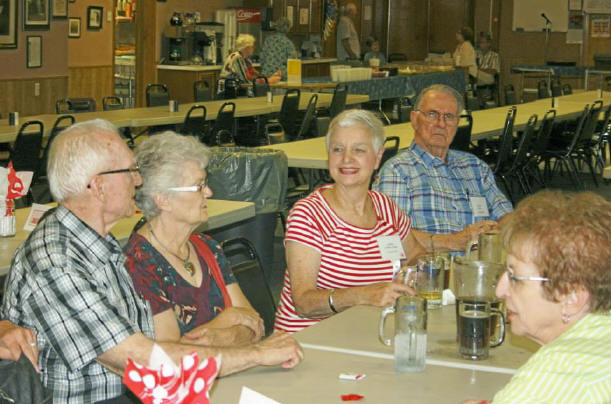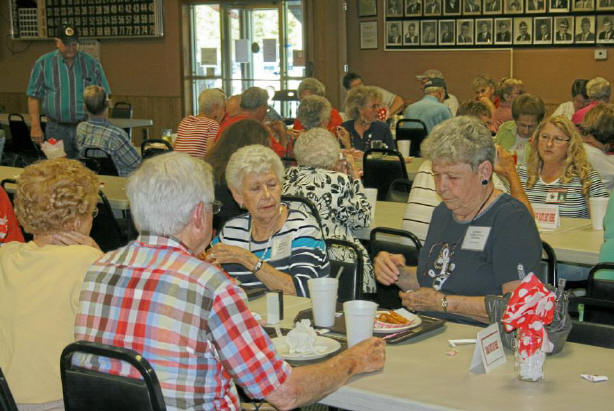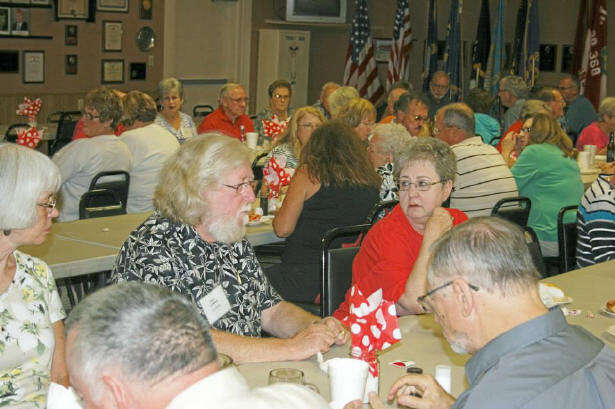 BBQ before Homecoming Friday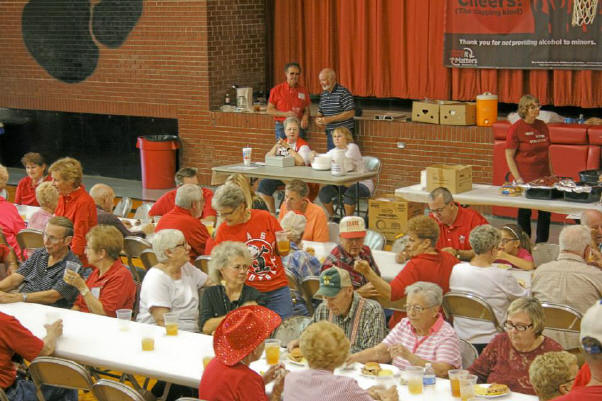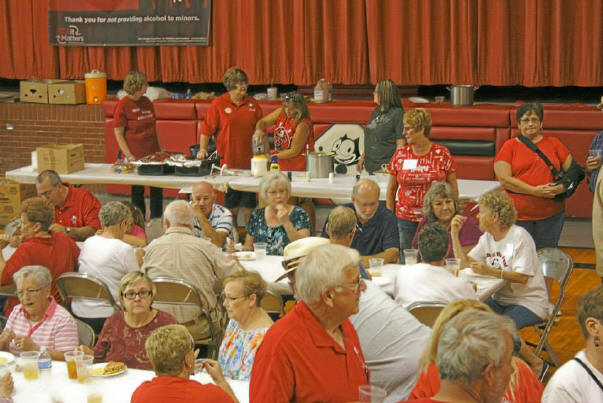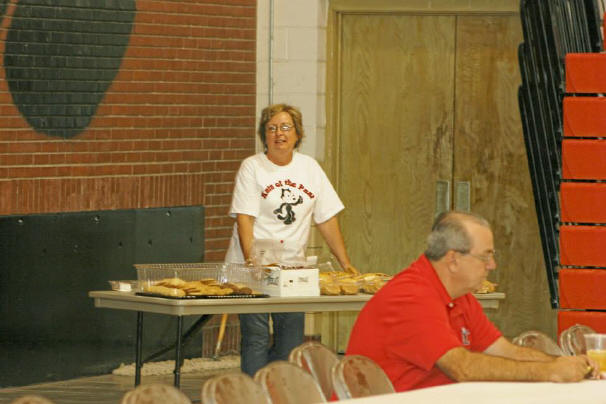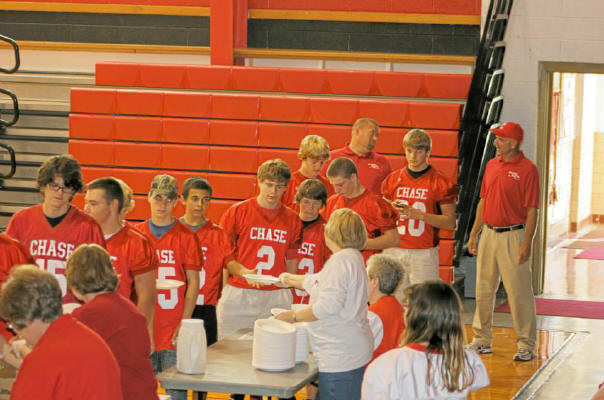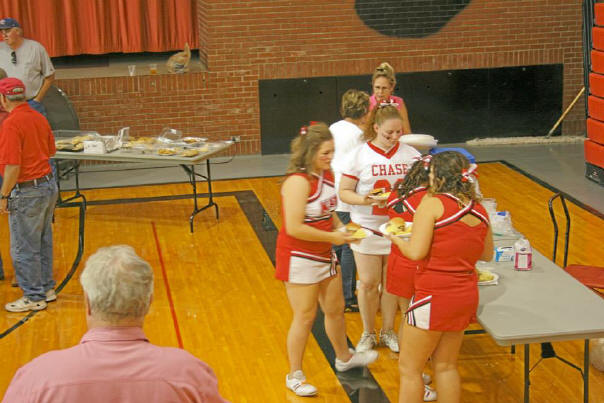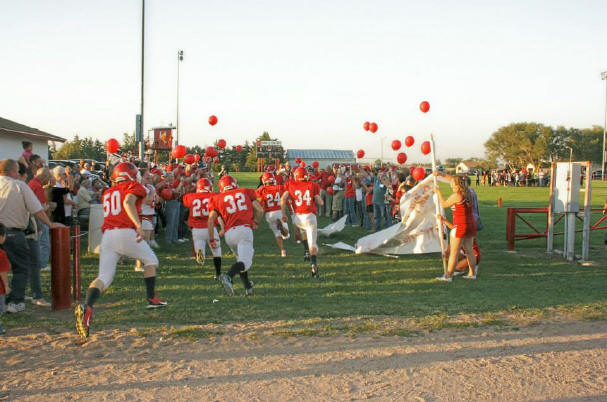 Saturday afternoon alumni meeting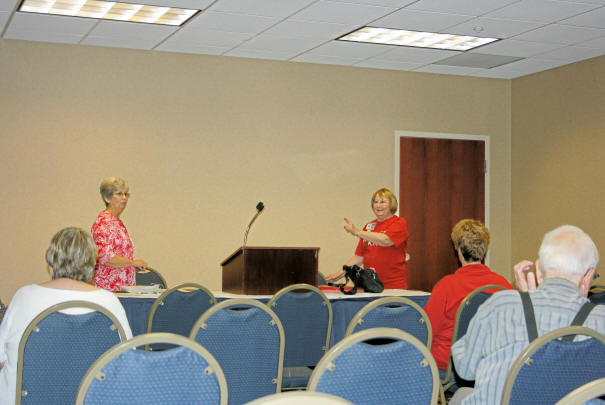 Waiting for time to start.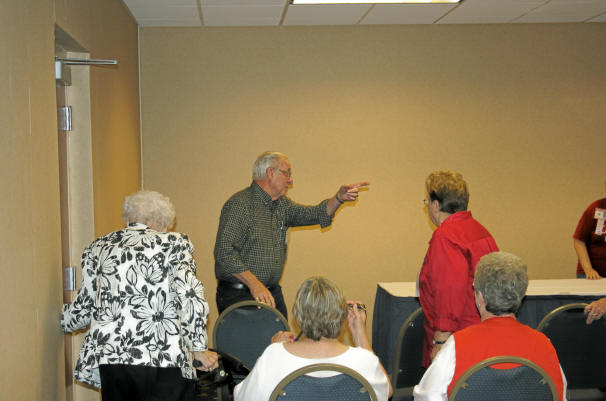 Hope he is shaking that finger at Vickie.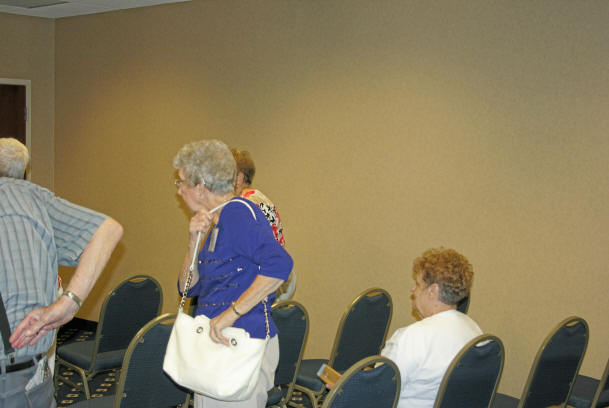 You really need to attend this meeting if you are able. We keep it brief
but catch up on business and have election of officers. Have a say on
who is in office. And we like your input.
Saturday night Banquet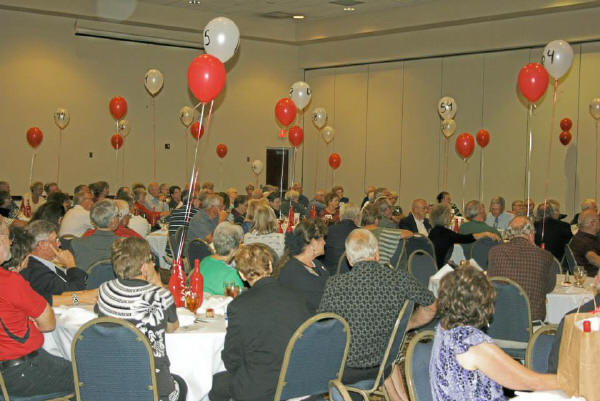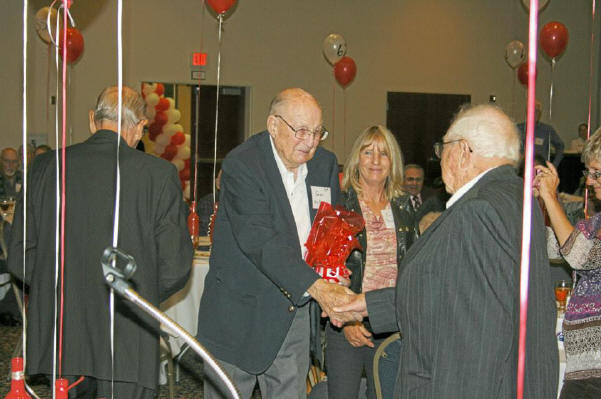 Gene McFarland presented the oldest alumni gift by Alvin Heine.
Felix mug filled with Hersey kisses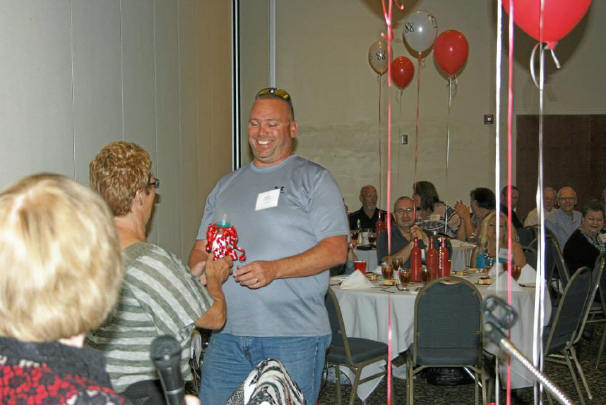 Mark Coffman presented the youngest alumni gift by Janet Kirsch Gray
Felix baby bottle filled with M&M's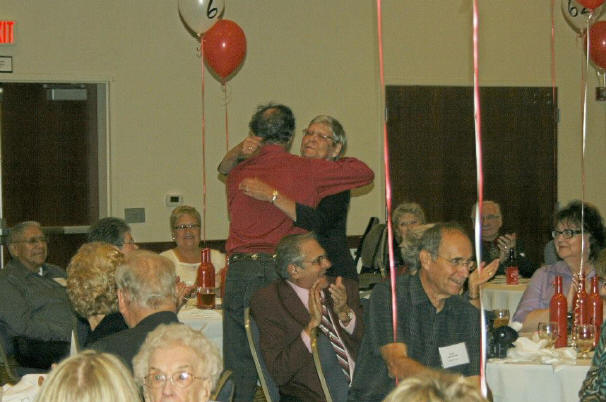 Mary Taylor Johnson presented with Award for Service
on alumni Committee by Gerald Cole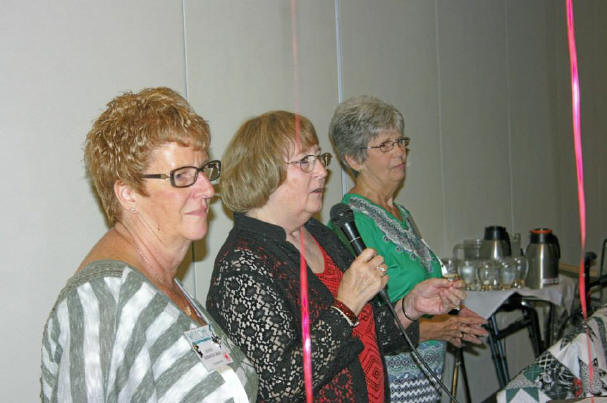 Janet Kirsch Gray, Sherry Bliss Cole, Vickie Neal Wilkerson
announcing winner of quilt made and donated by Vickie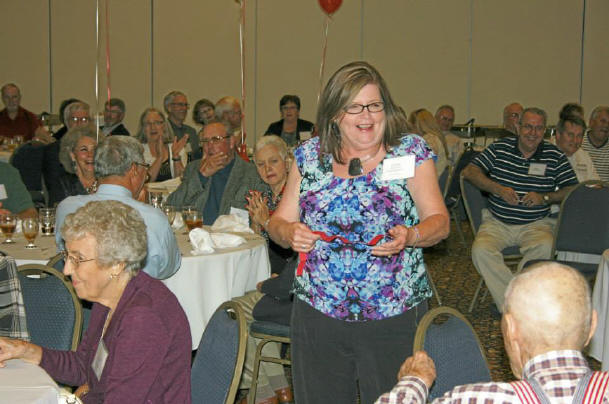 And the winner of the quilt is Debbie Denney Easterling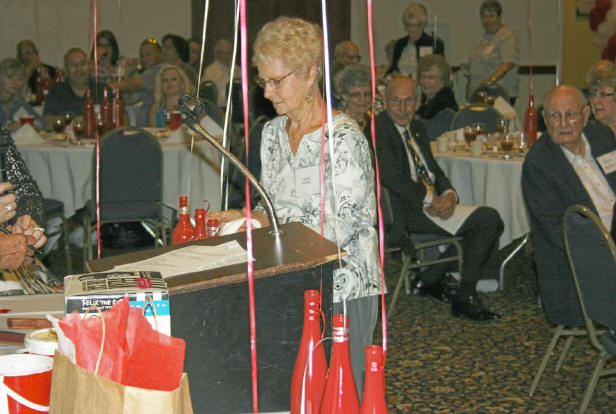 Nadine Fuller wins Felix watch, each winner chose a balloon to pop to see which prize they got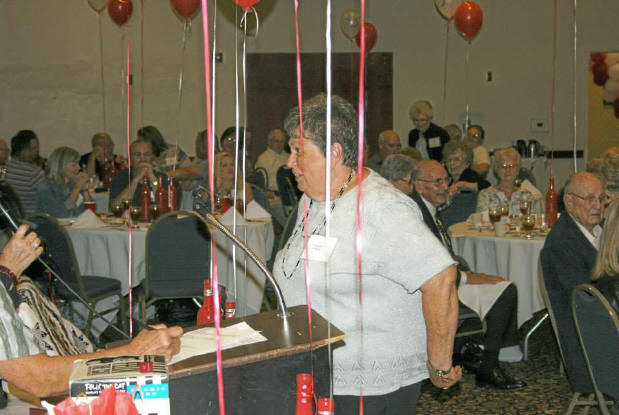 Peggy Ashley wins $20.00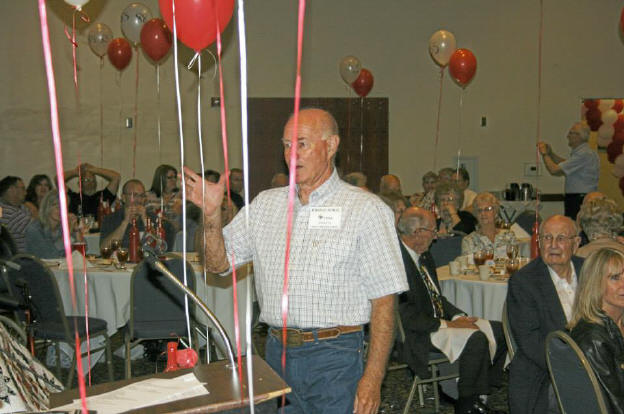 Harold Goble wins $20.00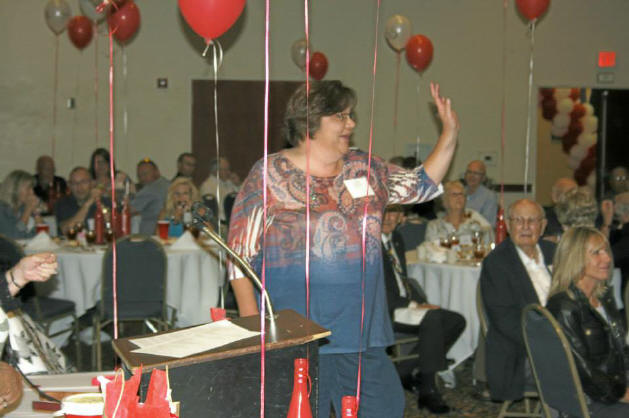 Jackie Messick Pryce wins $20.00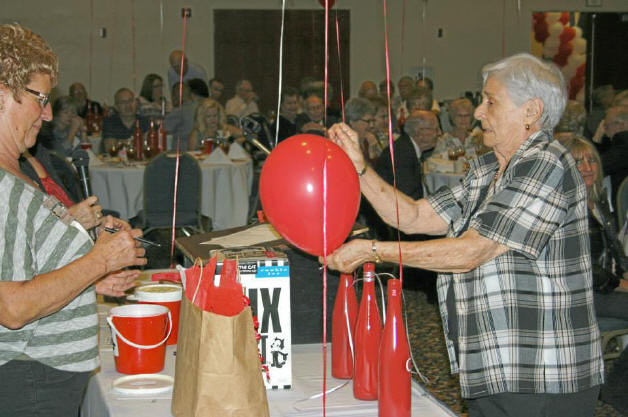 Ella Mae Sharpe wins the Felix cookie jar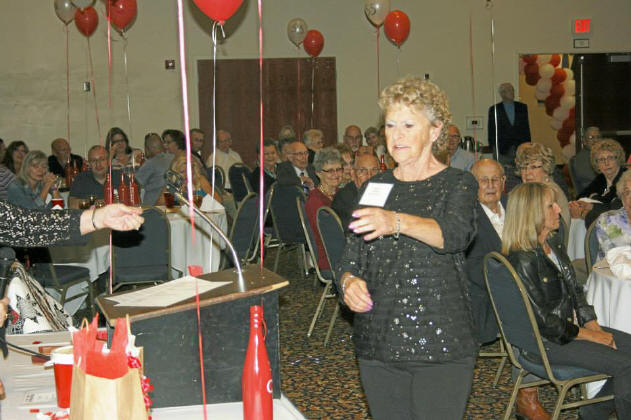 Marcia Tharp Alexander wins Registration returned. $40.00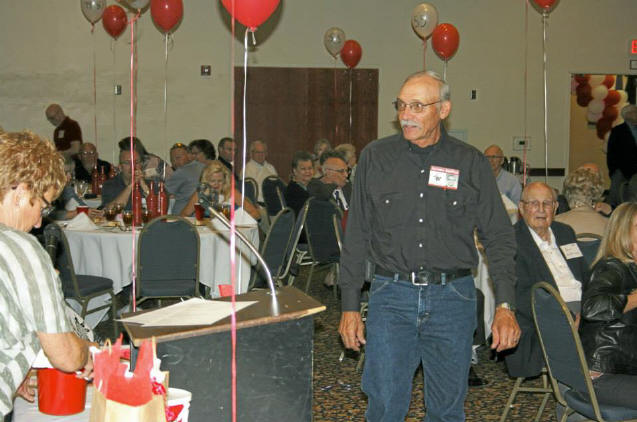 Jerome Steffan wins donated gift bag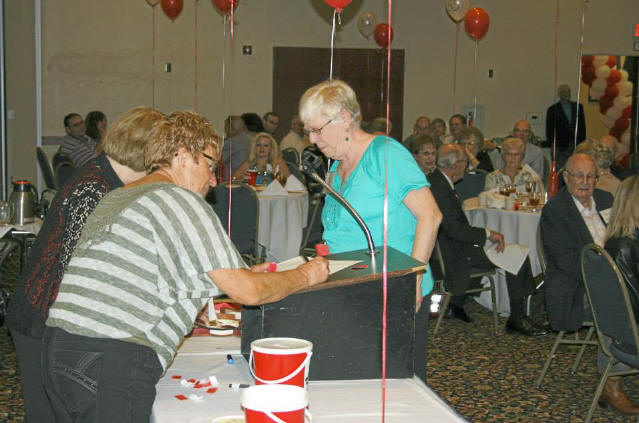 Jean Lindsay Sink wins a donated wooden wall hanging made by Jay Laessig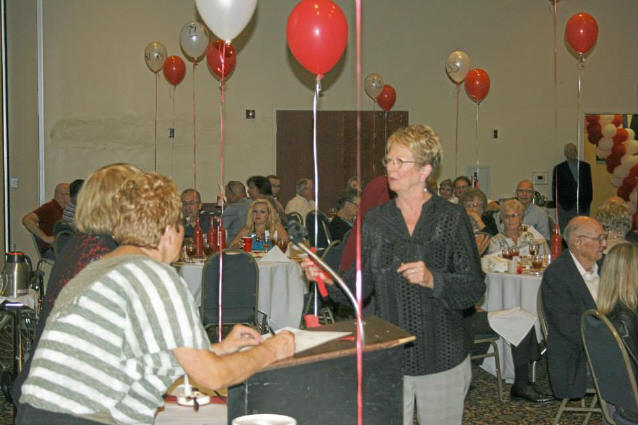 Barbara Kuster Cordill wins a donated wooden wall hanging made by Jay Laessig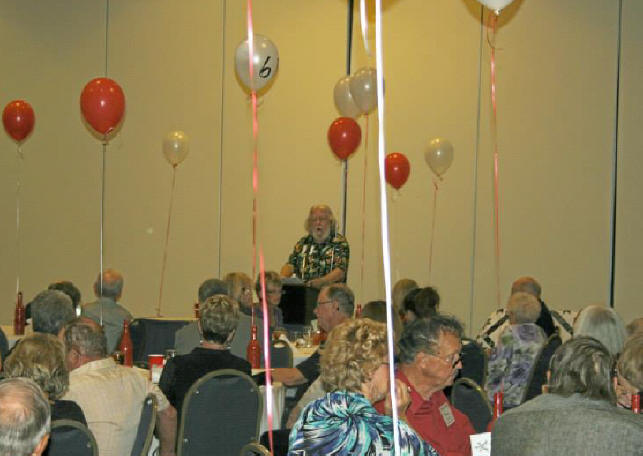 Don Lindsay sharing a special reading, The Back Nine, with his spin on it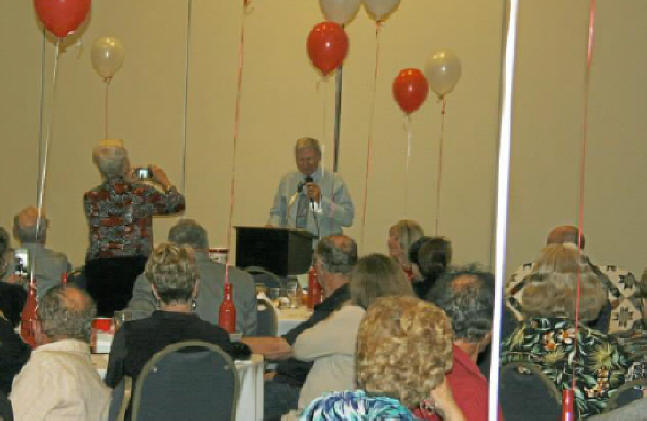 Randol Walker give Final Thought
Shake your booty to Jimmy Dee and the Fabulous Destinations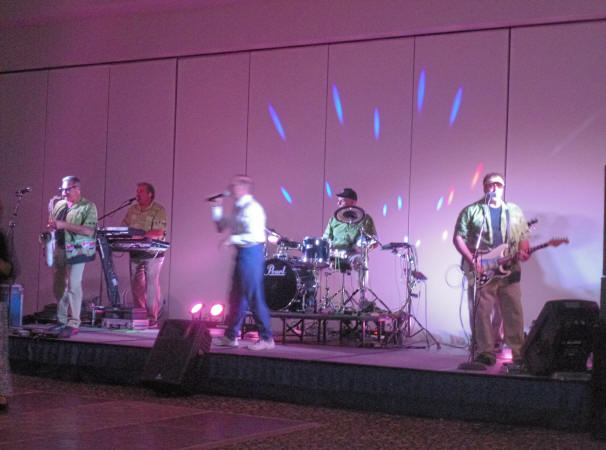 Jimmy Dee and the Fabulous Destinations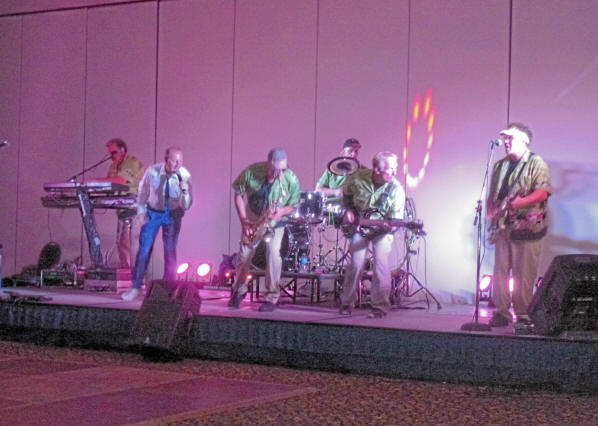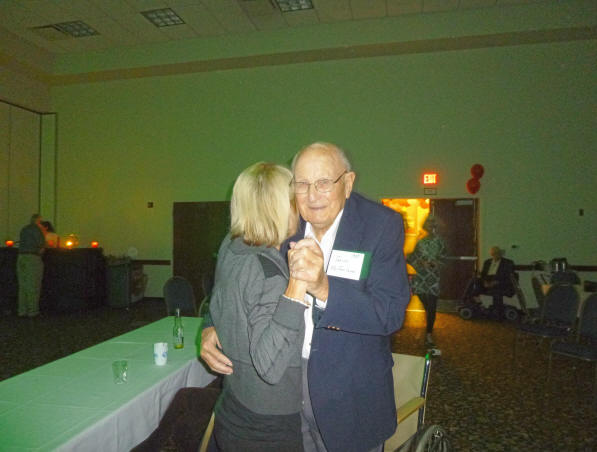 Gene McFarland, age 94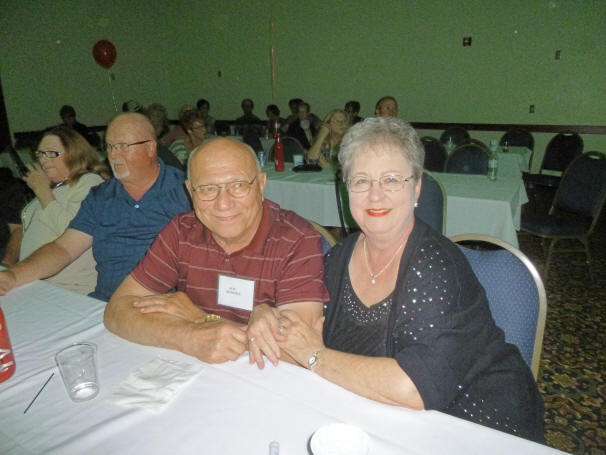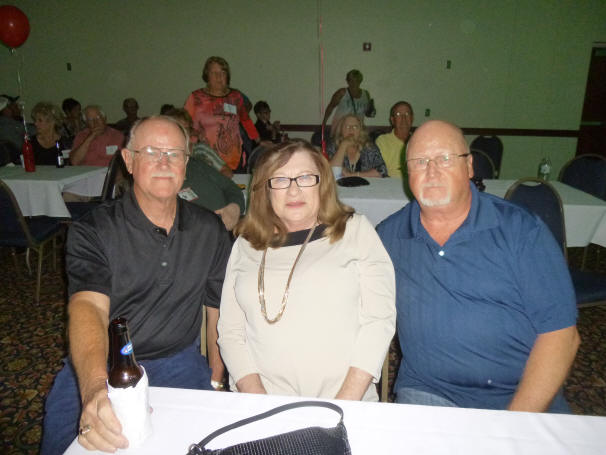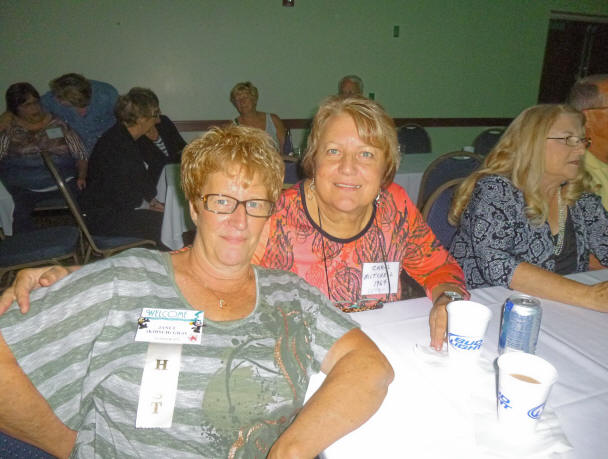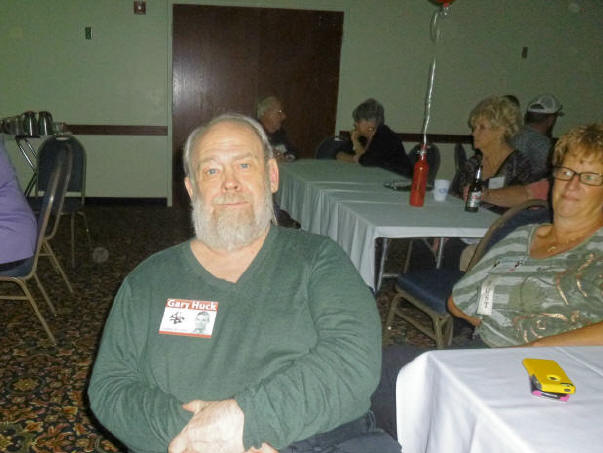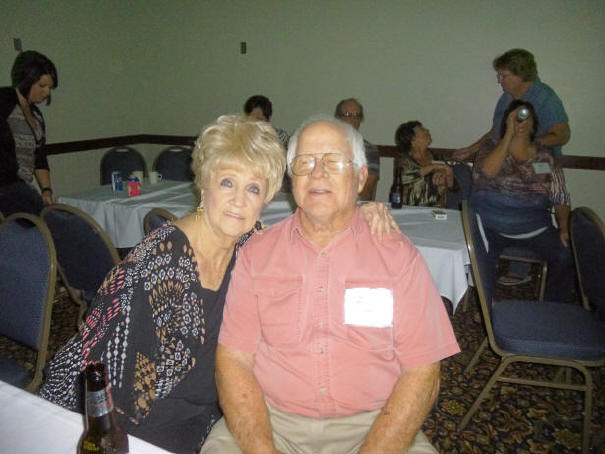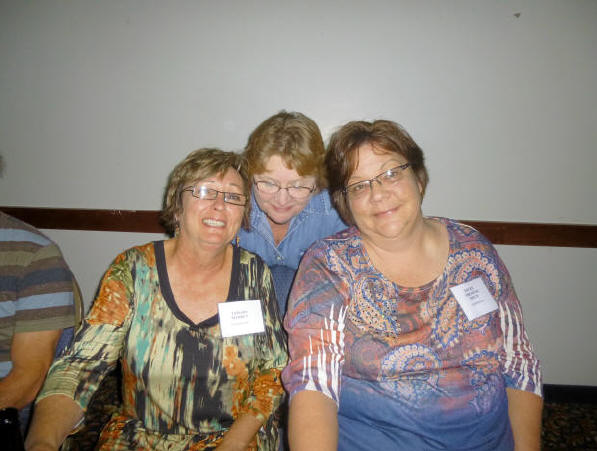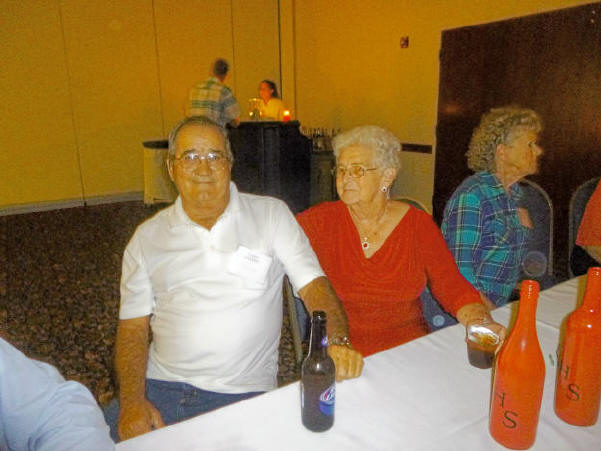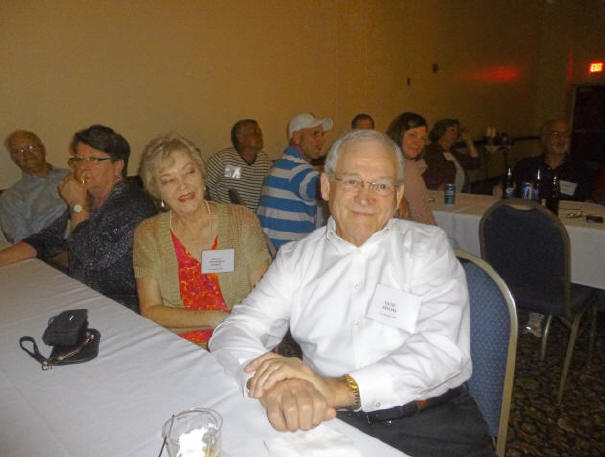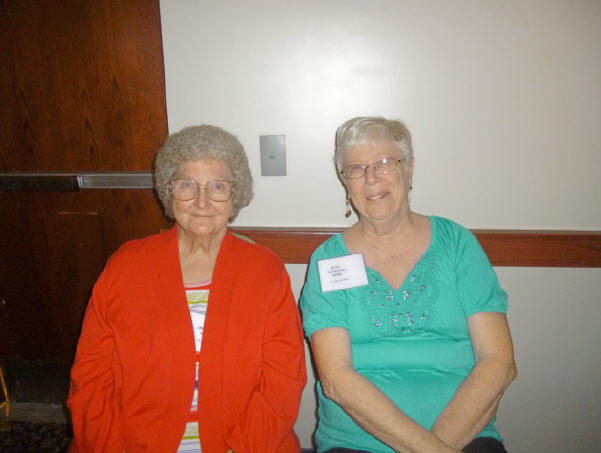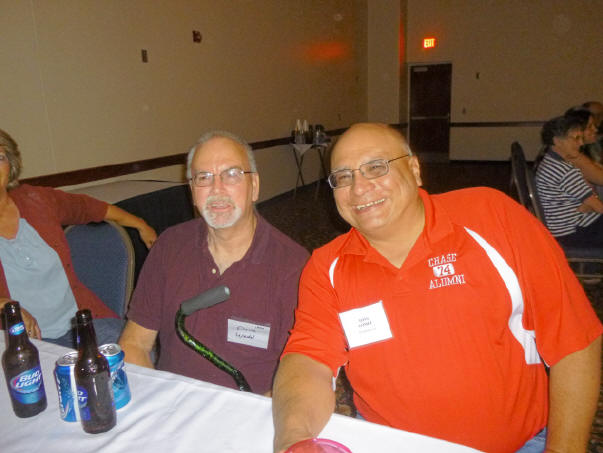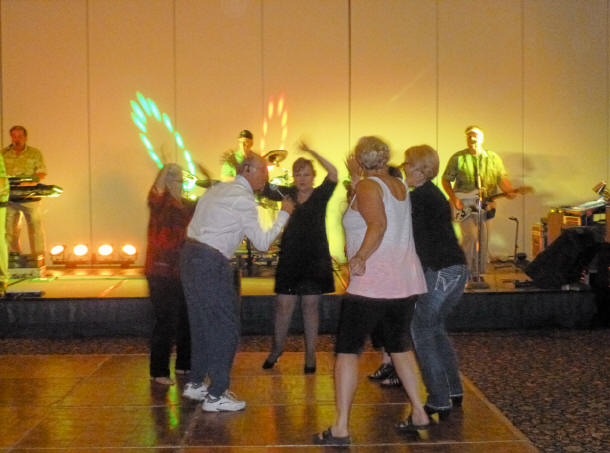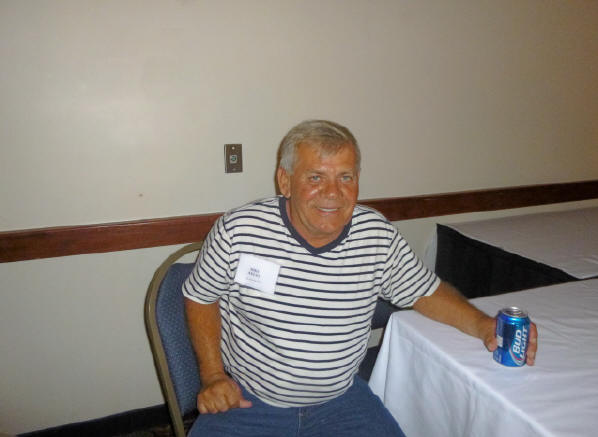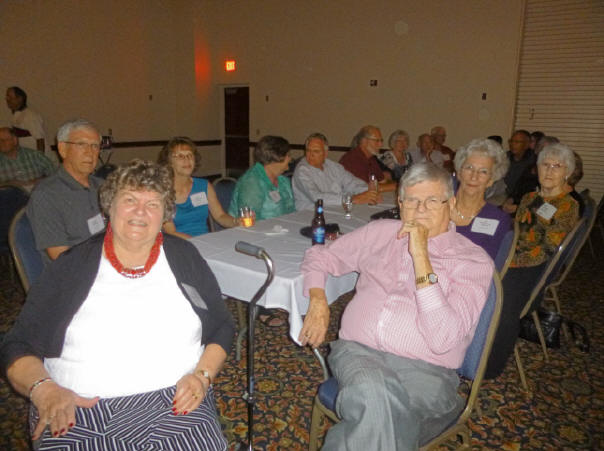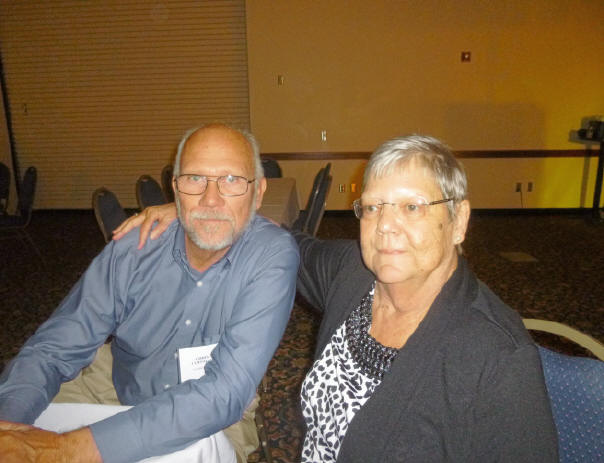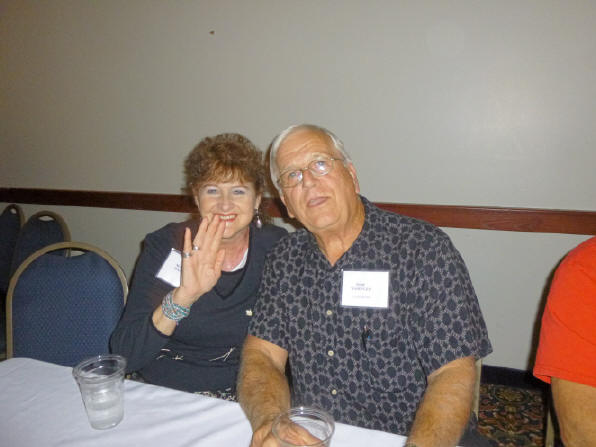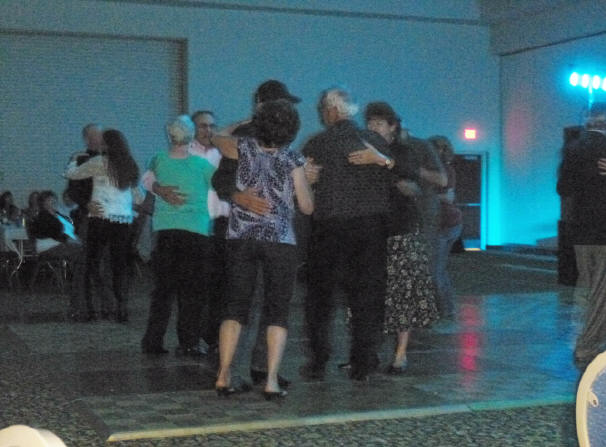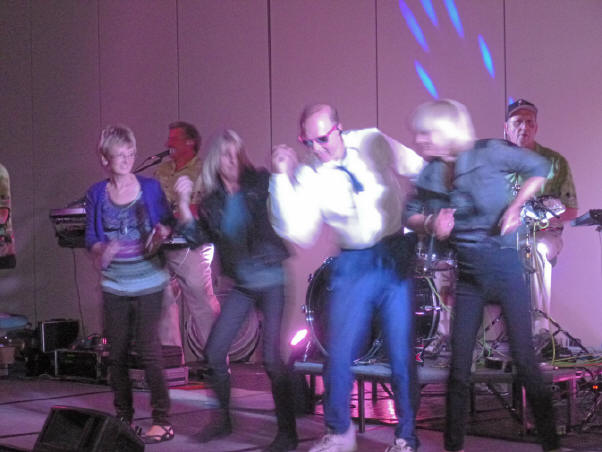 Sunday Chapel Service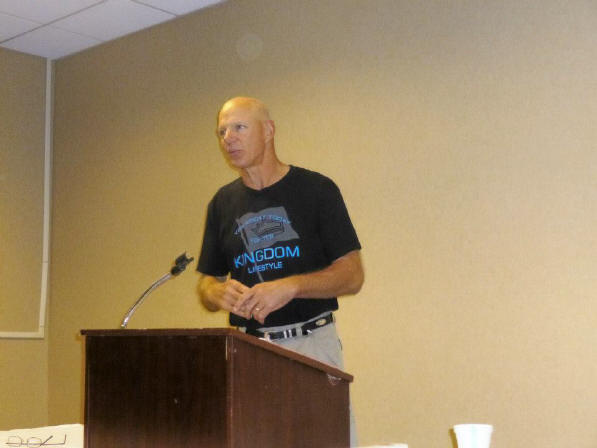 Paul Coffman conducting the service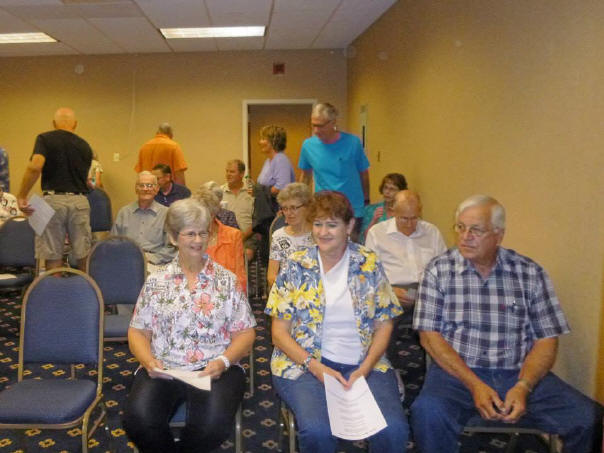 Filling up and had to find more chairs to bring in
Class Photos
Class of 1938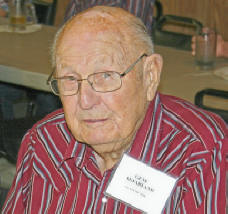 Gene McFarland
Class of 1943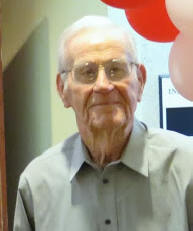 Jim Sharpe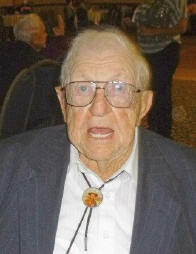 Alvin Heine
I could not find one of Jud Dupy
Class of 1944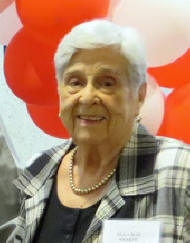 Ella Mae Sharpe, I could not find a photo of Betty Browning Fulton
Class of 1951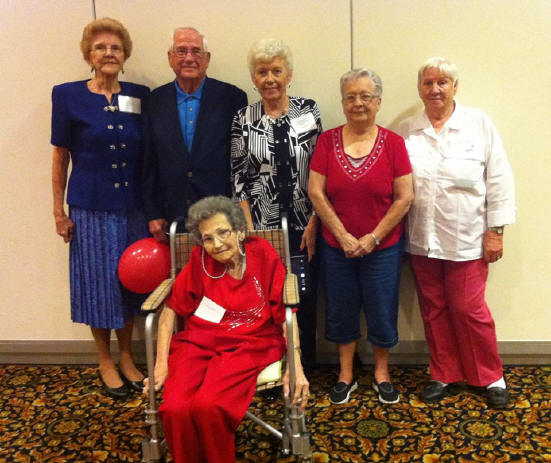 Ann Harman Price, Major Towns, Barbara Purkeypyle Grob, Evelyn Eachus Thornton,
Norma Hembree Keller, sitting Linda Smith Colberg
Class of 1956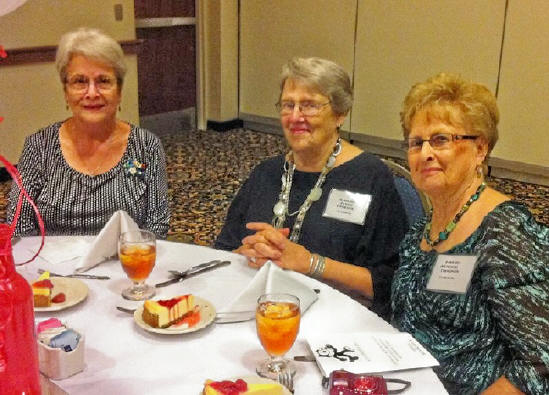 Patricia "Pat" Lindsay Towns, Barbara Payne Pomeroy, Barbara Deweese Thompson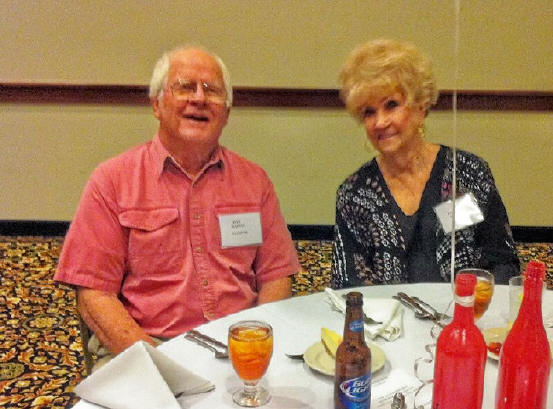 Dan & Barbara Martin
Class of 1958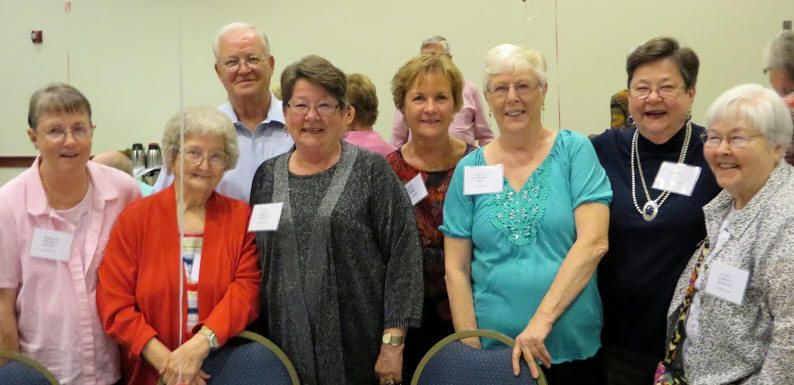 Marilyn Pierce O'Hara, Patsy Hembree McCoy, Larry O'Hara, Sue Milsap O'Hara,
Deanna Link DeVore, Jean Lindsay Sink, Ann Milsap Wood, Janice Ashley Darling
Class of 1959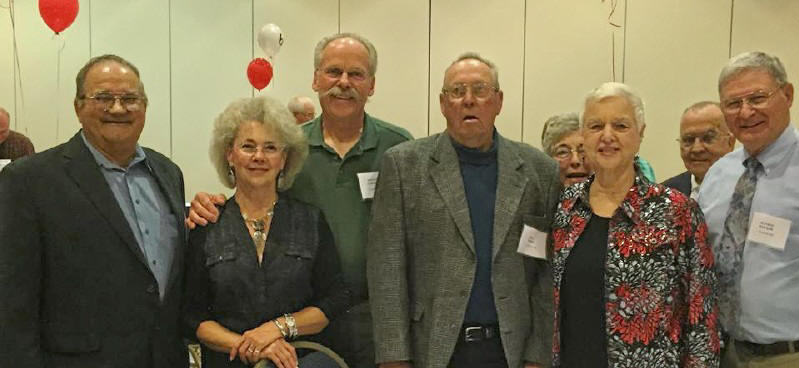 Curt Gillespie, Sharon Lawler (Kenny's wife), Kenny Lawler, Max Tharp, Linda Long Ross, Randol Walker
Photo bombing in the back, Marsha Long Wierman & George Ross (Linda's husband)
Class of 1964

Carol Malone Goble, Dick Keesling, Judy Stroup Albin, Allen Koen, Carol Kirsch Mitchell, Karen McGee Gilkey,
Patty Link Lewis, Kenny Malone, Sue Spangler York, Gary Huck, Marilyn Dupont, Jerome Steffan, Sherry Bliss Cole
Class of 1969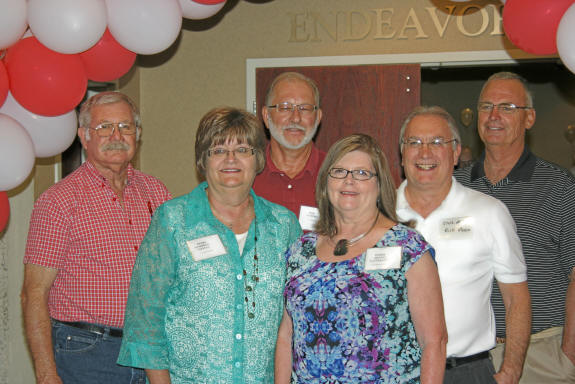 Chuck Gray, Debby Schmidt Steffan, Bob Kopfman, Debbie Denney Easterling, Rick Kloxin, Jim Campbell
Class of 1970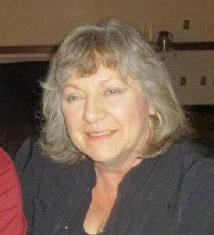 Ann Malone Kopfman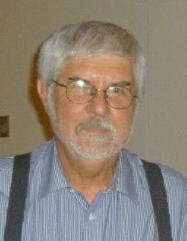 Glenn Heine
Class of 1972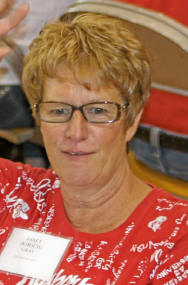 Janet Kirsch Gray
Class of 1974

Back row, Vencette Pfister Maclaren, Jacque Wiens, Mick Doll, Paul Coffman, Tony Gomez, Mike Kelso, Pam Denney Light
Frone row, Janice Mortimez Werner, Chrystal Ball Miller, Cindy Coldwater Hollembeak, Karen Jones Cowley, Beatrice Martinez Olsen
Class of 1975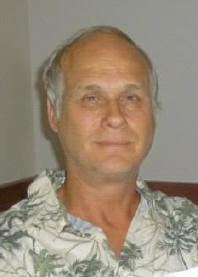 Richard Fiedler
Class of 1976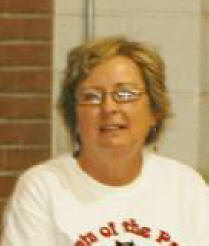 Tamara Madden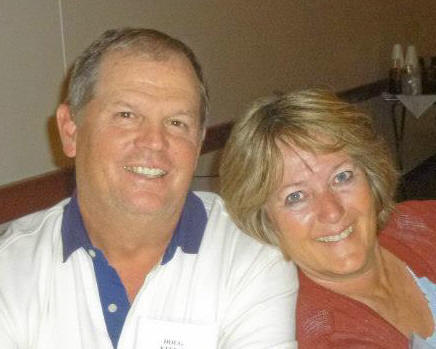 Doug & Nancy Eberhart Kizzar
Class of 1977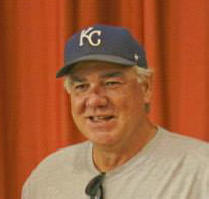 Bo Messick
Class of 1979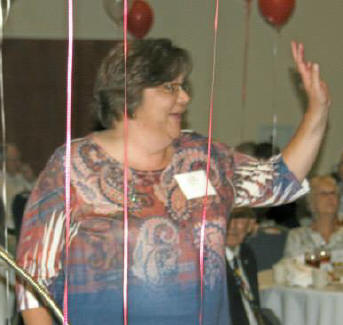 Jackie Messick Pryce
Class of 1984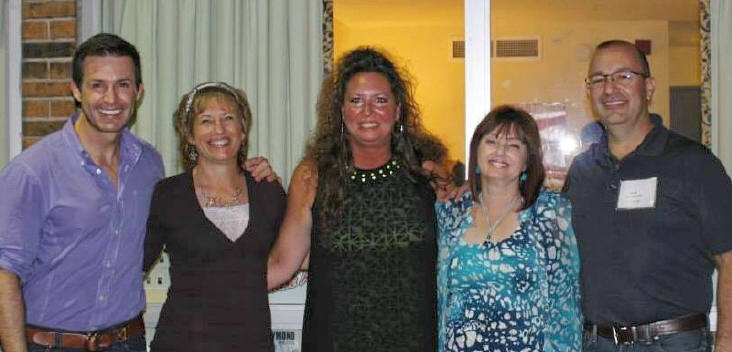 Tom Ingham, Tina Wilkerson Andrews, Jeanette Klima Rasumssen, Charlotte Patterson Larsen, Dale Lumpkins
Class of 1988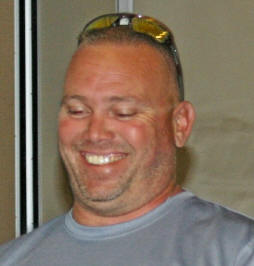 Mark Coffman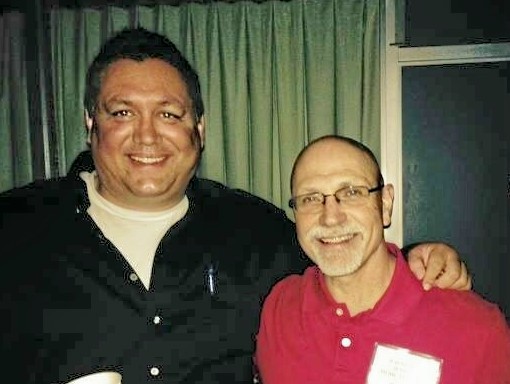 Eric Klima with Raymond Jump, former teacher and sponsor
Wish I could have posted all the photos that were shared with me but space is limited.
Thanks to all that shared photos.

<![if !vml]>

<![endif]>
Don't forget - I encourage you to contact Paul Miller to get a copy of the wonderful CD he has put together. It is of special interest to the classes of 1950-51-52. He will copy one for you for $3.00. This is a terrific collection of class pictures, class activities and some miscellaneous pictures collected from members of these classes. Also included are pictures from the 2002 All School Reunion and the reunion these classes held in Red River NM last summer. With Paul's permission I have included some of the pictures on our Reunion 2002 Pictures page. Someone help me identify the folks I don't recognize. Some of the older pictures from school days will be included on another page later. EVERYONE would enjoy this CD. Paul's e-mail is plmillerpe@attbi.com
These pictures were shared by Paul Miller:
(please help me identify those folks I don't recognize).
Paul Miller, Phil Pulliam, Floyd Bayer, Nadine Moore Dreiling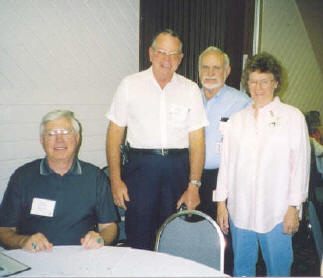 PART OF THE 1950-51-52 GROUP, Edwin DuBose, Jean Dickson DuBose,
Mary Jo Hiebert, Jackie (Mrs. Joe) Golden: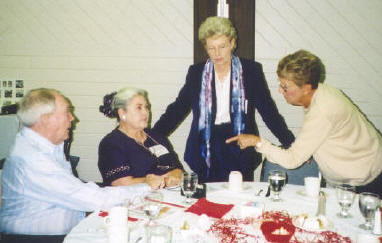 Jim (Spunk) and Colleen McPherson Taylor and Janice Foote Peterson: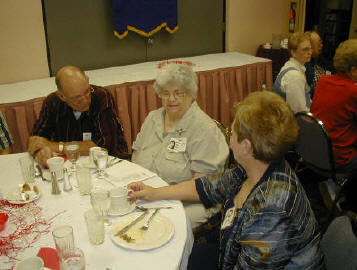 More of the 1950-51-52 group: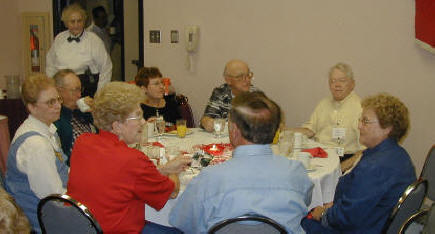 Birthdays were celebrated: Joe Golden, Marion Peterson, Twila Coffey Flowers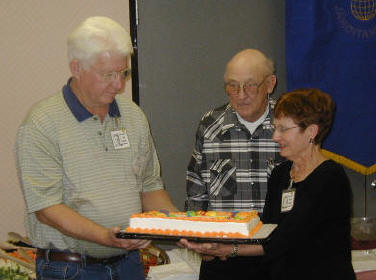 1952 group at the banquet: Joe Golden, Twila Flowers,
Carl Ashley, Janice Peterson, Floyd Bayer, Muriel Elchuk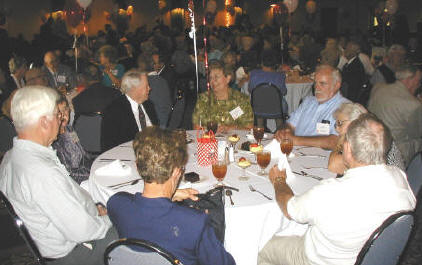 1952 CLASS GROUP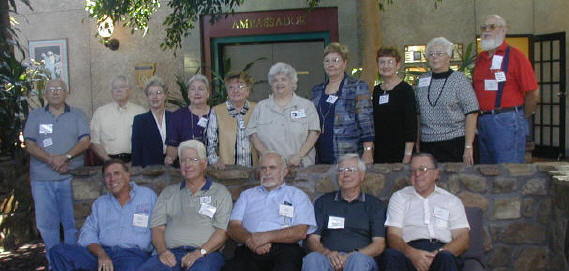 TOM HALFAST, PAUL MILLER, BILL BROWN: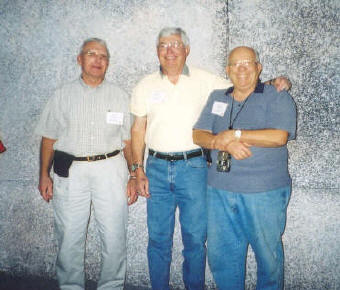 CLASS OF 1952: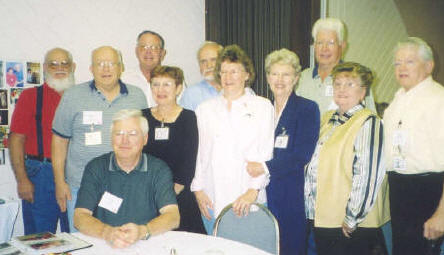 THIS PICTURE SHARED BY CHUCK AND JANET GRAY:
1969 CLASSMATES: Jim Campbell, Chuck Gray, Brenda Koehne King, Rick Kloxin, Janie Steffan Haxton, Debbie Schmidt Steffan, Debbie Denney Winkelman, Art Younkin, Dorothy Link Lamb, Bob Kopfman.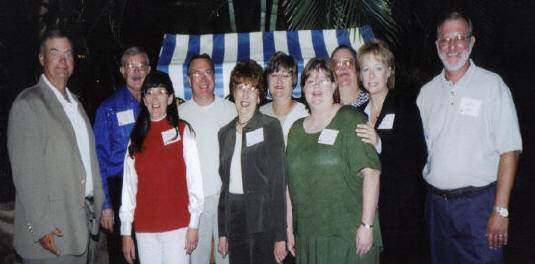 "GULF CAMP KIDS" ATTENDING THE COFFEE AT THE REUNION

Mary Taylor, Irene Adams, Gene Adams, Paul Miller, Bill Brown, Carl Ashley, Tom Halfast, Jim (Spunk) Taylor, Gene Haas, Joe Golden
Colleen McPherson, Ardela Wintz, Roberta Halfast, Margaret Taylor,
________ McClure, Maple Taylor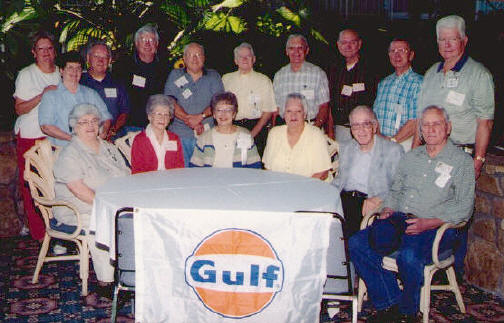 Thanks to Sandy Richardson Hodnett for sharing these:
Jim Hodnett, Sam Richardson and Carla Garman Hill: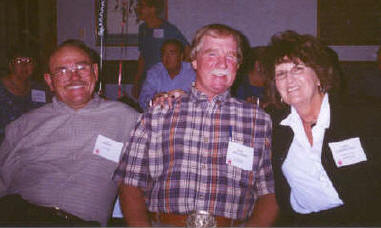 CHSAA President Gene Haas handing out
Certificates of Appreciation to Reunion Committee members.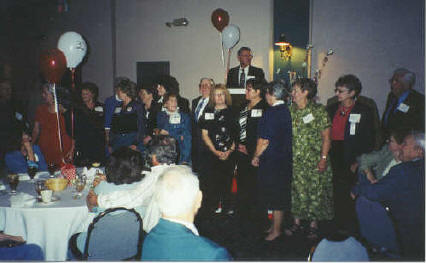 THIS PICTURE SHARED BY BOB ADAMS:
1961 CLASSMATES Jack Boyd, _______________, Nadine Link Milsap, Dave Peebler, Paula Bliss Bieberle, Bob Adams, Jay Laessig, Bob Reynolds and Dennis Ruckert: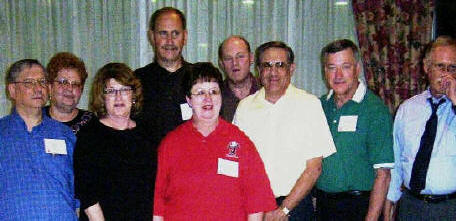 Sharon Pearce Proffitt: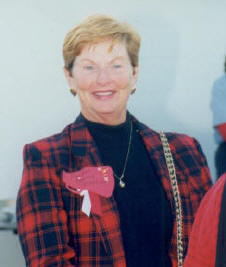 SOME OF THE PICTURES TAKEN BY OUR ROVING PHOTOGRAPHER:
The Halfast siblings - Tom and Roberta: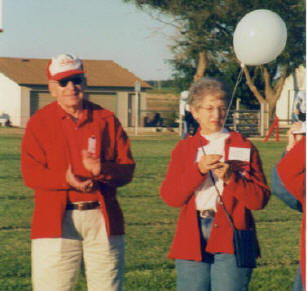 1957 Classmates Norma Robl Miller, Jo Donnell, Carol Kuster Hensley,
Joyce Dellinger Burress and Kay Kopfman Cochrane: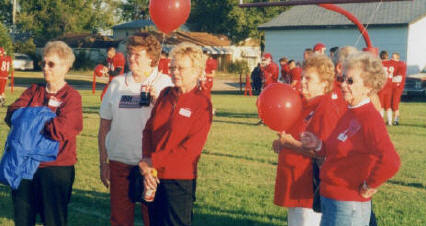 Don McClure with Ella Mae and Jim Sharpe (showing off their letter sweaters!):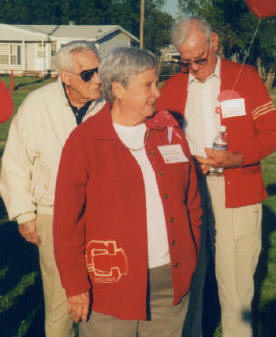 Jay Laessig '61, Jack Taylor '49 and Dave Peebler '61: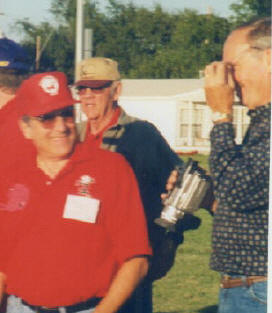 1965 Classmates Vickie Neal Wilkerson, Dave Blevins,
Toni Mernaugh Morton and Tom Wasinger:
(This was a great bunch to be in school with!)
Max Tharp, Curt Gillespie and John Hill in the background.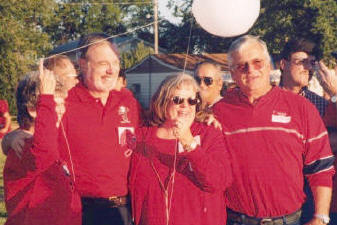 Bob Coldwater and Mike Allen: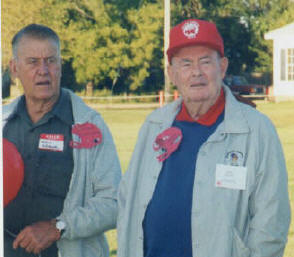 Carol Kirsch Mitchell, Marilyn Pearce O'Hara,
Sharon Pearce Proffitt and Pat O'Hara: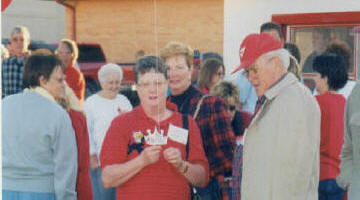 Jim Kizzar, Marilyn Deardorf and Brenda Singleton Nightengale: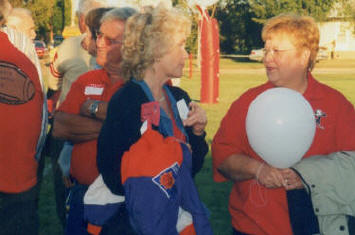 Mary Jane Hardwick Rickner visiting with Malcolm Link.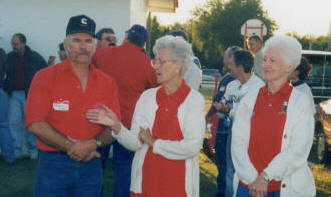 Nancy Eberhart Kizzar, Janie Haxton Steffan,
Debbie Schmidt Steffan and Jeri Kopfman.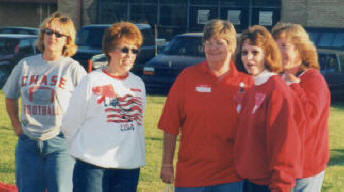 The tunnel before the game:

Bob McClary: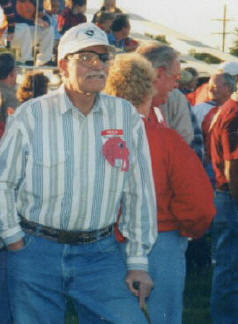 Mike Heine standing behind 1962 Classmates Ann Brailoff,
Allen Wilkerson and Joy Moore Turek: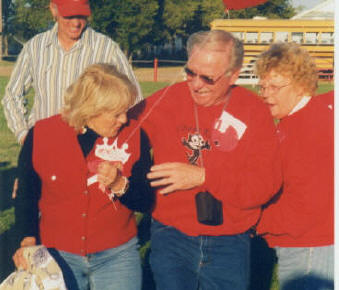 A beautiful lady in red, Irene Ankerholz Kennedy: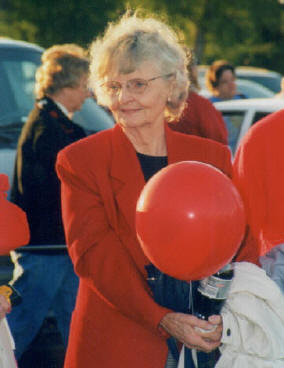 Twila Coffey Flowers and Joe Golden: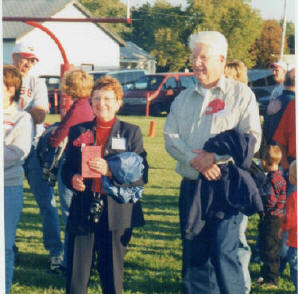 CHSAA President, Gene Haas, with former teacher and coach, Bud Fisher:
Marilyn Deardorf, Connie Deardorf,
Brenda Singleton Nightengale and Barbara Meyeres Haxton: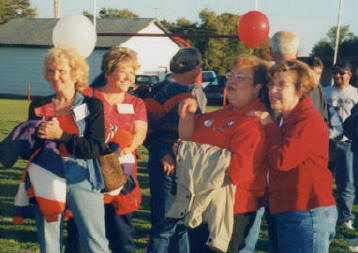 1964 Classmates Kenny Malone and Sandy Richardson Hodnett
(Kenney's football jersey still fits!!!!):
Jim Ray, Chuck Younkin and Bill Little
(Happy they didn't have to suit up and play!):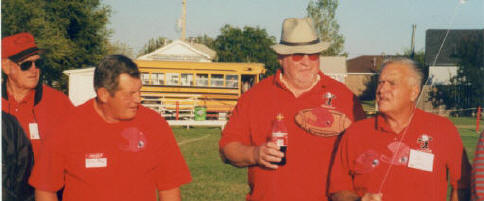 Thanks Frances for sending this:
Catherine Sinnot Yowell and Ralph Hathaway, Class of 1932: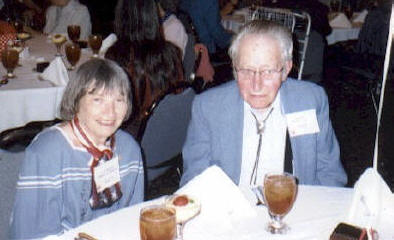 From Sherry Cole:
1964 Classmates Carmen Malone Razook, Patty Link Lewis,
Sandy Richardson Hodnett, Sherry Bliss Cole and Carol Kirsch Mitchell

MANY THANKS TO BARBARA MEYERES HAXTON FOR SHARING THESE PICTURES:
Some of the 1963 classmates who attended: Chuck Younkin, Chris Coffman,
Barbara Woods, Mary Taylor, Bill Little, Barbara Meyeres
1962 classmates: Larry Haxton, Gerald Bynum and Jim Ray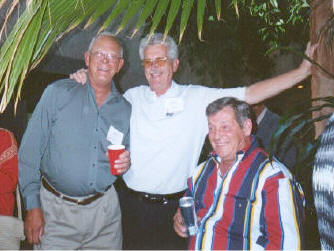 Barbara Meyeres Haxton ('63) with Larry and Dorothy Little: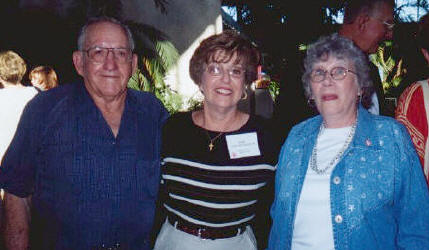 Dick Schremmer and Paul Cofffman: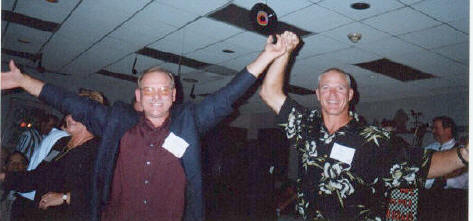 Claudia and Dave Peebler ('61)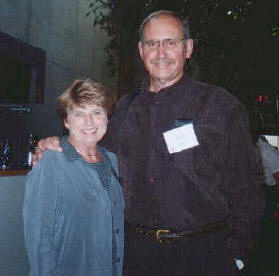 Carmen Malone Razook ('64) and Chuck Younkin ('63)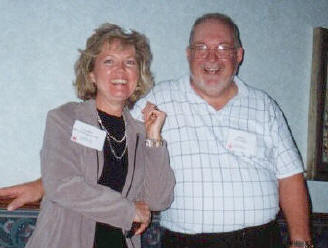 Marilyn Deardorf and Barbara Meyeres ('63)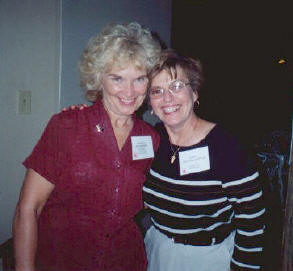 Sharon Meyeres, Ann Brailoff, Connie Malone and Joy Moore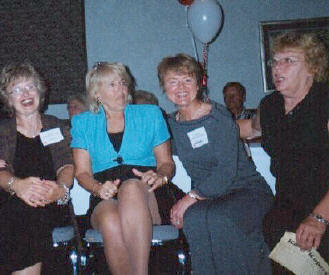 Larry Haxton ('62) and Max Tharpe ('59)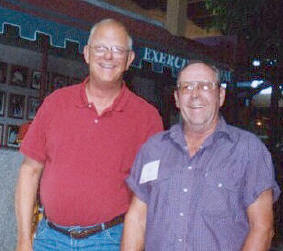 Barbara Meyeres ('63) with two special attendees - former teacher
Bob Coffman and former teacher and coach Bud (Verlyn) Fisher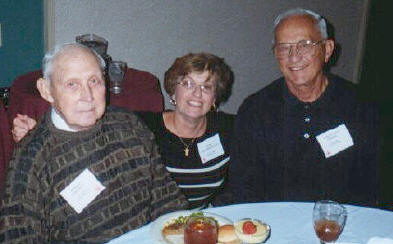 Many thanks to Ann Martin for sharing these pictures:
Sisters, Barbara Meyeres ('63) and Sharon Meyeres ('60)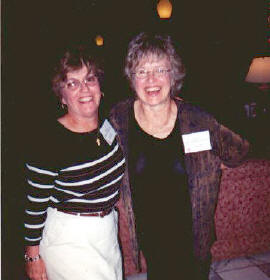 Classmates Sandy Richardson Hodnett and Carmen Malone Razook ('64)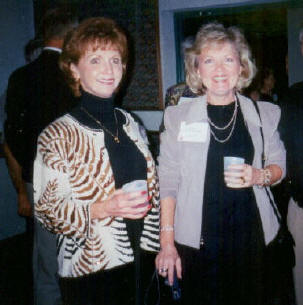 1962 Classmates: Dale King, Ann Brailoff, Allen Wilkerson,
Larry Haxton, Joy Moore and Gerald Bynum: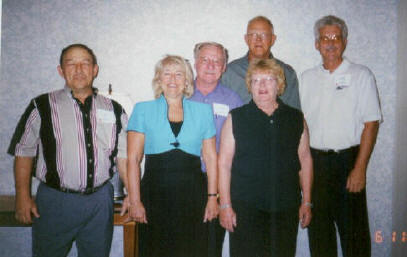 1960 Classmates Sharon Meyeres, Connie Malone and Tim Younkin: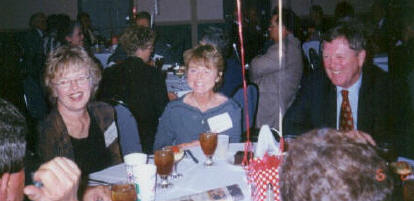 Many thanks to Sherry Bliss Cole and Kenny Malone for sharing these pictures:

Felix and the CHS cheerleaders encourage fans at the homecoming game: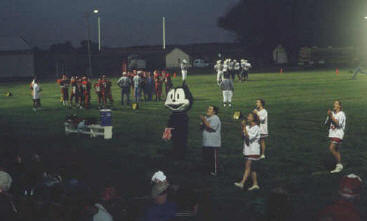 CHS 2002 Homecoming Royalty: Blake Kizzar, Jamee Meyeres,
Brian Aguilera and Tenelle Shultz and Nick Wood and Chameaka Bethea.
Brian and Tenelle were King and Queen.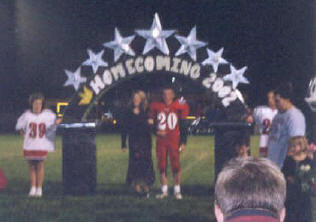 Verlyn (Bud) Fisher with Kenny Malone ('64) before the game: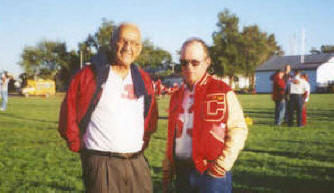 CHS Alumni Association Vice President, Carla Garman Hill ('65)
presenting our President, Gene Haas ('49) with a money
tree in appreciation for his hard work: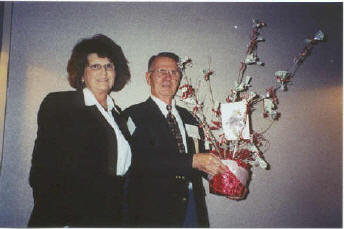 The following are courtesy of Sherry Bliss Cole: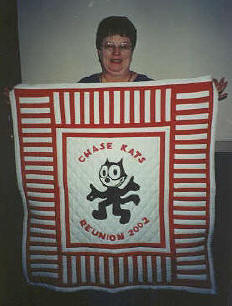 Paula Bliss Bieberle - winner of the beautiful quilt.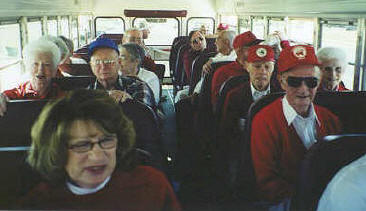 One of the buses on the way to the football game.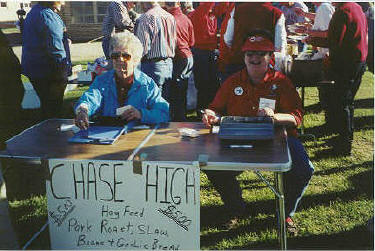 Frances and Paula manning the table at the Hog Feed