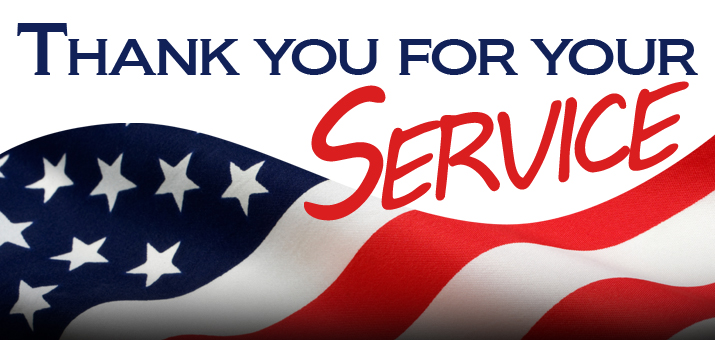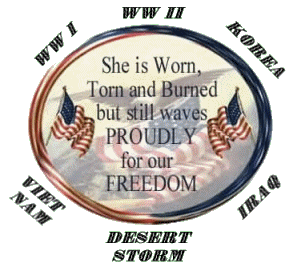 The following link was provided by David Blevins, Class of 1965
This site allows you to look up names of individuals or look at a state and
cities within that state and under each city will be the name of
those who died while serving.
http://www.virtualwall.org/iStates.htm



Click on link below to view
When A Soldier Comes Home-----

As we endure our little hardships, it is sometimes good to put it into a better perspective. Take the time out of your day to watch 5 minutes of true heroes...the people that put their lives and families on the line so that we can continue to have the lives and lifestyles we enjoy.
Click on link--
http://youtube.com/watch?v=ervaMPt4Ha0&feature=related

Click on link below to view
A Tribute To Our Veterans

KATS IN THE MILITARY
Christopher M. Link, Class of 1996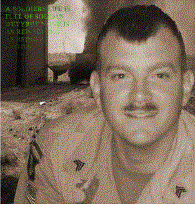 Parents: Bradley Curtis Link
Mary Theresa (Link) Clark
Grandparents: Clifford & Haroldeen Link

Thomas Taverner, Class of 2006, Sergeant in the Army
Parents: Robert & Sandy Taverner
CHASE KAT PARENTS OF MILITARY MEN AND WOMEN
Parent: Angie Link Deckert, Class of 1975
Travis Deckert, Captain-Air Force
Parent: Charlotte Patterson Larsen, Class of 1984
Andy Larsen is serving in Corpus Christi Texas
Chris Larsen is serving in Jacksonville North Carolina
Parent: Sherry Thornton Bass, Class of 1966
Troy Dooling-Navy
Parent: Amanda Tokoi Hilfiger
Shelby Beeghly, Air Force National Guard and works on wind turbines
Zane Hilfiger, Navy, currently serving in Hawaii
CHASE KAT GRANDPARENTS OF MILITARY MEN AND WOMEN
Grandparents Sherry Bliss Cole, Class of 1964 & Gerald Cole, Honorary Chase Kat
Brock Cole-Marines, currently serving in Camp Lejeune, NC
CHASE KAT SPOUSES OF MILITARY MEN AND WOMEN
Spouse: Victoria Martinez Cronin, Class of 2016
Jonathan Cronin, , Sergeant in the Army
Stationed at Ft Sill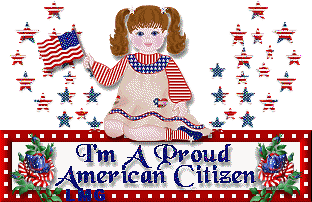 REMEMBER THESE ALUMNI SERVICEMEN
AND THEIR FAMILIES IN YOUR PRAYERS!
IF YOU KNOW OF ANY OTHER ALUMNI OR ALUMNI SPOUSES IN
THE SERVICE PLEASE LET US KNOW! IF YOU INCLUDE A PHOTO, WE WILL
POST IT ALSO. THANK YOU.

We would like to honor our Chase High servicemen and servicewomen.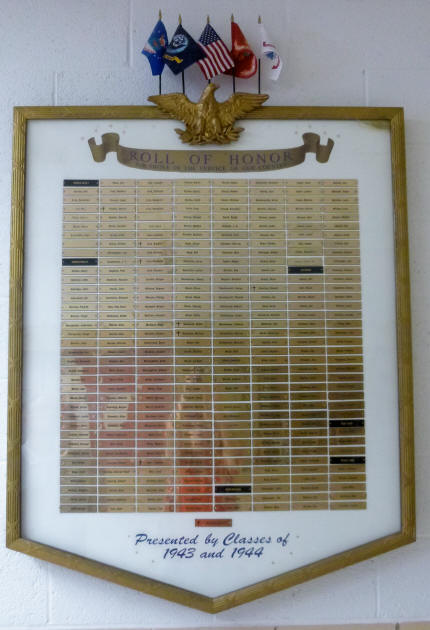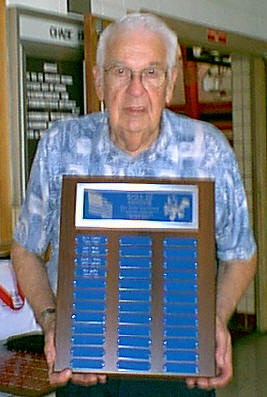 Jud Dupy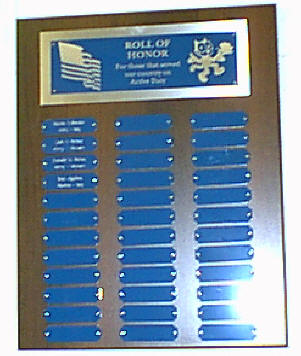 These names were taken off of the plaques hanging in Chase High School.
The big one with the gold plates and these with the blue plates.

W.W.I
April 6, 1917 to Nov. 11, 1918
Bill Burden, King Hardwich, John J. Kiley, Paul Link, Harry Miner & Fred Schroeder
W. W. II
Dec. 7, 1941 to Dec. 31, 1946
Harry Adams, John Adkison, John Aldridge, Ed Ankerholz, Fred M. Barrow, Virgil Becker,
Lawrence Barngrover, Floyd Barngrover, John Barrier, William F. Bird, Val Blankenship,
Kenneth Bradfield, Raymond Brown, Rex Burden, Carl Busch, Harold Busch,
Glenn Bryant, Leslie Campbell, Dale Cannon, Charles Clayton, Forrest Crawford,
Junior Coldwater, Ralph Day, Fred Dean, Robert Dean, Douglas Denney, Glenn Dixon,
Harold Doll, Jud Dupy, Delbert Ford, Lloyd French, Daniel Fiedler, Dennis Fiedler,
Darrell Gaston, Herbert Gillen, John Gillen, Phillip Gillen, Joe Gillenwater, J.T. Gunderson,
Paul Hagerty, Russell Hamilton, John Handy, Richard Hardwick, Roy Dean Hasz,
Ralph Hathaway, Clair Haxton, Max Haxton, Warren Haxton, James Hooper, Dee Hughes,
Ernest Hurst, Gene Hurst, Charles Jones, Charles Kearnes, Harold Keesling,
Allen Kennedy, Alvin Kennedy, Fred Kuhn, Floyd Kite, Leo Kirsch, Jimmy Lansing,
Bud Lansing, Robert Lansing, Dale Larson, Emerson Larson, John Lea, Joseph Lea,
Clifford Link, Donald F. Link, Donald R. Link, Leon Link, Lynmore Link, Norbert Link,
Norman Link, Raymond Link, Vincent Link, Wayne Linville, Eugene Malone,
Phillip Malone, Gene McLaughlin, Robert Maxwell, Donald McClure, Hugh McClure,
Robert McClure, Gene McFarland, Harold McGuire, Gilbert McLaughlin,
Clarence Miller, Fred Miller, Marian Miller, Duane Musgrave, Jack Mortimer, Fred Muth,
Thomas Muth, Richard Morse, Orville Naasz, Eugene Neal, Jack Neal, Jerry Nichols,
John Nunnold, Allen Nutter, Earl Nutter, Ted Panzer, Byron Patton, Kent Patton,
Keith Patton, Paul Petre, Gordon Pickup, Nathan Pierce, Richard Proffitt, Arthur Pugh,
Bill Pugh, Jerry Radcliffe, Lester Radcliffe, James Rasmussen, Glenn Revel, Wade Revel,
Stanley Revel, Willis Revel, David Robinson, Wilford Robinson, Bill Ruark,
Charles Ruark, Ira Dale Ruark, Arthur Sanderson, Ernest Saul, Lester Saul, Gene Schmidt,
Warren Schmidt, Jim Schroeder, Wilber Schroeder, Ernest Shadley, Donald Sharpe,
Harold Sharpe, James Sharpe, Steve Sharpe, William Sharpe, Leo Short, Paul Sinnott,
Clark Slentz, Edwin Slentz, Robert Slentz, William Slentz, Kenneth Slough, Ralph Smith,
J.D. Sommer, Paul Starbuck, Murray Sturgess, Max Swanson, Maple Taylor, Ray Walters,
Richard Wegner, James Westmacott, Tom Westmacott, Robert Westwood,
Lovell Winkelman, Laverne Winkelman, Marion Winkelman, Maurice Winkelman,
Bob Wolfe, Kathryn Wolfe, June Woods, Eugene Woods, & Bill Wygle.
Korean War
June 25, 1950 to Jan. 31, 1955
Carl Adams, Mike Allen, Richard Ankerholz, Carl Ashley, Arlen Blankenship,
Charles Blevins, James Blevins, Lewis Bynum, Don Cannon, Jimmie Dean, Bobby Dellinger,
Gene Downs, Lee Downs, Rene Downs, Donald Dunning, Joe Golden, Gene Haas, Betty Haas,
Richard Hardwick, Jim Hembree, Lawrence Hurst, Curt Ingham, Charles Jones,
John E. Kiley, Ernest Lackey, James Lewis, Dean Link, James Link, Melvin Link,
Lawrence Long, James McClure, Bob McPherson, Keith McPherson, Robert J. Miller,
Burl Nelson, Marion Nelson, Dean Olson, Marion Peterson, Jerry Robl, Ernest Saul,
Jack Schroeder, Jim Schroeder, Max Sellers, Jack Taylor, James Taylor, Marion Towns,
Darrol Wixson, Ivan Wixson, & Jack Wolfe.

Vietnam War
Feb. 28, 1961 to May 7, 1975
Bill Adams, Steve Ball, David Blevins, Jim Casey, Leona Carlson, Chris Coffman, Frank Conde,
Joe Conde, Michael Crace, John Forshee, Ronald Forshee, Jim Fowler, Jim Gillespie, Ben Goodspeed,
Larry Haxton, Bill Hembree, Jack Heibert, John Hill, Ray Hoover, Rex Hoover, Gary Huck,
Charles Hurst, Billy Ibach, Darius Chuck Kearns, Dick Keesling, Leon Kelso, Frank Kizzar, Kenneth Lawler,
Don Lindsay, Edward Link, Bill Little, Kenny Malone, Pat Malone, Jim Martin, Joe Martin, Doug Melcher,
Larry Melcher, Robert J. Miller, Larry Milsap, Marion Nelson, Don Oberle, Floyd Osborn, Carl Patton,
Robert Reynolds, Dale N. Richey, Donald W. Richey, Jim Schroeder, Claude Alan Short, Charles Simmons, Jessie Simmons,
Dennis Singleton, Mark Spangler, Larry Steffan, Jerome Steffan, Fred Van Steenburgh, Tom Wasinger,
Donald Wood, Richard Wood, Charles Woodard, Max Tharp, Charles Younkin & Tim Younkin.
Granada/Labanon
August 24, 1982 to July 31, 1984
Denice Schmidt
Panama
Dec. 20, 1989 to Jan. 31, 1990
Paige Kelso and Denice Schmidt
Gulf War
August 2, 1990 to Present
Ron Forshee, Michael Hardie, Paige Kelso,& Grabiel Simmons.
Afghanistan
Oct. 7, 2001 to Present
Derrick Ketch,
Iver Tokoi
Thomas Taverner
Iraq
March 20, 2003 to Aug 31, 2010
Brian Augilera, Gilbert T. Augilera III, Melissa Gillespie Bethea,
Ryan Boatwright, Jesse Boyd, Marjorie Kern, Mathew Higgins, Christopher Ketch,
Christopher M. Link, David Madden, Ricky Ray, Donald R. Weaver,
Ronnie Wilkerson, & Anthony J. Williams.
Peace Time
All other dates served

Paul R. Bliss Jr., Vincent G. Bliss, LaVonne Boldt,
Johnnie Hardie, Carl Link, Bob Long, & Bob McClary



Generations of Valor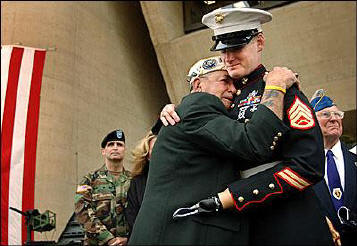 The occasion of this photograph was a
Veterans Day Commemoration at Dallas City Hall
on 11 November 2004. The veteran pictured
is Houston James, a survivor of the Japanese
attack on Pearl Harbor in December 1941, and
the Marine is Staff Sgt. Mark Graunke Jr., a
member of an ordnance-disposal team who
lost his left hand, one leg, and an eye while
defusing a bomb in Iraq in July 2003.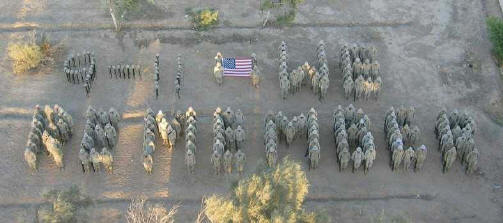 This is a real picture, taken in Iraq on 9 September 2003
by the Baker Company, with the 7th Marines,
1st Battalion, to honor the victims of the
September 11 terrorist attacks on the U.S. According to
the Rock Hill, South Carolina, Herald:
Helmets atop rifles honored the day so many died.
Four U.S. Marines in Iraq held Old Glory a few feet
off the desert sand. Dozens of others stood around
them, spelling out a special message. The unit assembled
Tuesday in a formation of husbands and sons and helmets
and weapons that spelled out, "9-11: We Remember."

Andrew Schoenmaker, 25, is a graduate of the U.S.
Naval Academy and an executive officer of Baker
Company, with the 7th Marines, 1st Battalion.

Lt. Schoenmaker and his commanding officer bandied
about the idea for a picture to send home to the United
States signifying that the unit is still in Iraq, but the
pose ended up honoring the Sept. 11, 2001, victims.

"It is in remembrance of those that gave the
ultimate sacrifice on September 11, and
the reason that no matter how long we
are here, we will continue to push and never forget why
we serve," Andrew wrote in an e-mail to his father.


Shared by Mary Taylor Johnson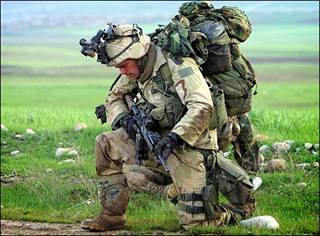 THE FINAL INSPECTION
The soldier stood and faced God,
Which must always come to pass.
He hoped his shoes were shining,
Just as brightly as his brass.
"Step forward now, you soldier,
How shall I deal with you?
Have you always turned the other cheek?
To My Church have you been true?"
The soldier squared his shoulders and said,
"No, Lord, I guess I ain't.
Because those of us who carry guns,
Can't always be a saint.
I've had to work most Sundays,
And at times my talk was tough.
And sometimes I've been violent,
Because the world is awfully rough.
But, I never took a penny,
That wasn't mine to keep...
Though I worked a lot of overtime,
When the bills got just too steep.
And I never passed a cry for help,
Though at times I shook with fear.
And sometimes, God, forgive me,
I've wept unmanly tears.
I know I don't deserve a place,
Among the people here.
They never wanted me around,
Except to calm their fears.
If you've a place for me here, Lord,
It needn't be so grand.
I never expected or had too much,
But if you don't, I'll understand.
There was a silence all around the throne,
Where the saints had often trod.
As the soldier waited quietly,
For the judgment of his God.
"Step forward now, you soldier,
You've borne your burdens well.
Walk peacefully on Heaven's streets,
You've done your time in Hell."
~Author Unknown~

Shared by Sherry Thorton Bass---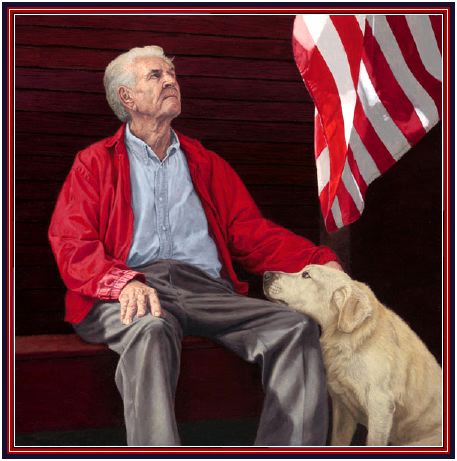 It is the
VETERAN
, not the preacher,
who has given us freedom of religion.
It is the
VETERAN
, not the reporter,

who has given us freedom of the press.
It is the
VETERAN
, not the poet,

who has given us freedom of speech.
It is the
VETERAN
, not the campus organizer,

who has given us freedom to assemble.
It is the
VETERAN
, not the lawyer,

who has given us the right to a fair trial.
It is the
VETERAN
, not the politician,

Who has given us the right to vote.

It is the
VETERAN
,

who salutes the Flag,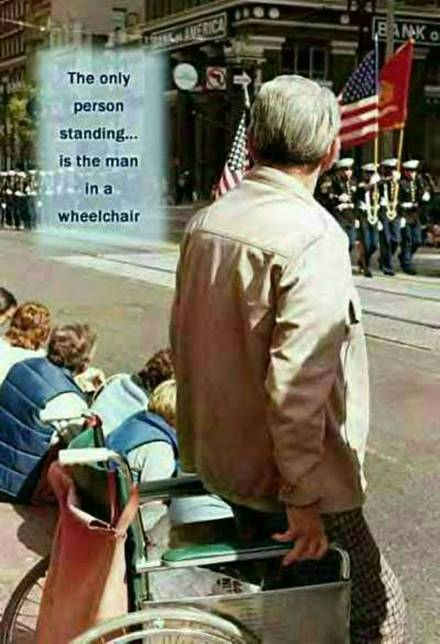 It is the
veteran
,
who serves under the Flag,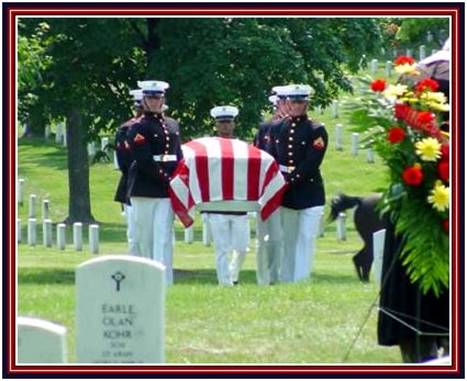 ETERNAL REST GRANT THEM O LORD, AND LET PERPETUAL LIGHT SHINE UPON THEM.

Thanks for sharing, Sherry Thornton Bass

Arlington at Christmas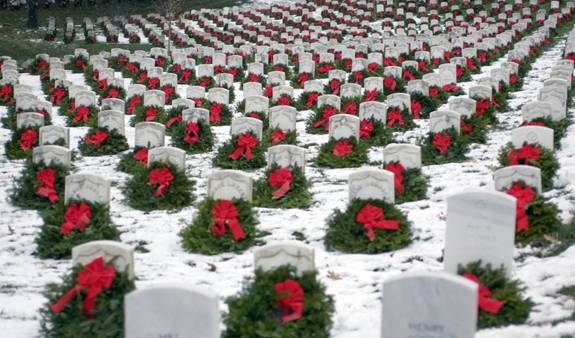 Rest easy, sleep well my brothers.

Know the line has held, your job is done.

Rest easy, sleep well.

Others have taken up where you fell, the line has held

Peace, peace, and farewell...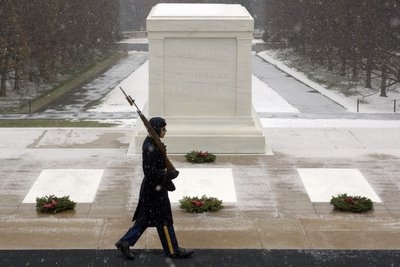 These wreaths -- some 5,000 -- are donated by the Worcester Wreath Co. Of Harrington, Maine. The owner, Merrill Worcester, not only provides the wreaths, but covers the trucking expense as well. He's done this since 1992. A wonderful guy.
Also, most years, groups of Maine school kids combine an educational trip to DC with this event to help out. Making this even more remarkable is the fact that Harrington is in one the poorest parts of the state.

Shared by Paula Bliss Bieberle
From what you can see of the uniforms, this is a WWI era photo.
There is no date on the picture. But what a gift from our grandfathers...