<![if !vml]>

<![endif]>

<![if !vml]>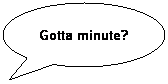 <![endif]>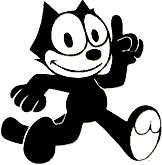 June 02, 2023
Hi Everyone~~
I hope you have made plans to attend the Chase Fest June 3, 2023. First they have had in awhile so get out and support them. Sounds like a lot of fun things going on. Your alumni committee has a float entered in the parade. Here is the flyer---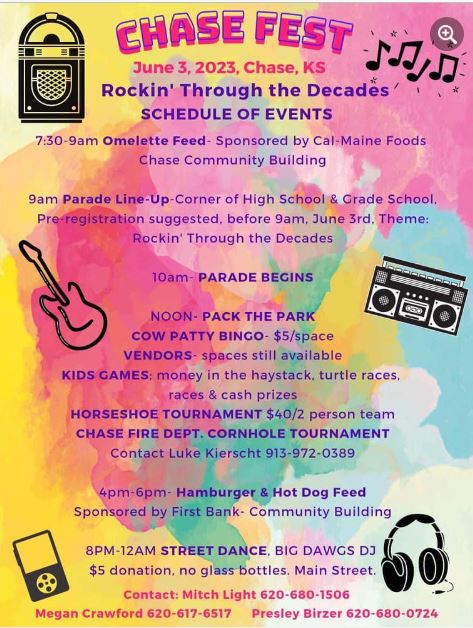 Don Lindsay, Class of 1961 was passing through Hutchinson and Cole and I were lucky enough to have breakfast with him. Very entertaining 2 and a half hours. Thanks Don.
Last I checked with Marilyn Dupont, our treasurer, we had not received any more returns of the Alumni Newsletters so that is good but I am still trying to find the following alumni besides the others on our Where are you? page. Renea King White Class of 1991, Connie Bohannan Shadduck Class of 1976, Nicole Bertram Foster Class of 1995, Andrew & Jamie Dewey Guldner Class of 2004 and 2005, April Nienke Beals Class of 1995, Lynette Wimmer Class of 1989, Derald Boldt Class of 1955, Kim Gardner Class of 1995, Bobbi Jo Manley Sowell Class of 1991, Melva Miller Class of 1944, Irene Kite Blank Class of 1939, Becky Parrish Class of 1977 and Pat Parrish Class of 1974. If you know any of there or the others on the Where are you? page plz let them know i am looking for them.
I want to publicly thank Joey Simmons and Don Lindsay for their recent generous donations to the CHS Alumni Association. You are appreciated!!!
Don't forget we have hoodies and sweatshirts at Kats Korner along with some miscellaneous items relating to Chase. Also have other items on the website. Past yearbooks listed on the website.
Hard to believe we are into June already, I along with a lot of people just wonder where the year is going and why so fast?
Stay happy, stay healthy and above all, show the love and have fun.
Until next time--
Sherry Bliss Cole, Class of 1964





NEXT COMMITTEE MEETING:

November 05, 2023
Gambino's Pizza, South Hutchinson, KS
10:30 AM







Thank you to Shelley White, secretary of the High School for the donation of 6 yearbooks we were in need of for the cabinet in the High School. Four more and I think we will have every yearbook from the year 1941 down that there was a yearbook. We even have 1925 year.
Thank you for the donation of the 1971 yearbook!
We would like to thank Gerald Fiedler and Kay Kopfman Thrall for donating yearbooks at the 2017 All School Reunion. We would like to thank Betty Browning Fulton, Class of 1944 for donating a 1941 yearbook to the alumni.
We thank Rhonda Clayton David for donating her yearbooks to the Association. The ones that were needed will be put in the cabinet at the High School for all to enjoy.
Thank you, Betty Browning Fulton - 1944 for letting us know there were no yearbooks in the years 1942, 1943 & 1944 due to the war.
We are in need of some yearbooks to fill in some empty spaces in our cabinets at the school. These are on display for all to see so if you have an extra one or just want to donate yours to the Alumni we would be grateful. If you want to donate any of the following years, contact Sherry Cole.

1945, 1946, 1951..
Just a note to that, if you have any of your yearbooks of any year, please don't throw them away, we take them as well. We also have yearbooks on hand to sell if you are needing one. The list of what we have is on the Kats Kraft Shoppe page. Thank you.
FROM PAST UPDATES:
May 06, 2023
Hi Everyone~~
Sorry this is late starting the month of May. Cole and I have been down with a virus (Bronchitis if it has to have a name) this past week and just now staggering to the computer. So have a bit of catching up to do. I have posted the May school calendar, be sure and support our Seniors on May 13th if you are in the area. Tom Kizzar and I will be handing out the gifts this year. Come up and say hi if you see me, always good to see friends when in Chase.
Looks like four of our Chase girls are on the Lyons/Chase softball team. I have posted on the News from Chaseamerica some articles that have been in the Lyons paper concerning the team and a team photo.
I also ran across an article from 25 years ago that was interesting for David Larsen. It is on the Do you remember when? page 5.
April 26th I made a jaunt to Chase to Marilyn Dupont's house where we re addressed some of the returned 2023 Newsletters and got them sent off. At least the ones that had forwarding addresses on them. I have reached out via facebook so if you get a message from me that is probably what it is about. Will resend if you give me a current address. The rest of the names that are not on facebook (that I could find) I have added to the Where Are You? page. This is why it is so important to keep us updated on your current addresses. We are not the FBI and want to throw you to the world but would like to have your address so 1. you can receive absolutely free a Alumni Newsletter and 2. If your class is having a Class reunion, I can give the list to them so you can be included.
Also on that trip we had lunch at Kats Korner seeing some of you and I dropped off some more black zipper hoodies and black sweatshirts. Check them out.
Stay happy, stay healthy and above all, show the love and have fun.
Until next time--
Sherry Bliss Cole, Class of 1964

Please send your comments, suggestions and contributions to Sherry Bliss Cole at:

elocs@cox.net