<![if !vml]>

<![endif]>

<![if !vml]>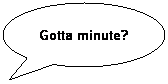 <![endif]>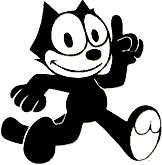 Sept 21, 2017
Still have that one hospitality room and handicapped room available, will cancel it this coming Monday if I don't hear from anyone. Also will turn in banquet count Monday, don't be left out, gonna be some fun! :)
Sept 8, 2017
Just want to add that we have one hospitality room left on the north side of the Atrium if you would like to reserve it just email me and let me know and I will hold it for you. Pay at check in. I also have a handicapped room reserved and that alumni cannot make it, if you would like that room (it is also on the north side of the Atrium) email and let me know. You need to inform me pretty quick. Thank you. 20 days away from a fun week end of fun, friends and good food. Hope you are planning on coming and have your registration in.
September 2, 2017
Hi Everyone~~
If you remember these hoodies that I talked about last month the wait is over. I have them in my hot little hands. The black and red pullovers I will put in the Kats Korner store in Chase Sept 11 and the red zipper ones with Felix on it I will have at the Atrium in the Kats Shop during the reunion. Any left over from there will go in the Kats Korner store. Check them out after the 11th and the zipper ones at the Atrium during the 2017 All School Reunion. Get yours to wear at the homecoming game, Chase Kat Pride AND they will keep you warm. lol. These are a Gildan brand and 50/50.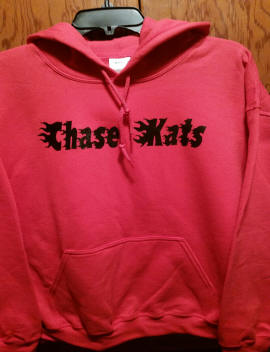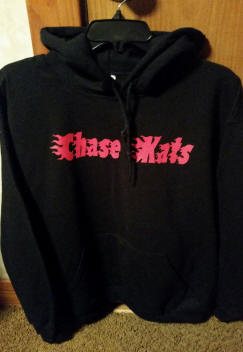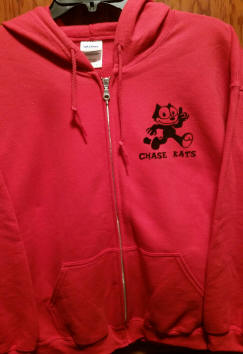 26 more days until reunion time, your committee has been busty getting the last minute chores done. Hope you have your registration turned in and ready to have some Chase Kat fun!
Also be sure and bring extra money to buy tickets for those beautiful quilts and browse the Chase Kats & Felix Souvenir Shop, check out the website for items you might want to put on your check list.
Until next time--
Sherry Bliss Cole, Class of 1964





NEXT COMMITTEE MEETING:




This meeting is for everyone at the reunion especially class representatives and election of officers will be held so if you want to be heard, be there.

Sept 30, 2017
1:30 am
Apollo 3 Room
Atrium Hotel
Hutchinson, KS


We would like to thank Betty Browning Fulton, Class of 1944 for donating a 1941 yearbook to the alumni.
We thank Rhonda Clayton David for donating her yearbooks to the Association. The ones that were needed will be put in the cabinet at the High School for all to enjoy.
Thank you, Betty Browning Fulton - 1944 for letting us know there were no yearbooks in the years 1942, 1943 & 1944 due to the war.
We are in need of some yearbooks to fill in some empty spaces in our cabinets at the school. These are on display for all to see so if you have an extra one or just want to donate yours to the Alumni we would be grateful. If you want to donate any of the following years, contact Sherry Cole.

1945, 1946, 1951, 1953, 1954, 1956, 1957, 1969, 1970, 1971, 1983, 1984,
1987.
Just a note to that, if you have any of your yearbooks of any year, please don't throw them away, we take them as well. We also have yearbooks on hand to sell if you are needing one. The list of what we have is on the Kats Kraft Shoppe page. Thank you.
FROM PAST UPDATES:
August 4, 2017
Hi Everyone~~
I have ordered some hoodies for the 2017 All School Reunion time frame. Would be good to have one or two for the homecoming game, right? One is a red pullover hoodie, one is a black pullover hoodie and the 3rd is a red zipper front on request from some of our committee members. The photos are the samples they made up for me so the ones I ordered Felix will have a white face and bottom of foot. And I apologize for the poor quality of the photo. These are a Gildan brand and 50/50. Will have some of them at Kats Korner in advance of the reunion and the rest at the Atrium Hotel where the reunion is being held in our Chase Kats & Felix Souvenir Shop. For now I only have a few 2x and 3x in the red zipper model ordered. Will have to special order any of the plus sizes in the two pullover hoodie models. If there is an interest I can put in a special order for more but would want size and payment in advance and be picked up at the reunion. Did not order any small in any of the hoodies either but can be special ordered if you need one. Prices for the black and red pullover hoodie sizes sm-extra large is $25.00 and for plus sizes $28.00. For the red zipper front Felix hoodie sizes sm-extra large is $27.00 and plus sizes $30.00. I was surprised they cost more than the pullovers but guess you have to pay extra for the zipper. :) I also did not order any youth sizes and get a quote for them but if you need any contact me and I will see what I can to and get a quote. You can contact me at elocs@cox.net for these. I love them and hope you do too!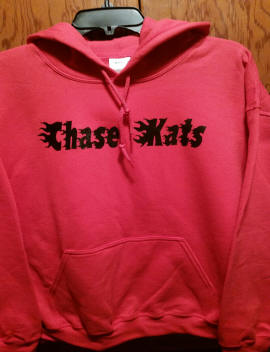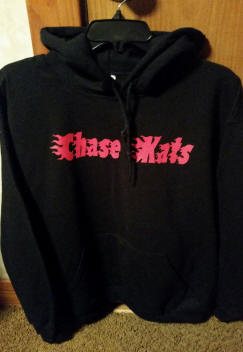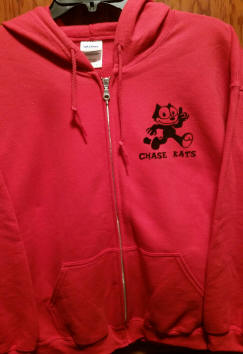 Along that same line do you realize we only have 55 more days until reunion time? Have you made your hotel reservation yet? Be sure and ask for the block of rooms reserved for the Chase High School Alumni Association reunion. We had a little trouble with the wording when some called to reserve so if they tell you they can't find it make them look again under a variation of names. I can't remember the cut off date for getting in on that block so reserve early. Also I have to turn in a number to the hotel for how many are coming to the banquet so get your registrations for that in early too. For our $35.00 price you need to get it in before Sept 1, after that and walk ins are $40.00 so please, grab a bargain and get those registrations in before Sept 1. Then set back and wait for a very fun week end and a great time of visiting with friends and family. We are up to 92 registrations for the 2017 All School Reunion and getting close to awarding that 100th registration. Again I want to remind you that your committee is busy working to make sure everyone has a good time. We think the addition of the photo booth on Saturday afternoon from 2-5 in the Atrium will be a hoot. Felix will be on hand from 2-3:30 to take one with you. Everyone gets a free copy of your photos. The company provides on request a 5x7 and/or a 8x10 class photo, just talk to the booth attendant. Our speaker again this year is Don Lindsay who had us in stitches last reunion and our final thoughts will also again be Randol Walker who left us feeling good. Excited to see what they have to say this year. With two donated quilts this year to be drawn for at the banquet somebody will walk away with a treasure. Tickets for those will be available for purchase in the Chase Kats and Felix Souvenir room 304 at the reunion. Your registration packet will be available in the Registration Room 302 at the hotel, be sure and pick yours up after you check in or get there to sign up for the door prizes. Check out the 2017 All School Reunion page to keep up on what is going on.
Also be sure and bring extra money to buy tickets for those beautiful quilts and browse the Chase Kats & Felix Souvenir Shop, check out the website for items you might want to put on your check list.
It has been a short hot summer in the Cole house, how about yours? We have been doing some long neglected remodeling and replacing some items so house is in turmoil and disarray. Hope the end is in sight while we still have our good humor. :)
Until next time--
Sherry Bliss Cole, Class of 1964

Please send your comments, suggestions and contributions to Sherry Bliss Cole at:

elocs@cox.net