NEWS FROM CHASEAMERICA!!
Click here for Meet The Seniors of 2023
Click here for Photos of 2023 Chase High School Graduates
Fall 2023 HOMECOMING Royalty! King Walon Belk and Queen Falyn Spangler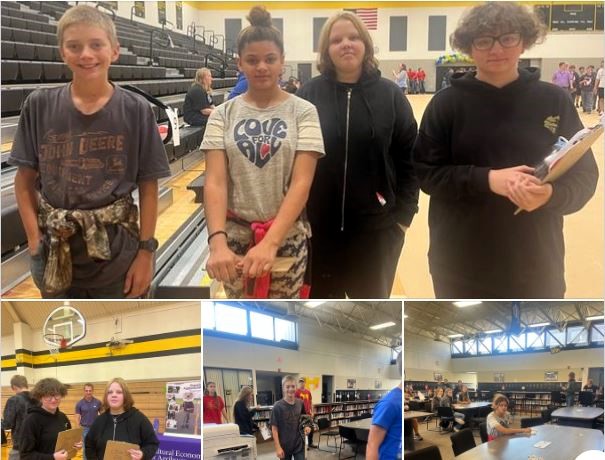 A fun day at South Central District FFA Greenhand Conference! Students had a lot of fun and learned a ton attending workshops and the career fair!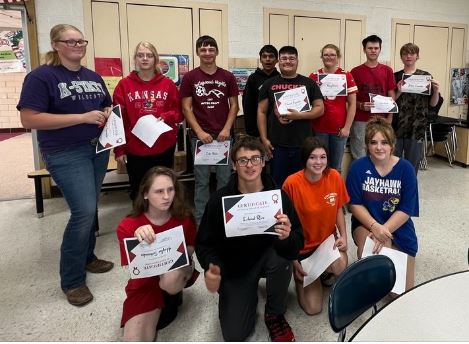 Positive Office Referrals! Twelve CHS students were recognized for having Good Citizenship or going Above and Beyond, with a few students receiving more than one. Great work CHS students!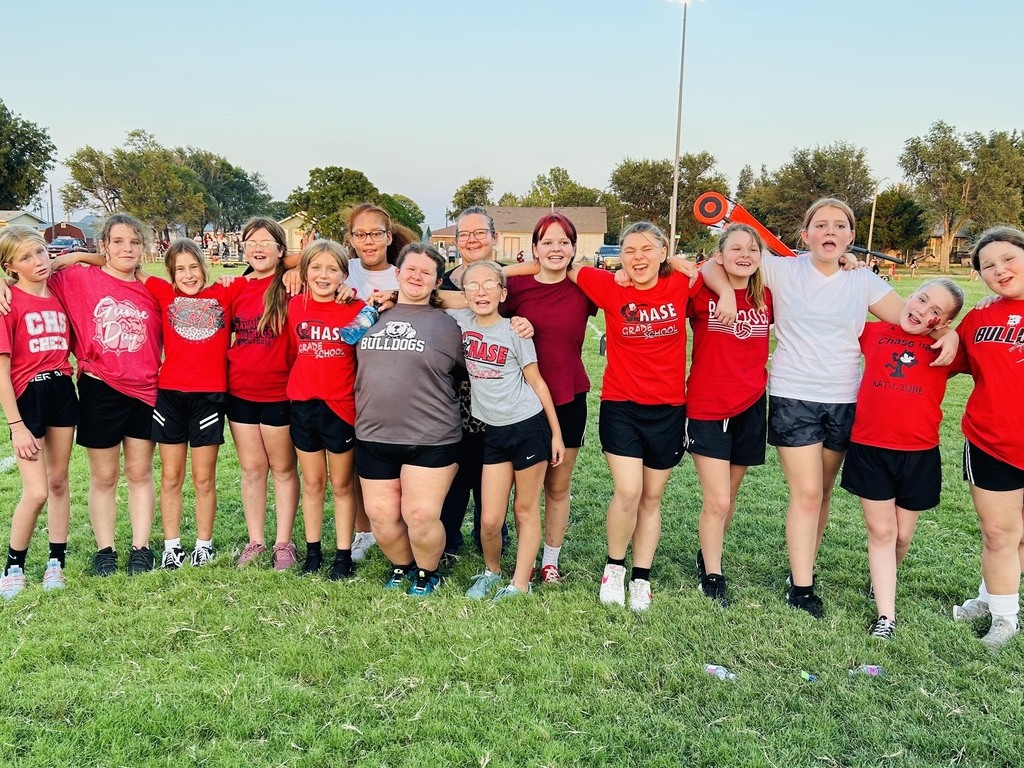 This year we see the return of Raymond Junior High Cheerleading! Great job shout outs to all our student athletes today,
RJH VOLLEYBALL, RJH FOOTBALL, RJH CHEER, AND CHS VOLLEYBALL!

Some additions to the Chase school curriculum

New pull up/dip rack with bands and Bosu ball, donated by Dr. Seth! Cordell Chiropractic, he returns
half of the sports physical fees to our school through the donation of fitness equipment.

Paul Coffman with CHS Cheerleaders

Itís always amazing when we get to be apart of a community project! We were given the chance to build this turn key fire station for the City Of Chase, and being our home town we were able to provide $65,000+ in donated materials and labor between all of our vendors and crews. This will forever be our pride and joy and hope we can continue to help our community out! Thank You Again!
Also a huge shout out to everyone from Chase and elsewhere that donated to help with this project.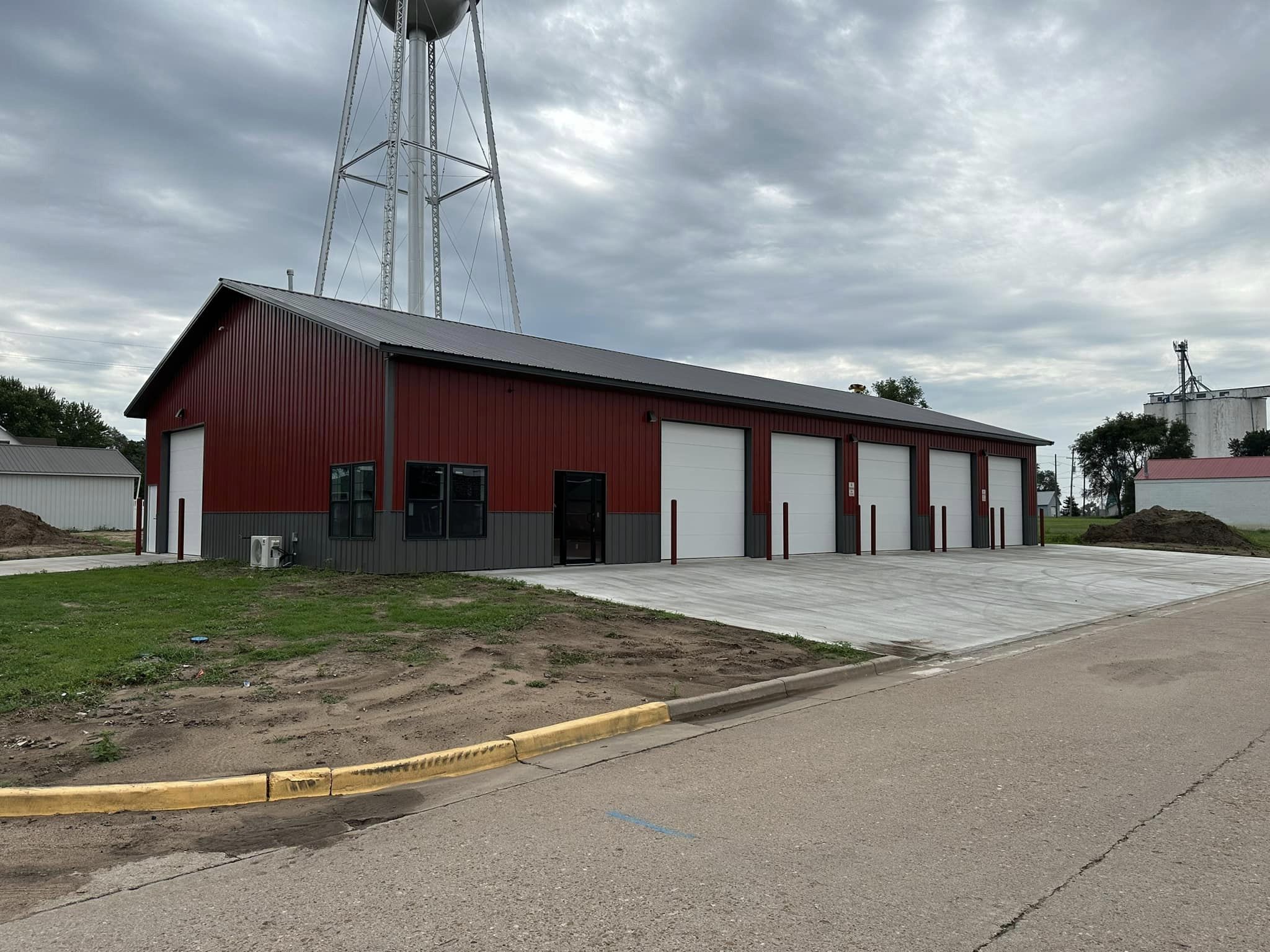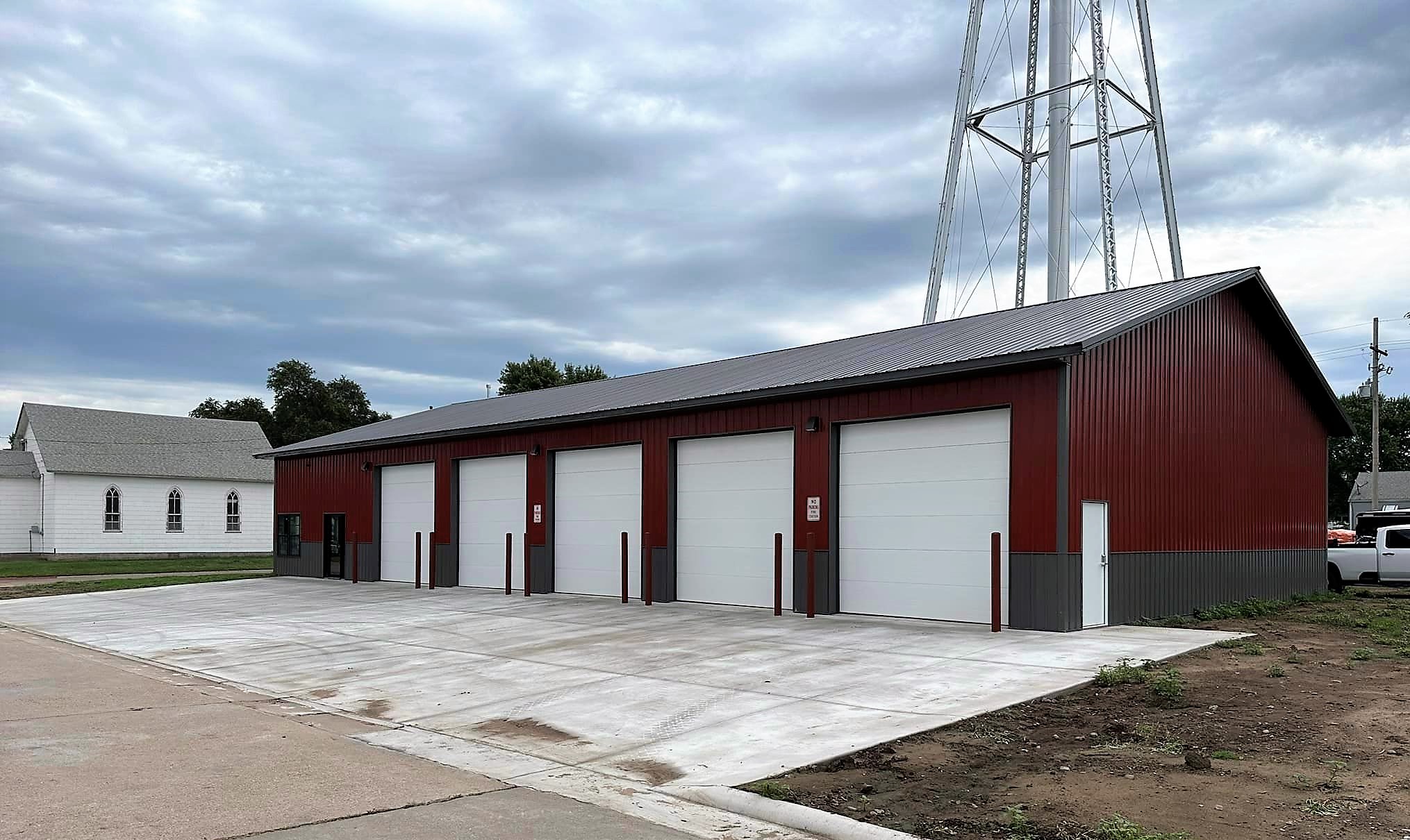 Few photos of the 2023 Chase Fest, snagged a couple from facebook
and from Janet Kirsch Gray & LeeAnn Dellinger, thanks!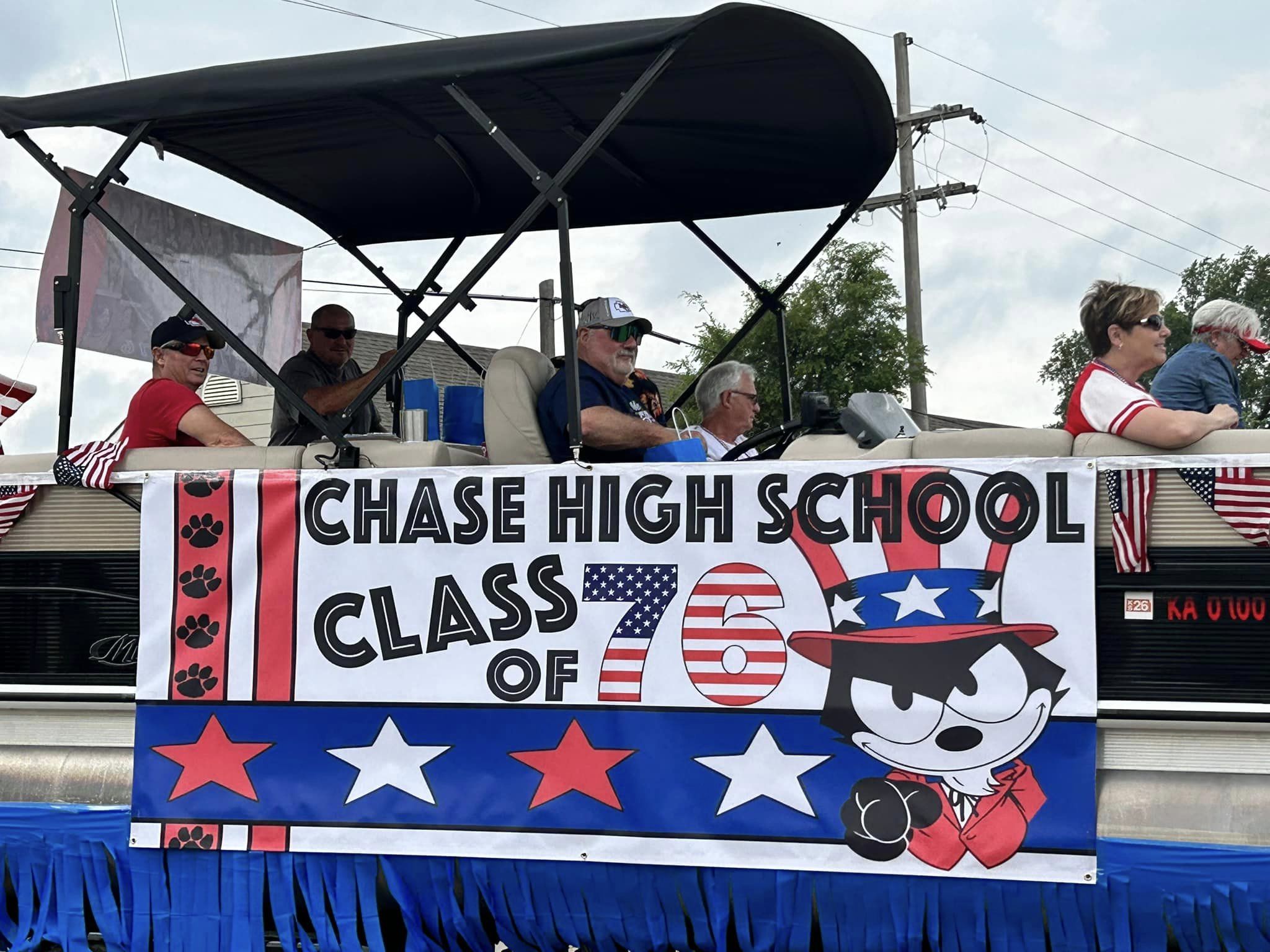 Class of 1976 Float
Class of 2010 Float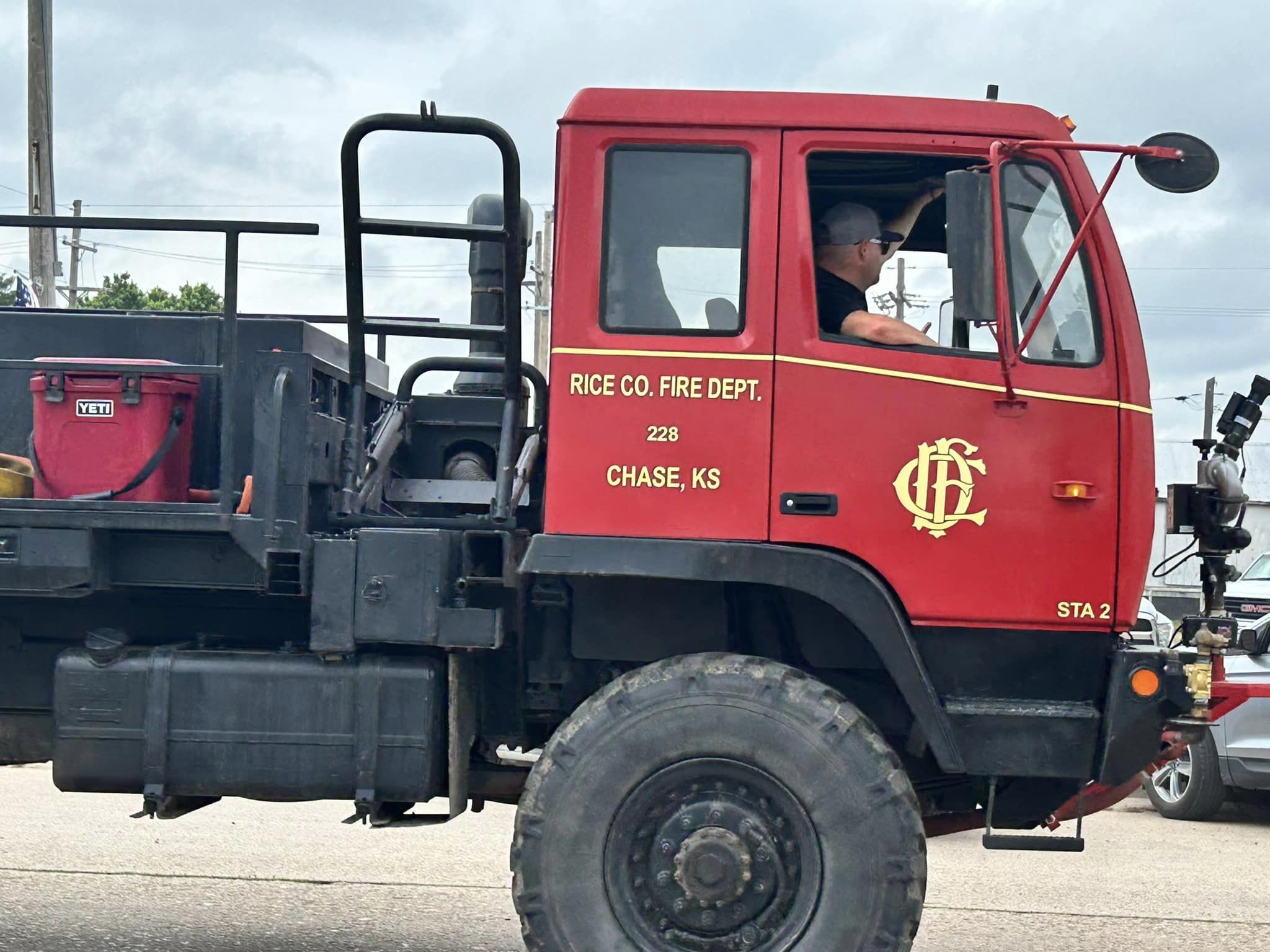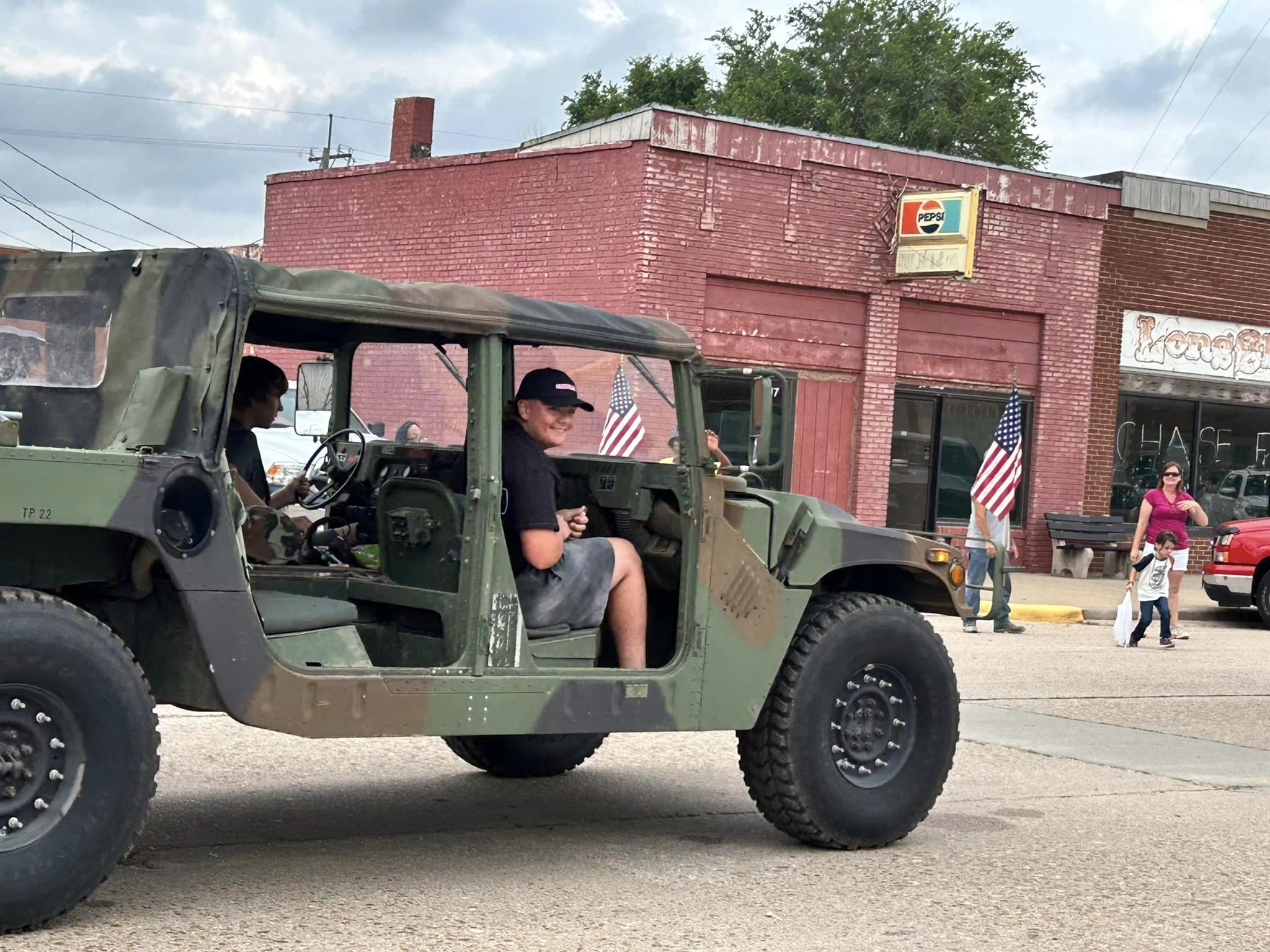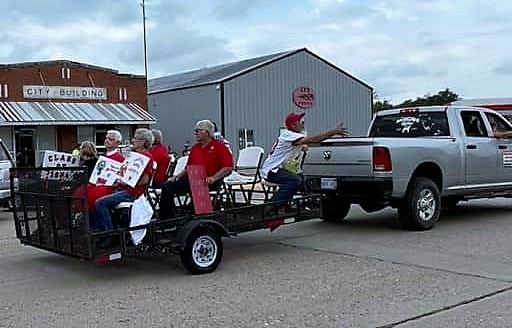 CHS Alumni Float, Classes represented were 1957, 1959, 1964, 1969, 1972, & 1985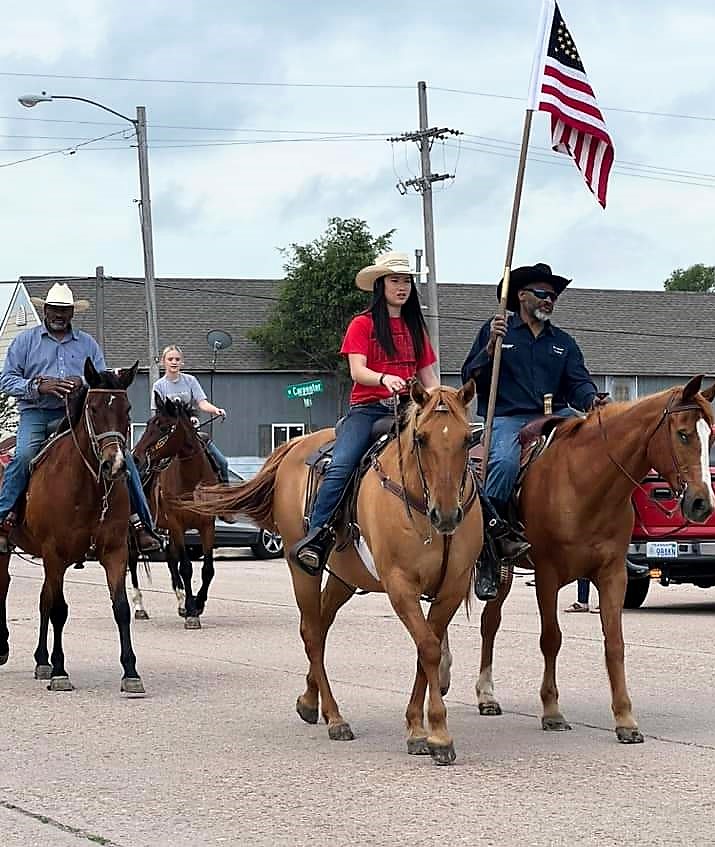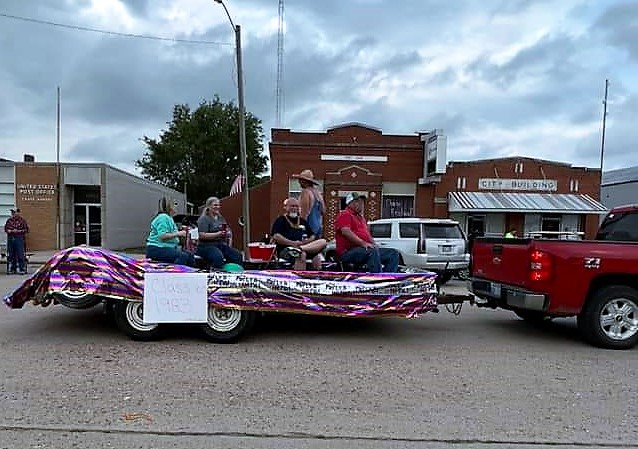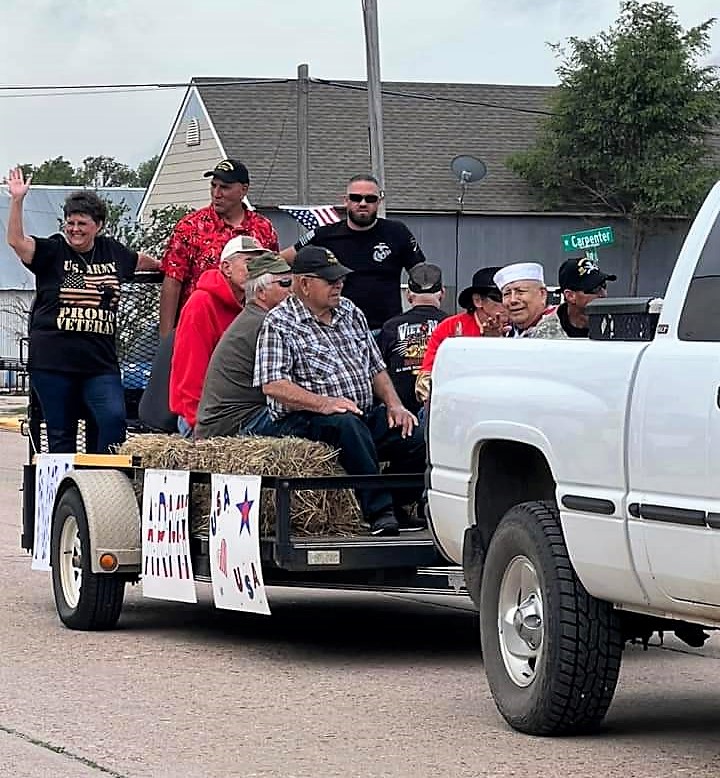 The Veterans Float

May 20th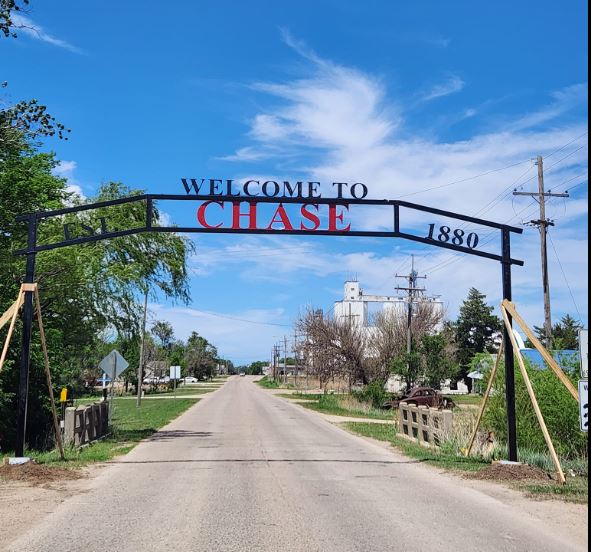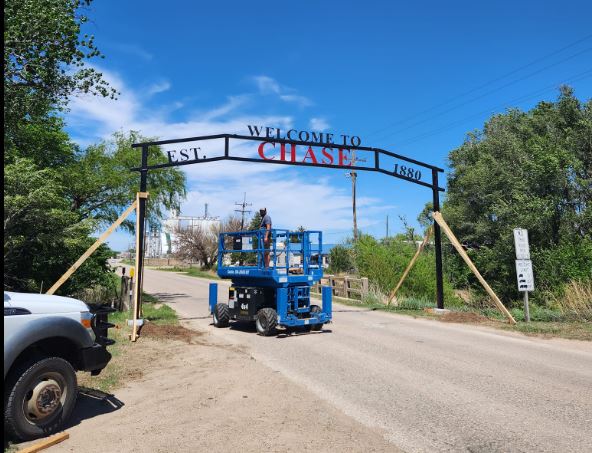 Jarett Mermis's idea was to help clean the entrance into the city to help with some grant and funding opportunities. So he and wife Audrey (Pray) came up with some ideas they had seen and they found this idea from the Fort Worth stock yard signs that go over the roads. So they put a design together and presented it to city council. Tom Kizzar suggested Chase in red. They liked the idea and asked for it to be put to bid, Leonís Welding and Fabrication out of Hays won that bid and the city has some ARPA funding from covid relief to use and elected to do so with that. So between their company (JM Builders) and Tim White they helped put it up and will get it cemented soon. Also big thank you to Ellinwood Roustabout and Jayhawk Pipeline for bringing their cranes to place it for us!

Today on 3-13-23, Members of the Chase City and Fire Department broke ground on our new fire station!!
This was truly a team effort as between city and fire dept members, over 90% of the total building cost was fund raised from in and around our community! We would like to Thank every single person and business that donated and made this effort come to fruition!!
Building will start in the next couple weeks with a finish goal of June 1st!

Before the Chase Fest last Saturday sister Paula Bieberle along with Gene Haas stopped by the High School to put some bars on the In Memory Plaque. Of course I had to use the loo and was surprised to see this on the stall doors. I asked Gene if the Men's room was the same way and he confirmed so i went in and took photos there too. Love them.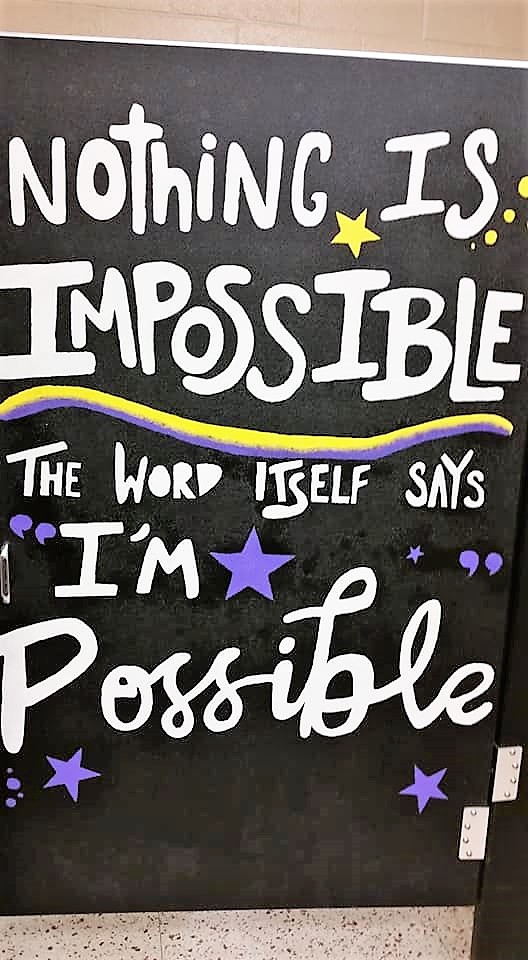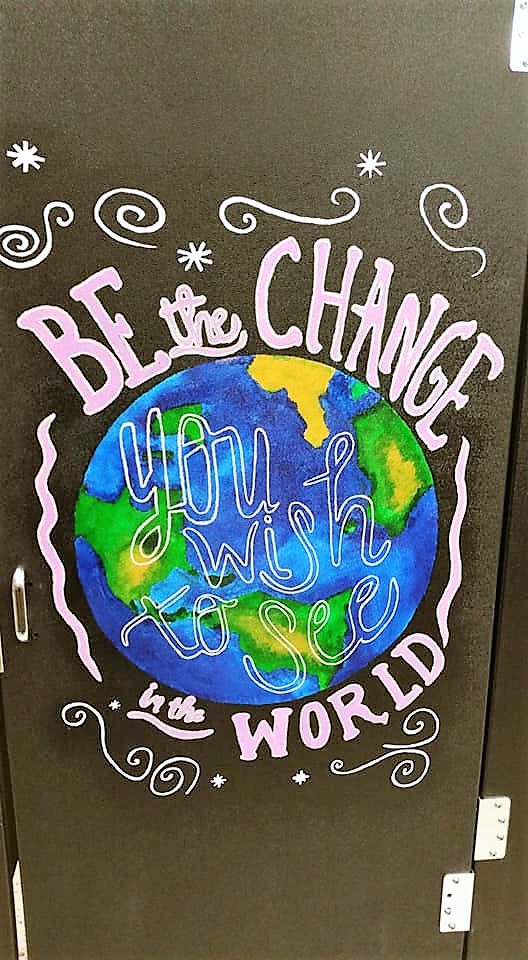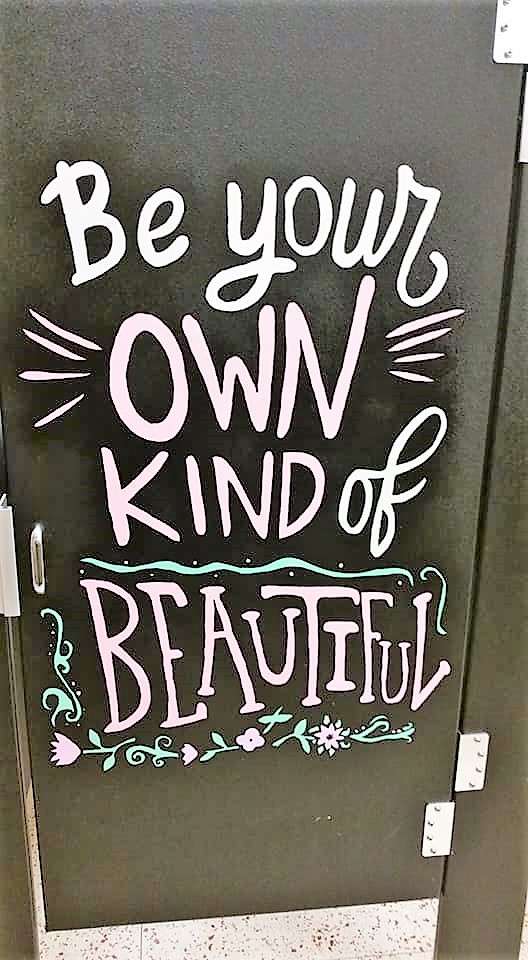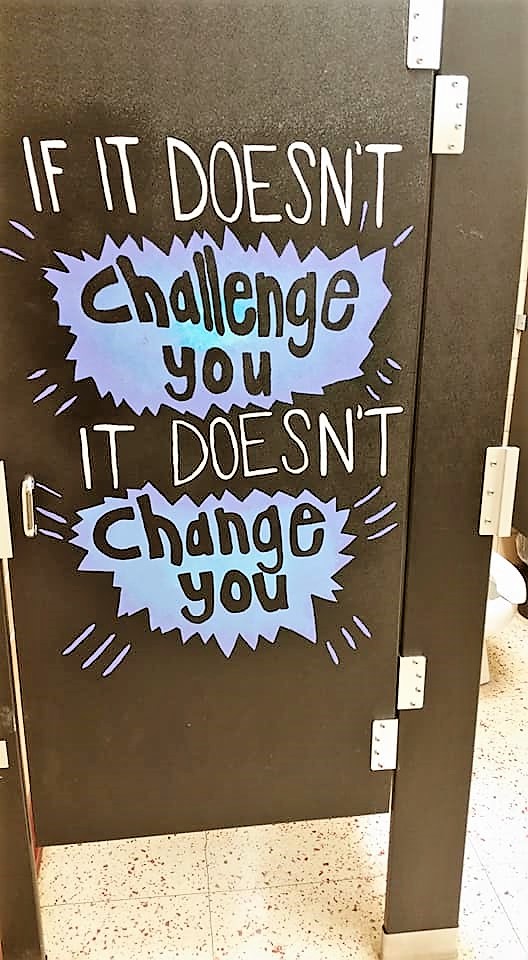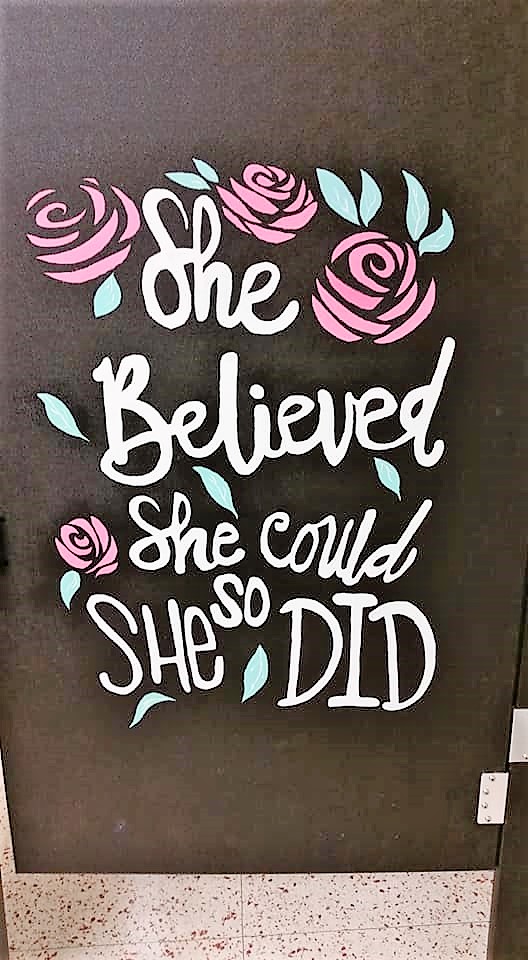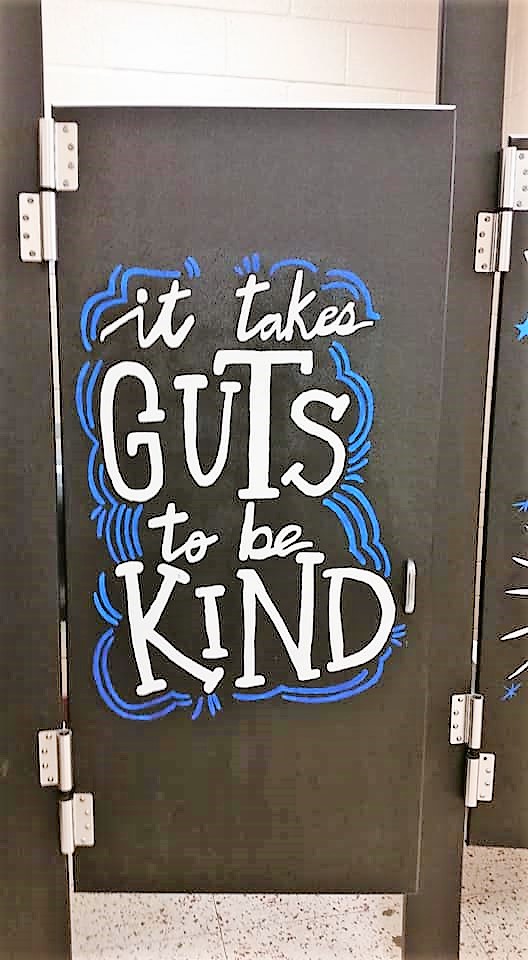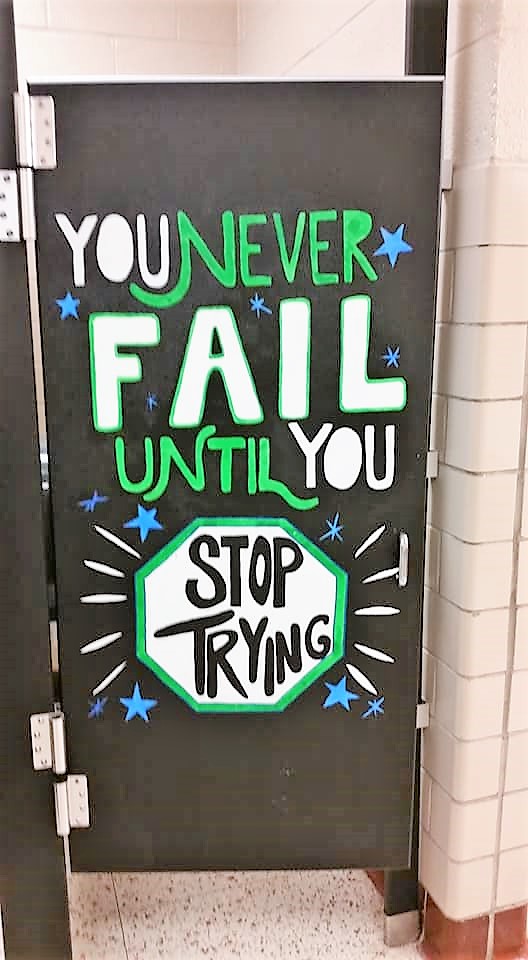 Dave Peebler also provided this way after photo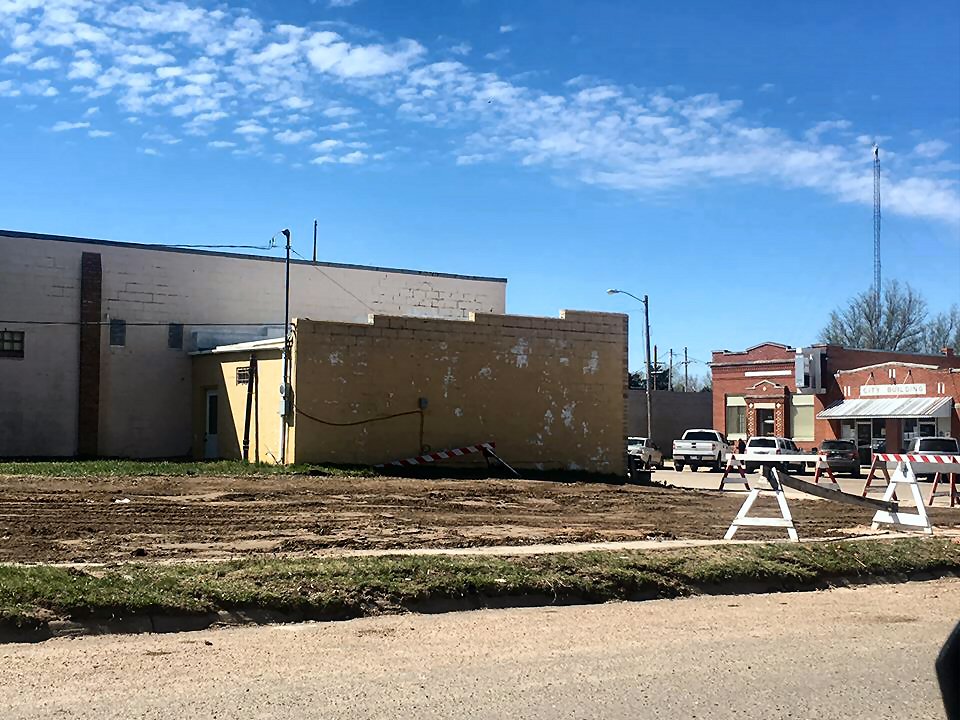 Dave Peebler provided the before photos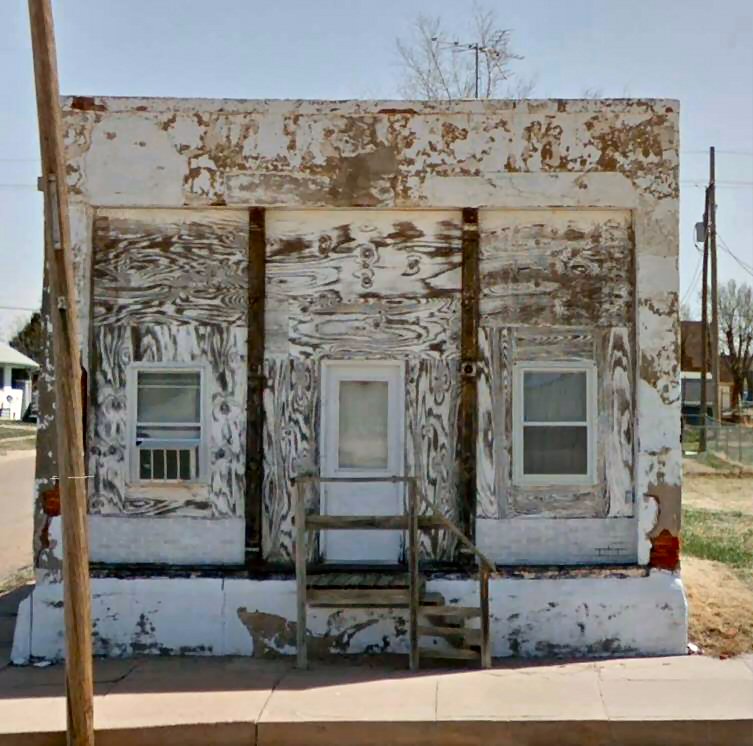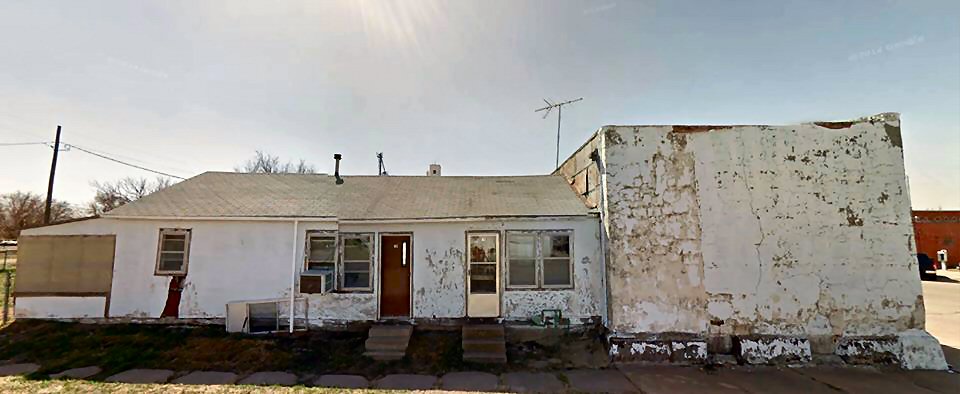 After photos by Valerie Keesling Saunders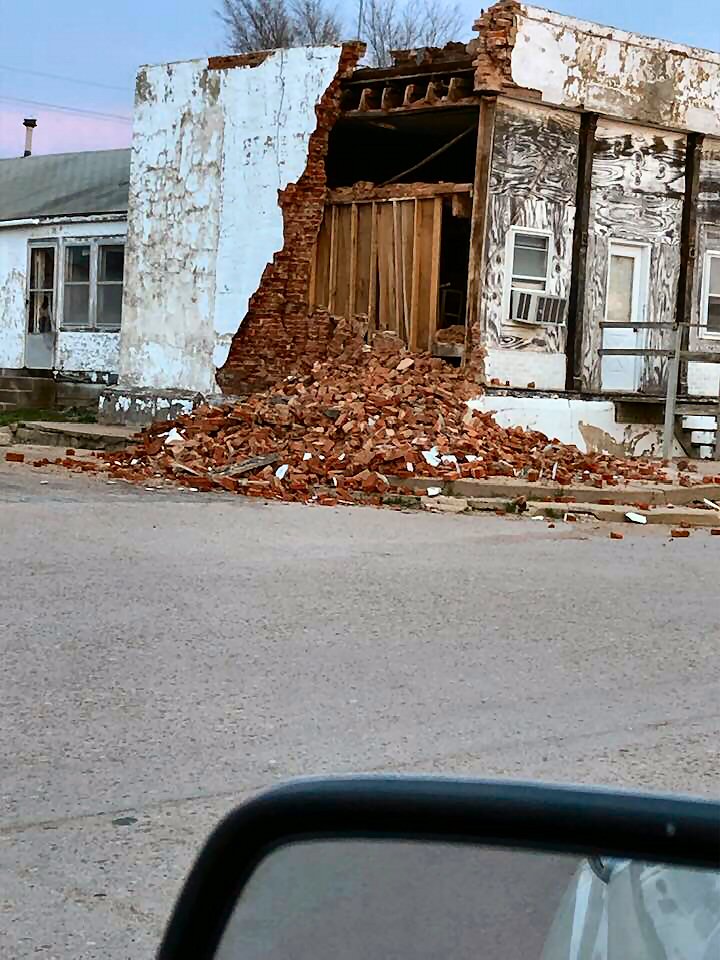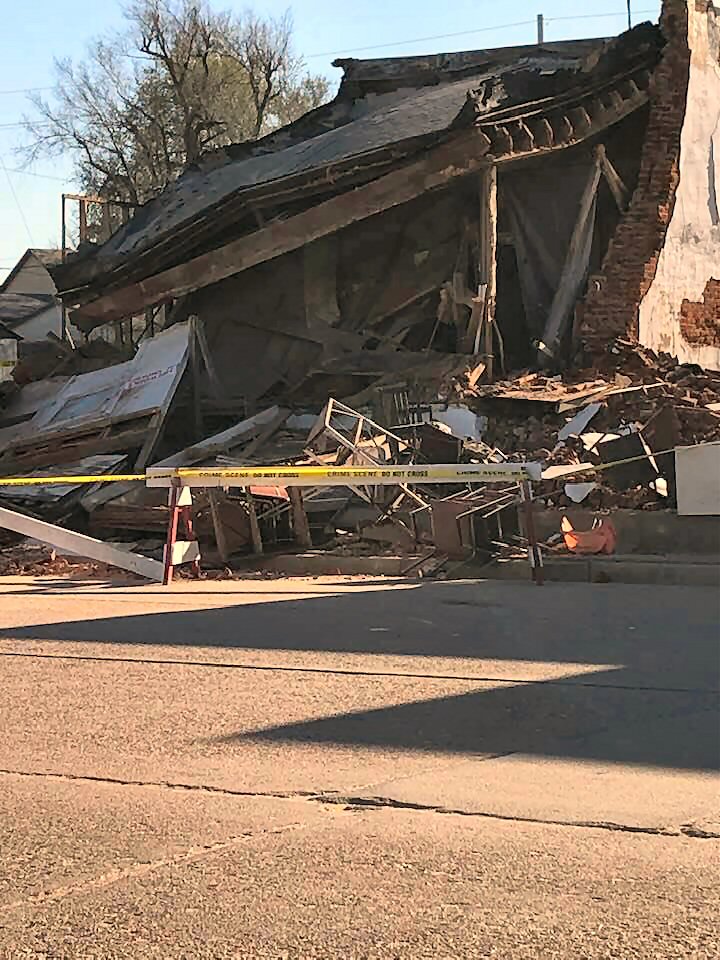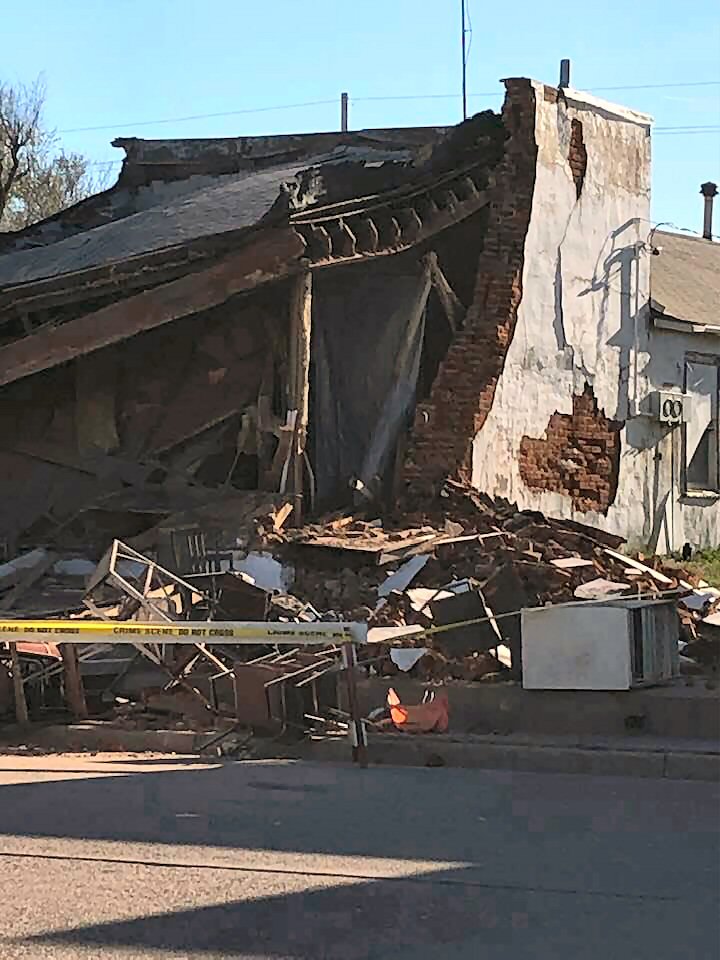 So this happened in Chaseamerica the first week or so of April. It was posted on facebook and some of the comments
that speculated as to what it used to be are these: That is the Joe Adams (snow cone) home. Dr. Wallace had an office there also, The old Adams building. Joe Adams had a plumbing shop there and they lived in the back, I think at one time he had a shoe repair shop. I remember him sitting out on those stairs in the evenings, They used to sell fireworks out of there, it was originally a meat market. The house was added in the 50's and it was the oldest building in town. It was made of Chase bricks, which were very soft bricks and they were made at a plant down by where Farley's is now. So what do you remember about this building? email me and I will add those comments to this post. Sad to see any building in Chase gone.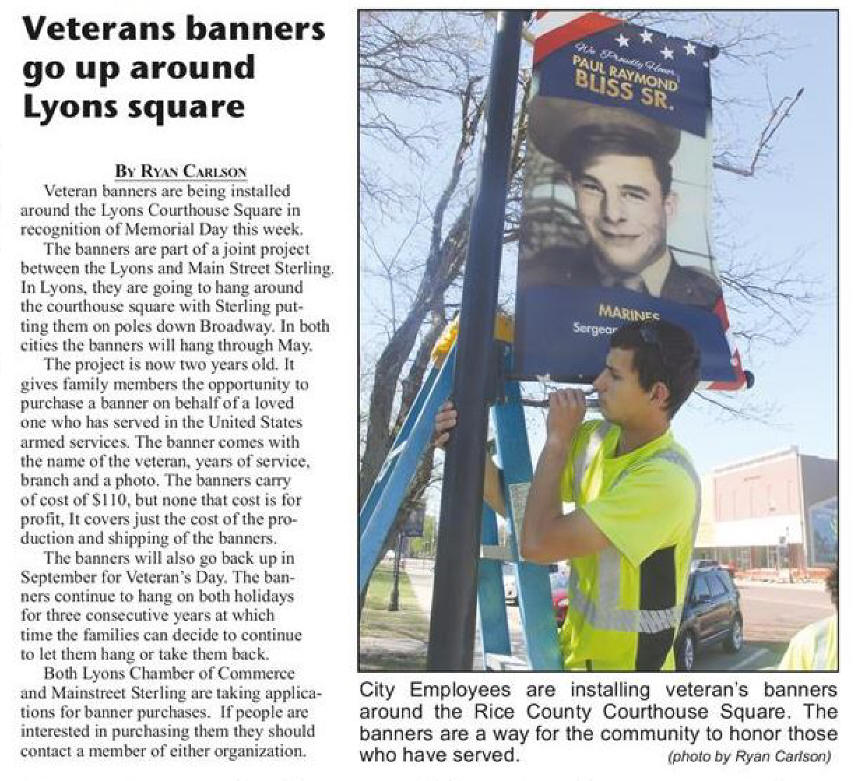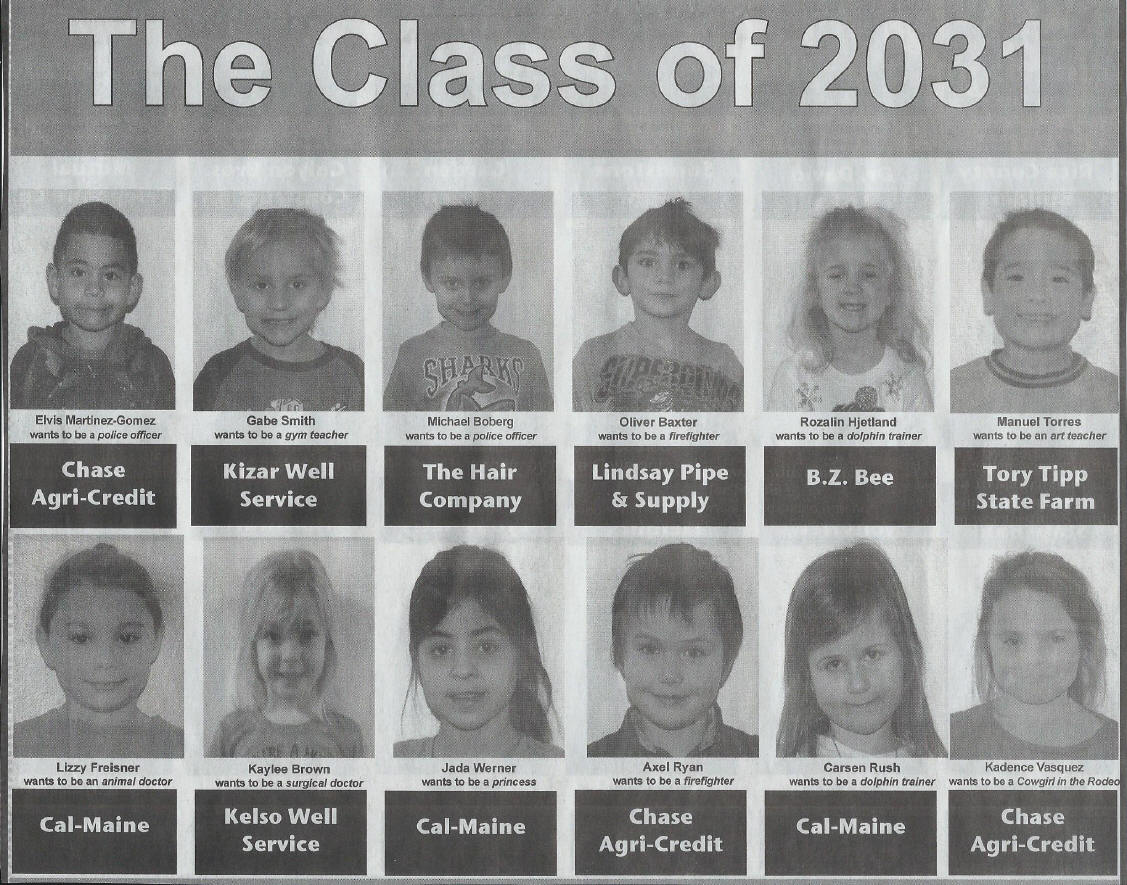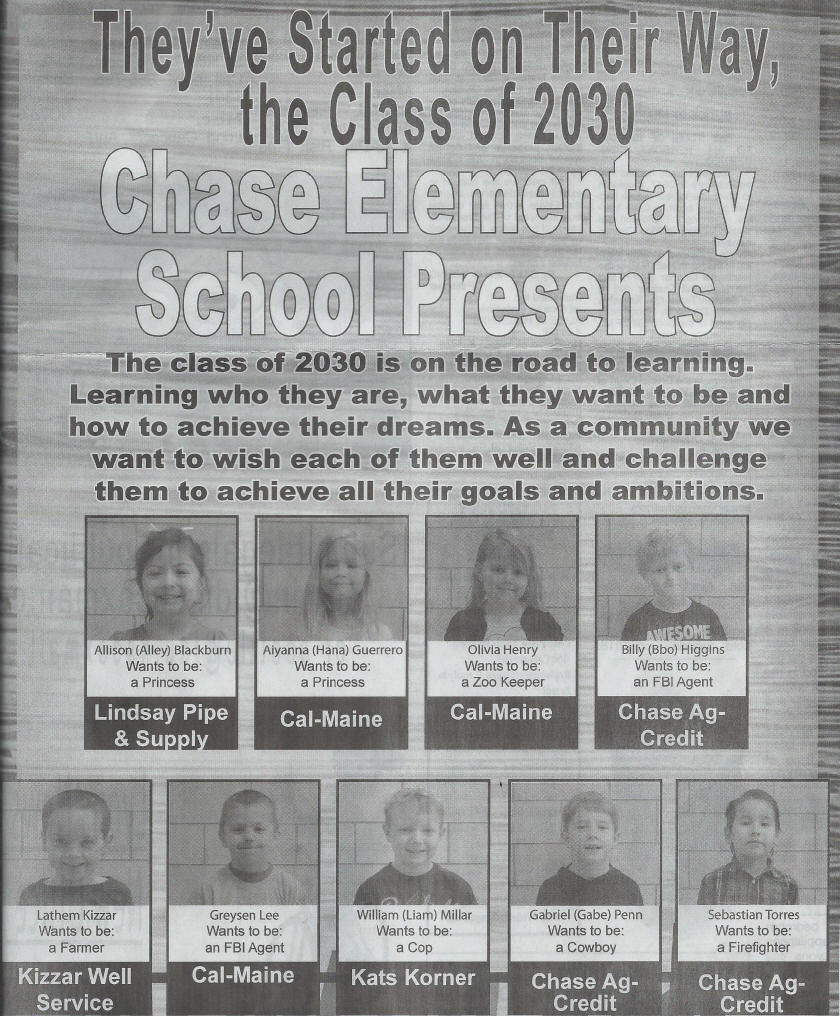 I thought this was interesting, anyone remember this family?
Article says she might have been from Chase.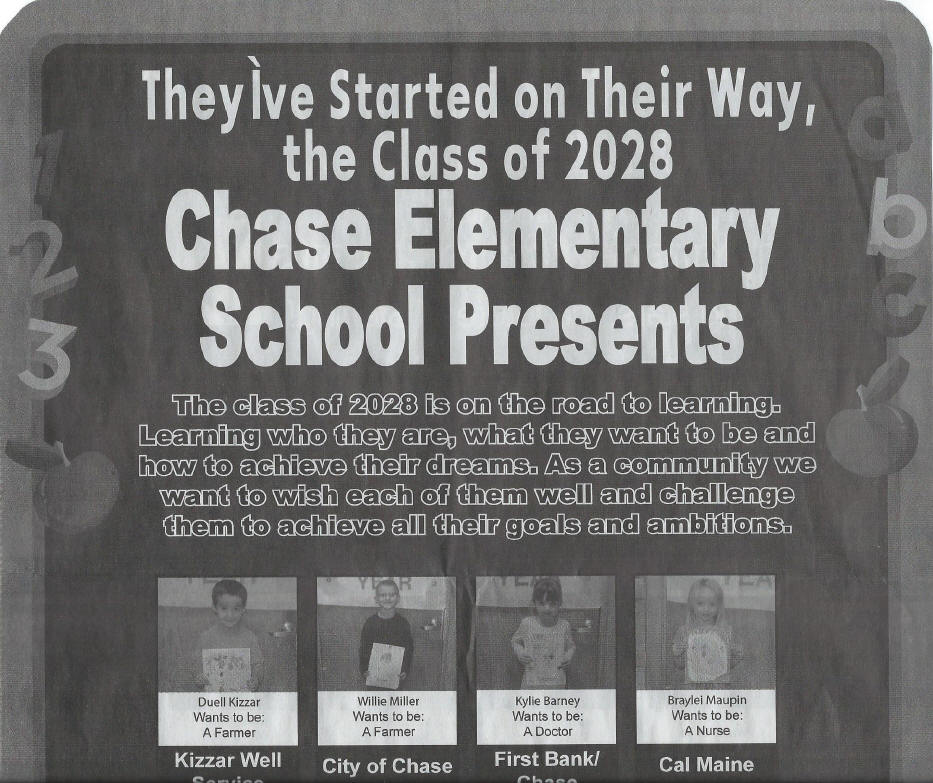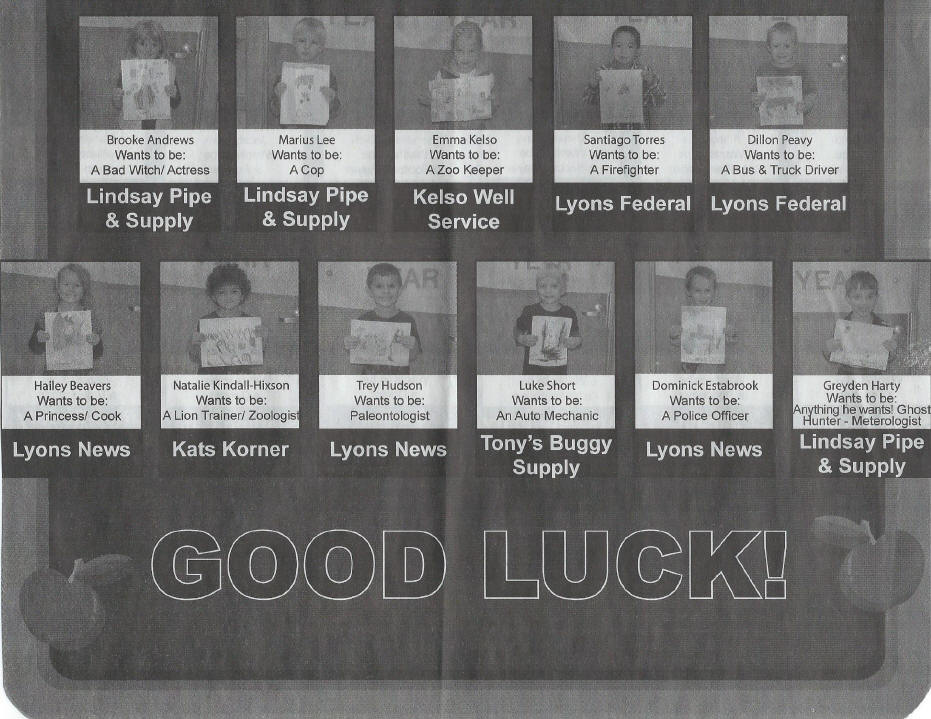 Here is a photo that I took before it was moved.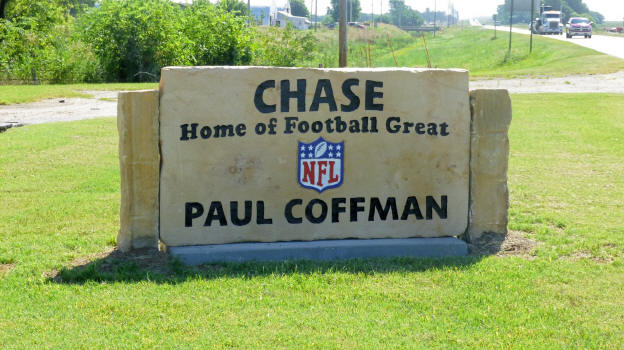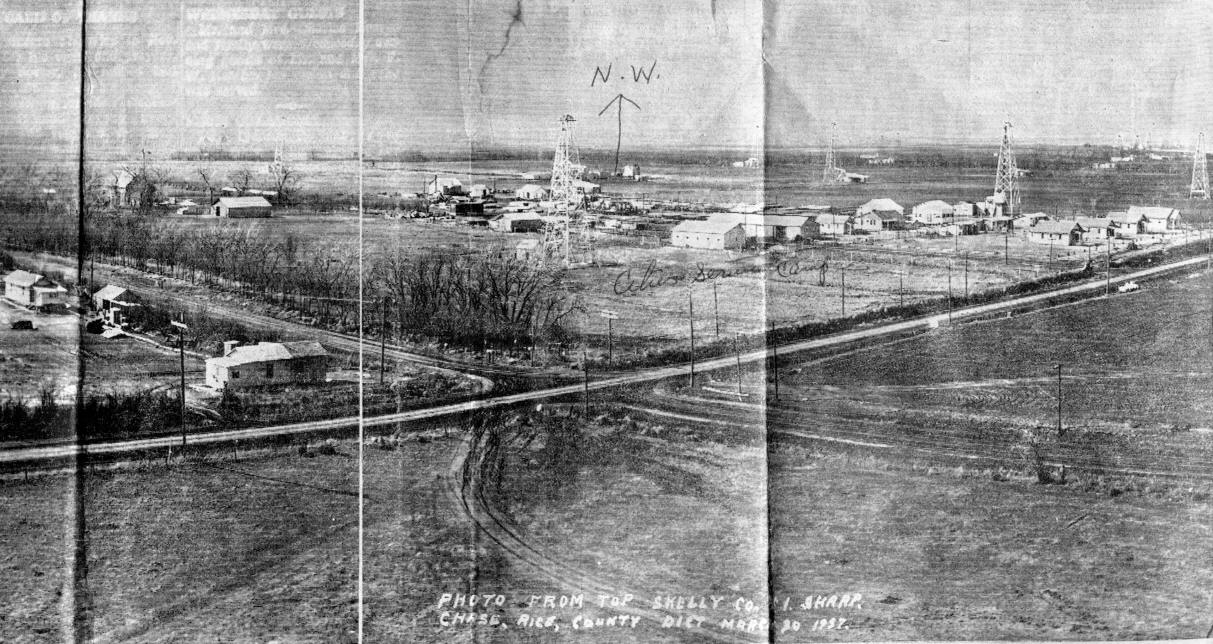 Photo shared by David Peebler, we can't tell if that year is 37 or 57.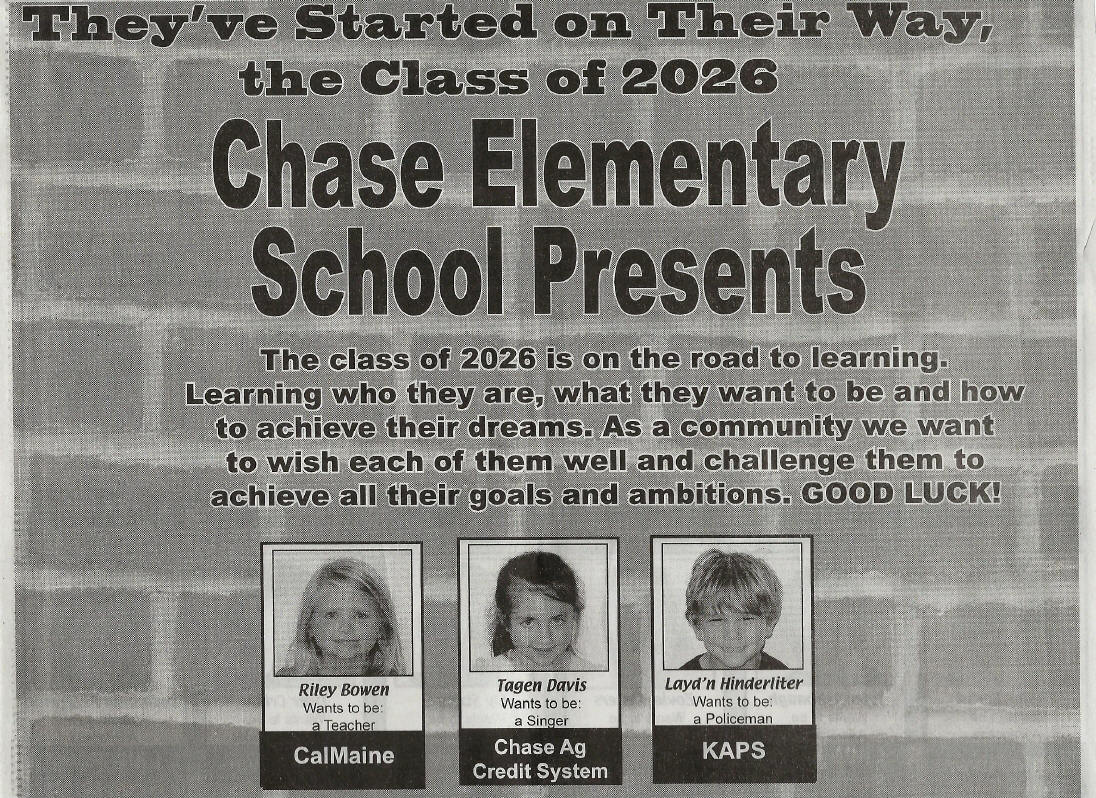 Found this in the Lyons News Archives. Couldn't find Class of 2024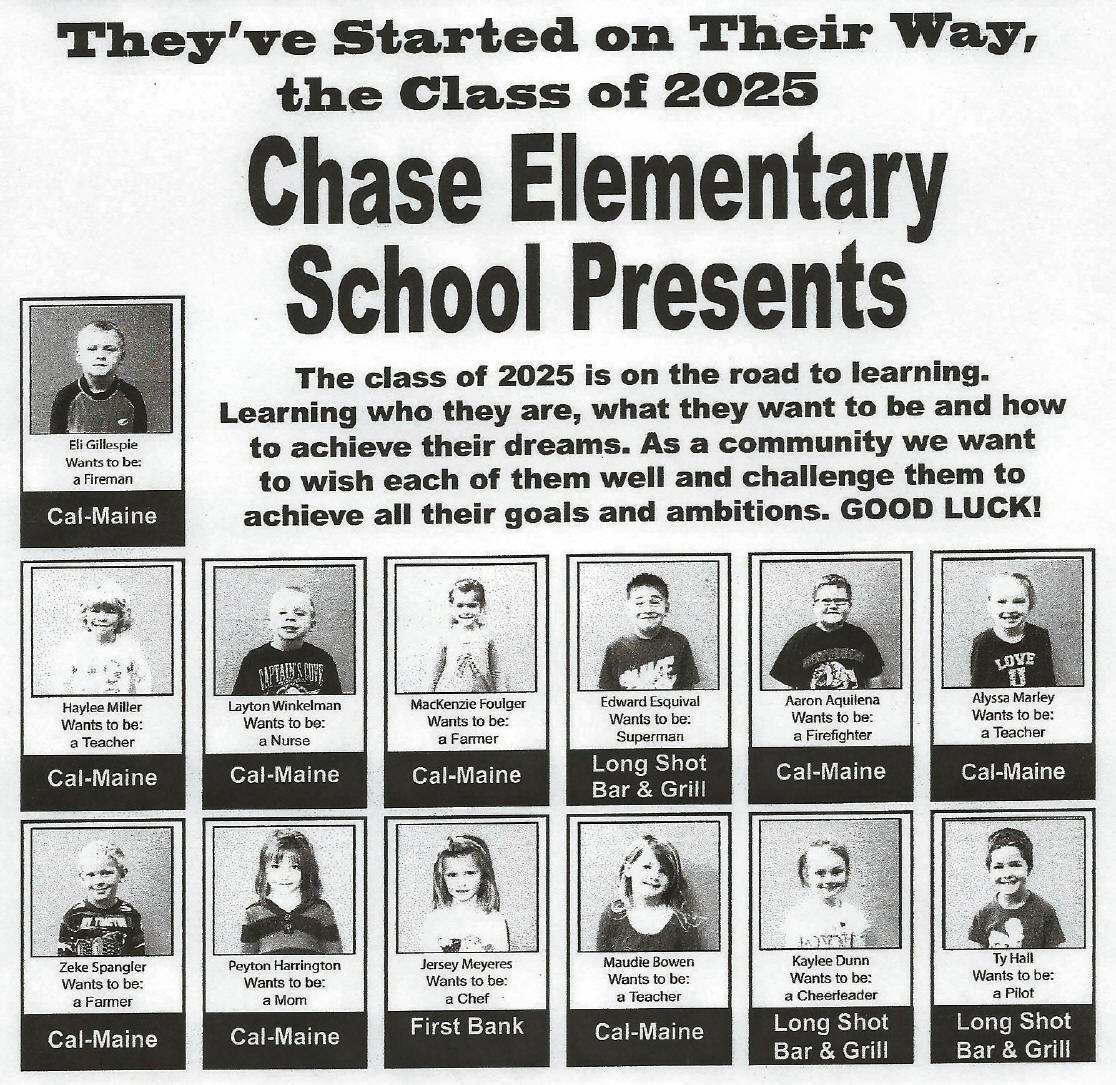 Who remembers the re-opening of the Chase Theater in 1963?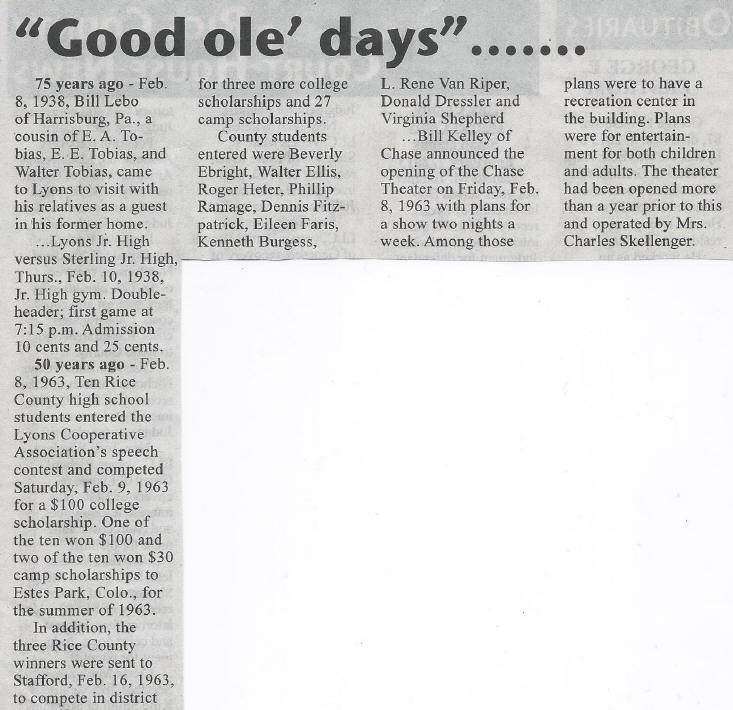 Here is our future Class of 2023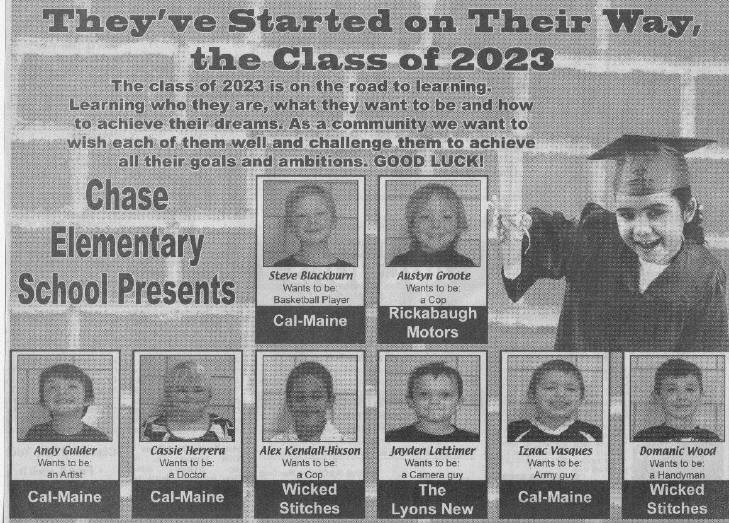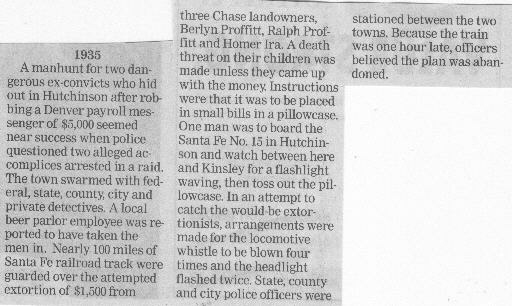 This was in the Hutchinson News awhile back and thought we would share it in case you didn't see it.