DO YOU REMEMBER WHEN! Page One


Click here for Page Two
Click here for Page Three
Click here for Page Four (News Clippings)
Click here for Page Five (News Clippings)


David Peebler ran across these jewels from his Kats Kapers, Feb 28, 1961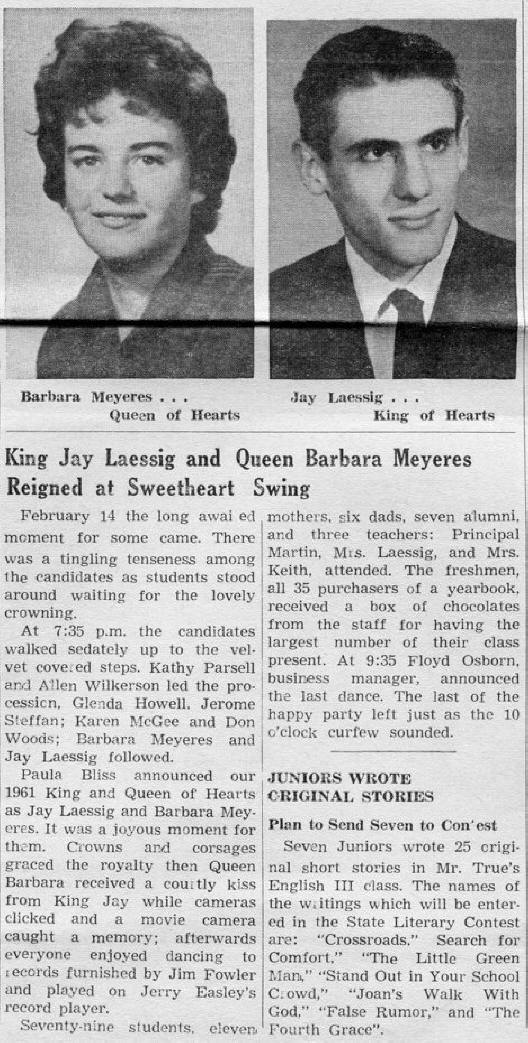 Received these items from Sandi Richardson Hodnett who
found them while going through her Mothers things~~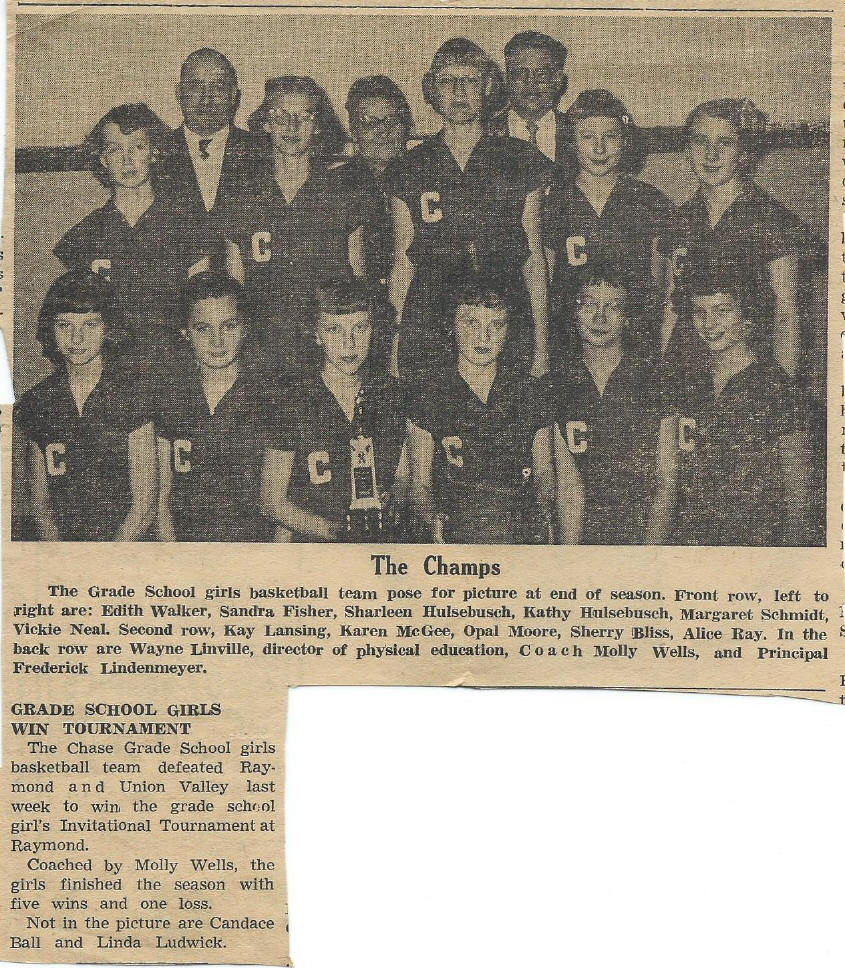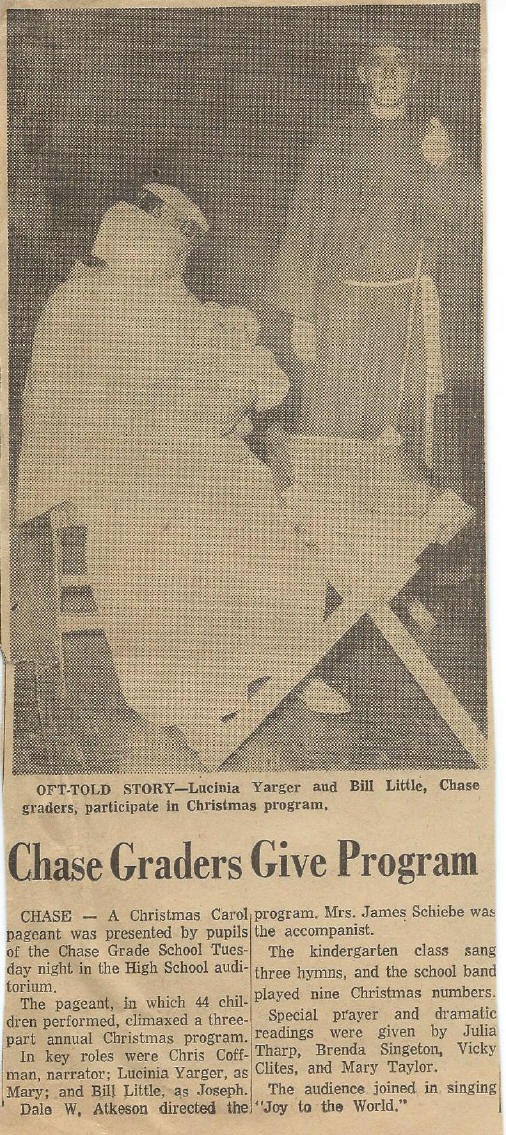 Here is a program from another production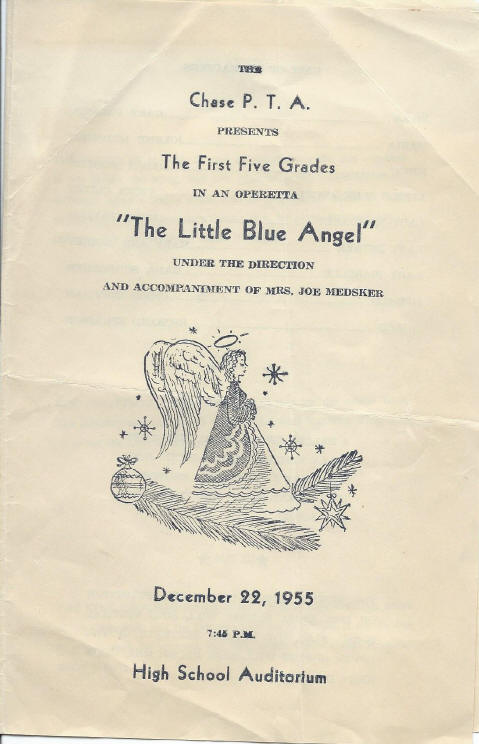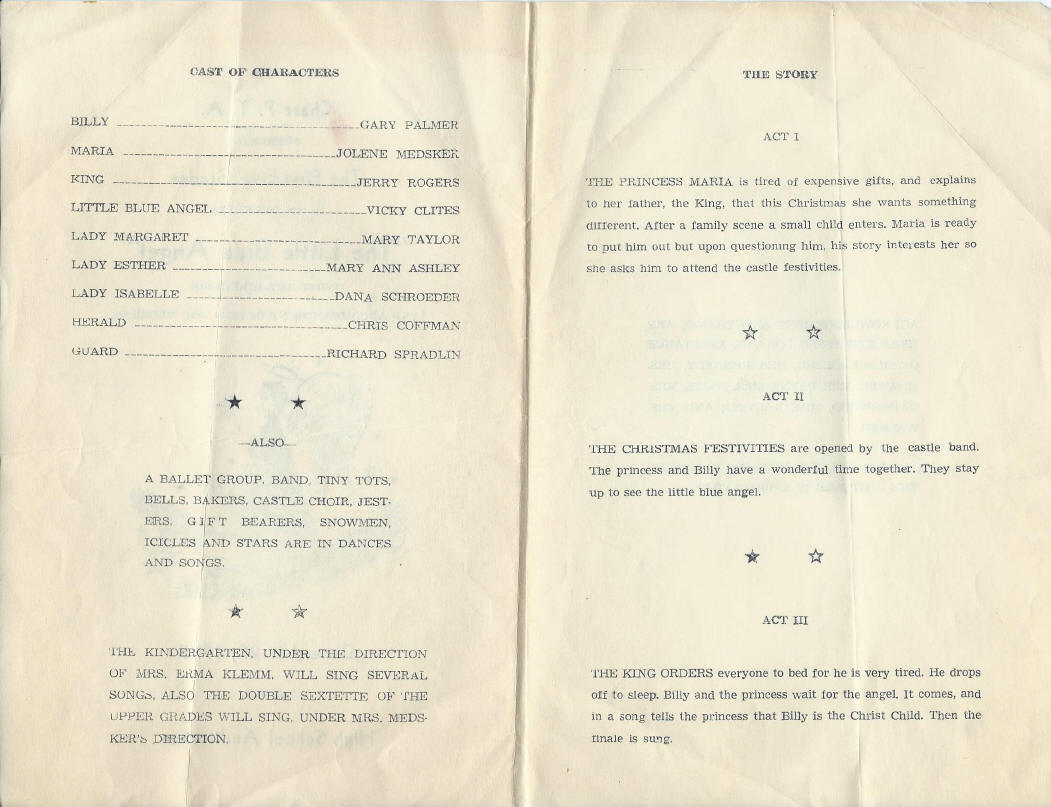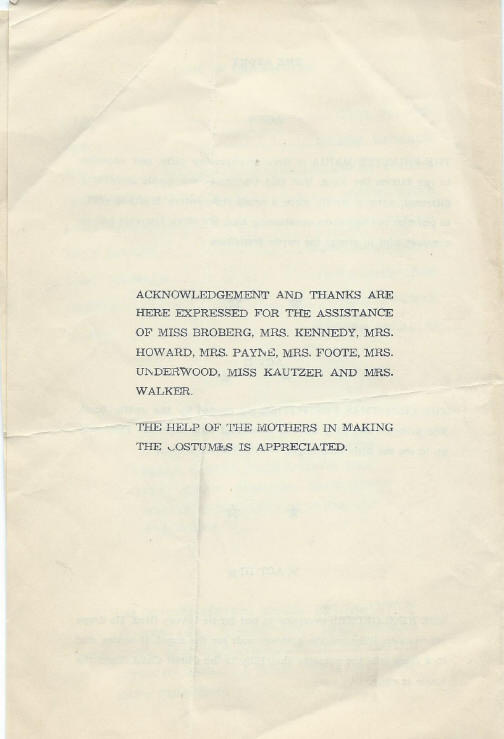 And one more thing, it is a sad memory but impacted all of us


Photo shared by David Peebler, he thinks it is from around 1965.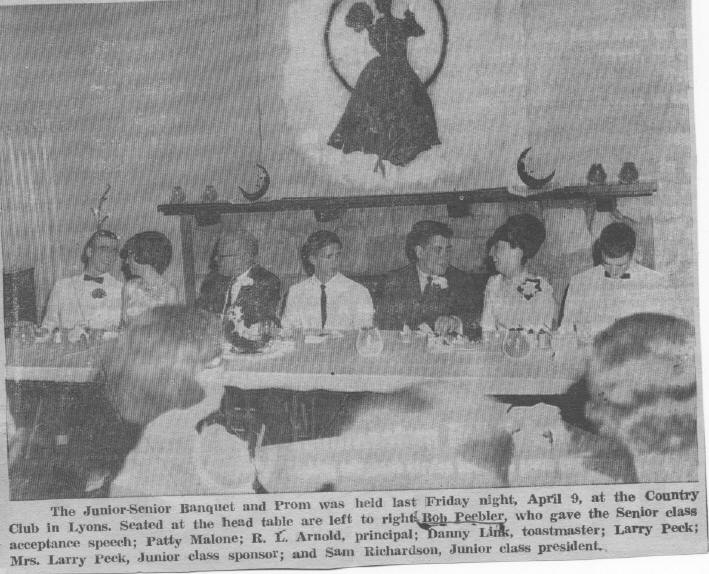 Carnation Chapter, Order of Eastern Star, Chase, Kansas, November 9, 1955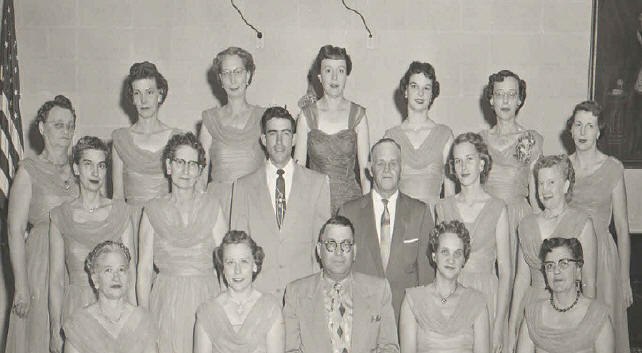 Back row: Anita Hardwick, Sally Peletier, Maggie Brady, _____, Jean Starbuck, Helen Holmes, _____.

Middle row: _____, _____, Bill Starbuck, Howard Campbell, Mary Lou Warren, Jeanie Warren.

Front row: Helen Arnold, Jenny Campbell, Lou Tyrrell, Ceora O'Hara, Lillie Taylor.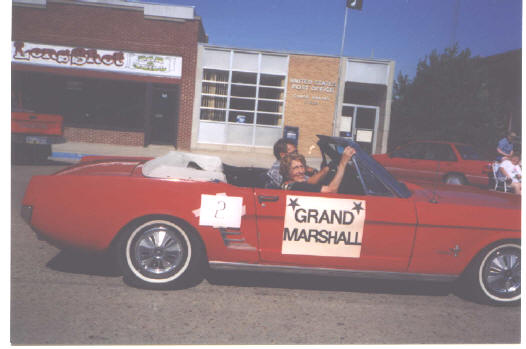 Betty Wood, 1999 Grand Marshall at the Chase Festival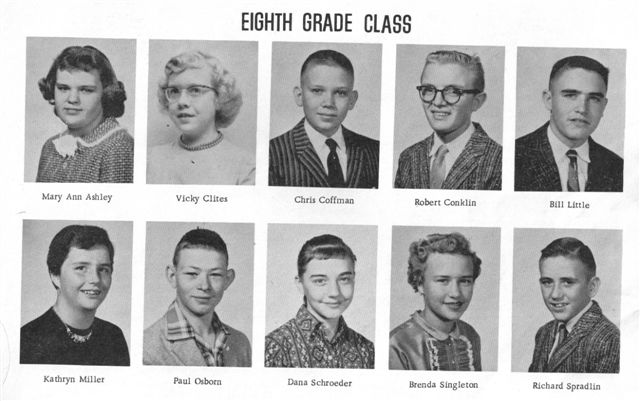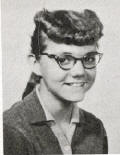 Mary Taylor

David Peebler is sending some interesting blasts from the past as he goes through them,
this is the first item. Click on the photo to see the rest as they come in.
Thanks for the memories, David.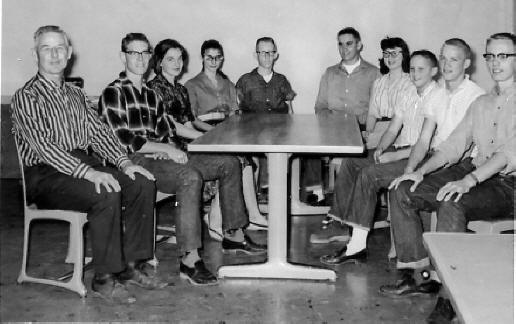 Student Council Meeting?
Mr. Martin, Dwight Smith, Dana Schroeder, Glenda Howell, Don Lindsey, David Peebler,
Paula Bliss, Allen Koen, Floyd Osborn & Dennis Ruckert.
(Please correct me if I am wrong on anyone.)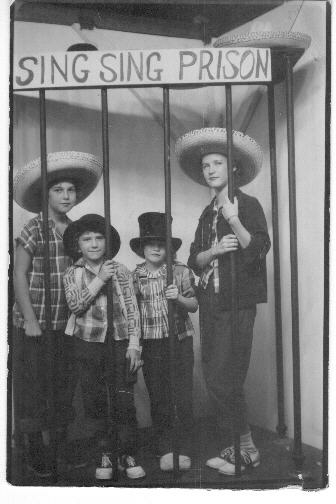 Hutchinson State Fair
Barbara Long, Sharon Long, Barbara Link & Deanna Link

Barbara Long Herbel has shared some more photos with us--
click on the above photo to see the rest of them

Frances Heine received this picture in some memoirs and thought to share.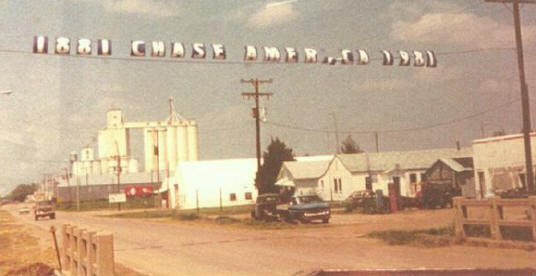 Obviously, these girls remember when!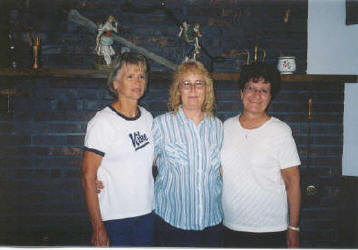 Edie Werther, Sherry Bliss and Sharon Long, '64 Classmates,
during their visit in Palco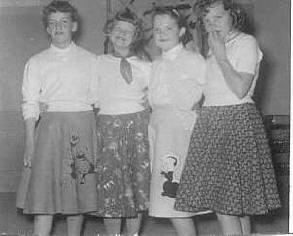 St. Mary's School friends, Barbara Meyers '63 and Barbara Link,
Carmen Malone and Sue Spangler '64.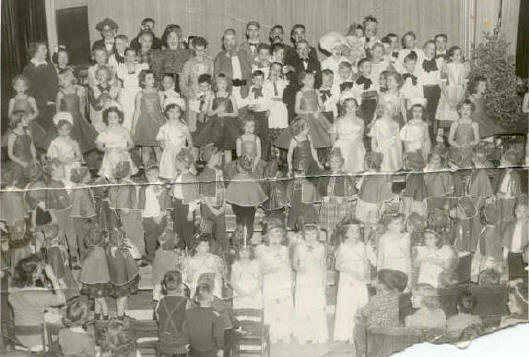 Instead of leaving alot of blanks, I will just roughly identify kids (please help us out with this - it's like a puzzle we can all put together!):
Bottom left hand corner - woman sitting taking picture is Mrs. Medskar (music teacher); front row group of angels - Annette Short, Shirley Beyers, Sharon Long, Barbara Wood, and perhaps Melanie Davis on the end. Three rows from the top - second girl from the left Mary Taylor, Effie Callis, Dana Schroeder (then two little boys) then Jolene Medskar and then the next little boy is Gary Palmer; next row down from left is Vickie Boyd, Judy Poore (below Effie Callis) and three girls to the right of Judy Poore is Vickie Clites (looking backward);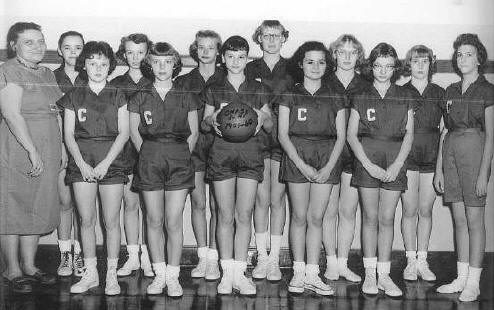 1959 Girls Junior High Basketball Team:
Candy Ball, Kathy Hulsebusch, Kay Lansing, Sharleen Hulsebusch, Karen McGee, Edith Werther, Opal Moore, Sandra Fisher, _________Schmidt, Elma Ray, Carla Garman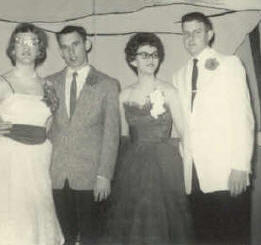 1960 Junior Senior Prom
Mary Taylor '63, Don Honeyman '62, Sheryl Kennedy '62 and Jerry Easley '62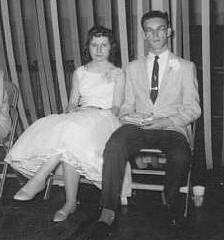 Jim Martin '60 with date Sharon Long '64 at the 1960 Junior Senior Prom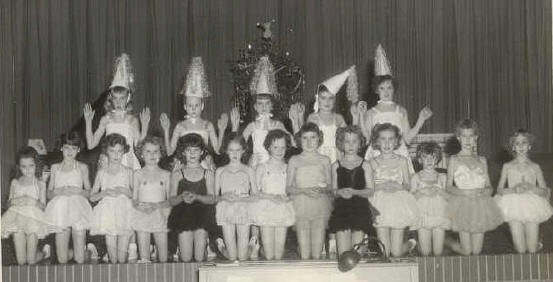 Back row: from left is _____, Sherry Bliss, Edie Werther, Carla Garman, and _____.
Front row: Georgia Stroup, Janet Stroup, Judy Stroup, _____, Vickie Neal, Suzanne Castle, Sandra Richardson,
Sharon Long, Connie Locke, Mary Lou McConnell, Patty Little, Karen McGee, Cathy Coffman.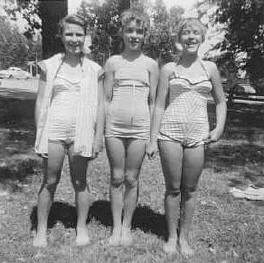 1958 BATHING BEAUTIES, SHARON LONG, MARILYN DEARDORF AND BRENDA SINGLETON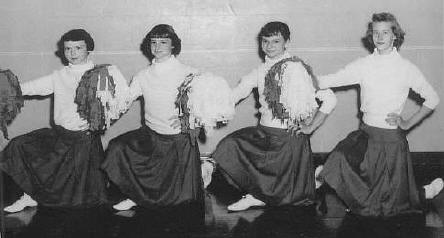 JR. HIGH CHEERLEADERS, SANDRA RICHARDSON, DIANE HONEYMAN, EDITH WERTHER AND KAREN MCGEE
('64 CLASSMATES)

The 1929 CHS basketball team, shared with us by Dr. Eugene Wood: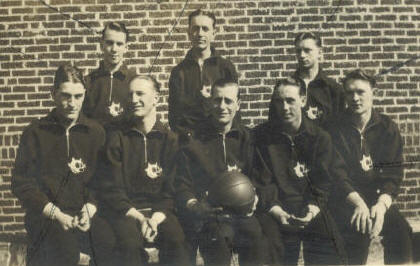 Back row: E. Wallace, R. Linke and Eugene Wood.
Front row: K. Foote, B. Linke, Austin "Toe" Linke, E. Kennedy and G. Moore.
Dr. Wood says the warmups were dark red. Check out the Felix!

The following were shared with us by Marie Wilson Musgrave:
Sadie Hawkins Day 1941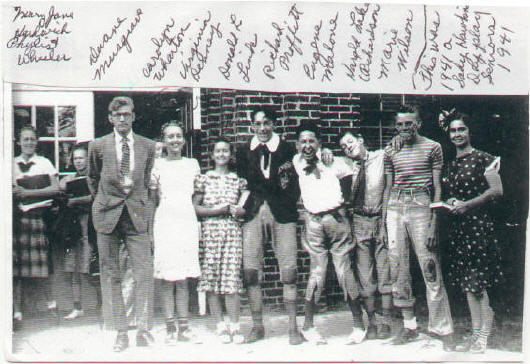 The following were shared with us by Paul Miller:
1948 CHS STUDENT COUNCIL WITH OLA KEITH
CHS 1950 FOOTBALL TEAM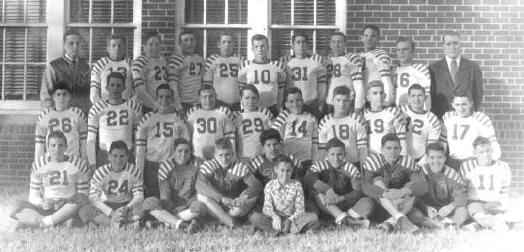 1952 SENIOR FOOTBALL PLAYERS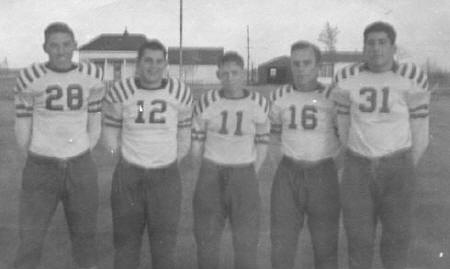 CLASS OF 1952 FIRST GRADE PICTURE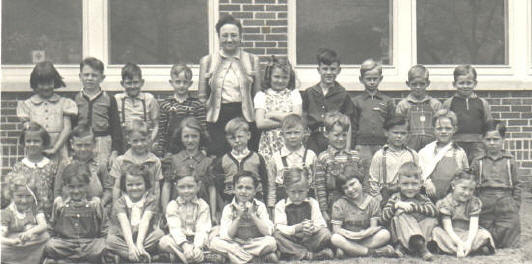 JO HIEBERT AND JANICE PETERSON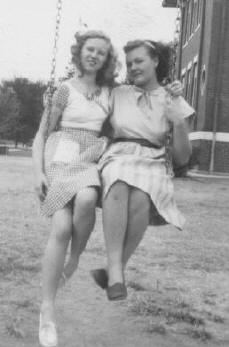 1950 JUNIOR - SENIOR PROM
PAUL, JIM AND JERRY ON A HUNTING TRIP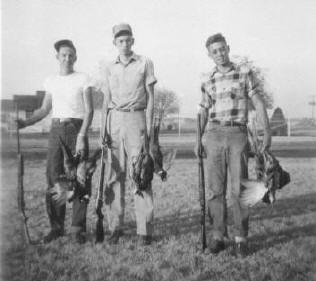 1951 - 52 BASKETBALL TEAM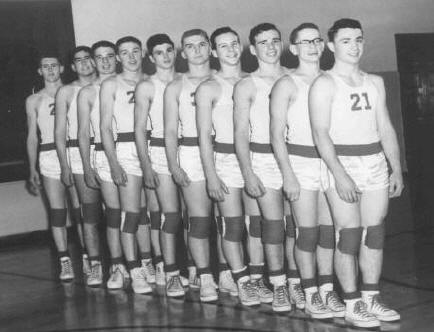 JIM BUSCH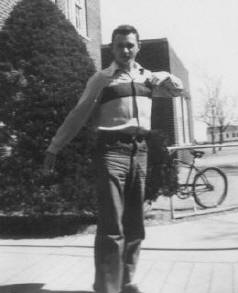 1952 SENIOR TRIP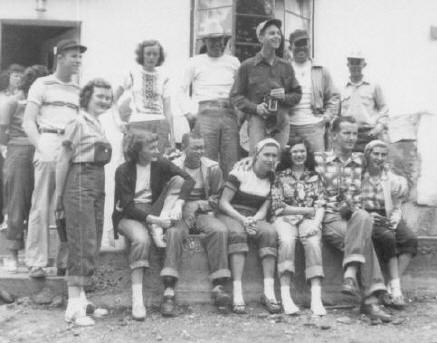 The following shared with us by Pat Werther Douglas:
Jerry Linke, Pat Werther, Mr. and Mrs. Austin Linke, Steve Malone, Beverly Kennedy, Jo Donnell, John Proffitt at the Moose Club when Jerry was home on leave from the service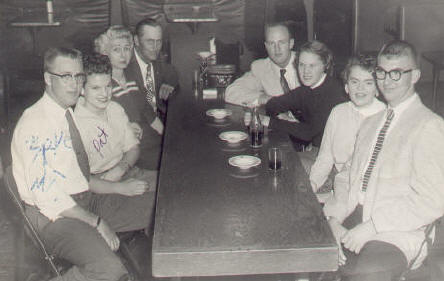 CHS CLASS OF 1960 IN THE 4TH GRADE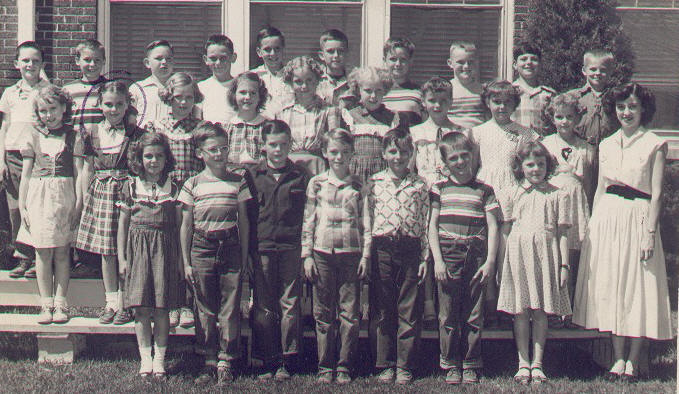 CHASE GRADE SCHOOL TEACHERS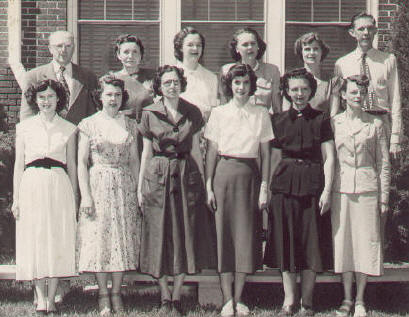 LONG TIME CHASE GRADE SCHOOL TEACHERS
MRS. WALKER, MRS. RICKER AND MRS. PAYNE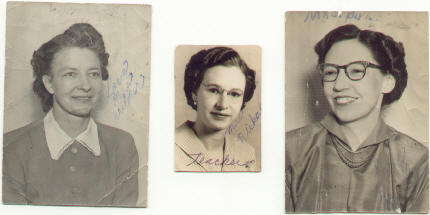 THE FOLLOWING SHARED BY THE CLASS OF 1963:
Barbara Meyeres At Freshman Initiation Fall of 1959

1963 CLASSMATES JOAN DICK, SHARON BOLDT, MARY TAYLOR AND SANDY LAESSIG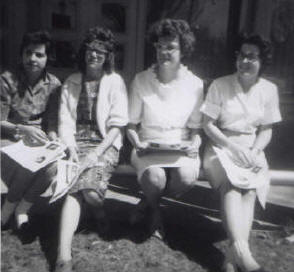 CLASSMATES TIM YOUNKIN AND MARY CAROLYN REEVES
AT FRESHMAN INITIATION FALL OF 1959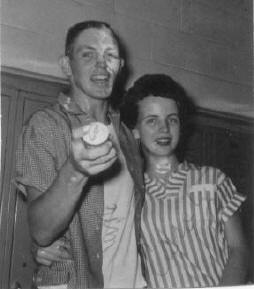 1960 CLASSMATES
PAULA BLISS (TWIRLER) AND PAULA, DWIGHT SMITH, FLOYD OSBORN,
DENNIS RUCKERT AND NADINE LINK
(Shared by Sherry Bliss Cole)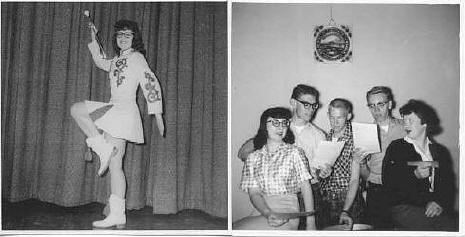 1955 CHASE GRADE SCHOOL SOFTBALL TEAM
(Shared by Sharon Huck Sailsbury)

The Smoker
(Gone but not forgotten. . . . .)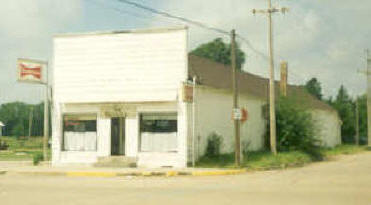 '63 CLASSMATES JULIA THARP, PAT MALONE AND MARY TAYLOR
"DOWN AT THE RIVER"
(WHERE WE WERE NOT SUPPOSED TO BE!)
Click here for Page two of "Do You remember When?"

Back to home page