DO YOU REMEMBER WHEN! Page One


Click here for Page Two
Click here for Page Three
Click here for Page Four (News Clippings)
Click here for Page Five (News Clippings)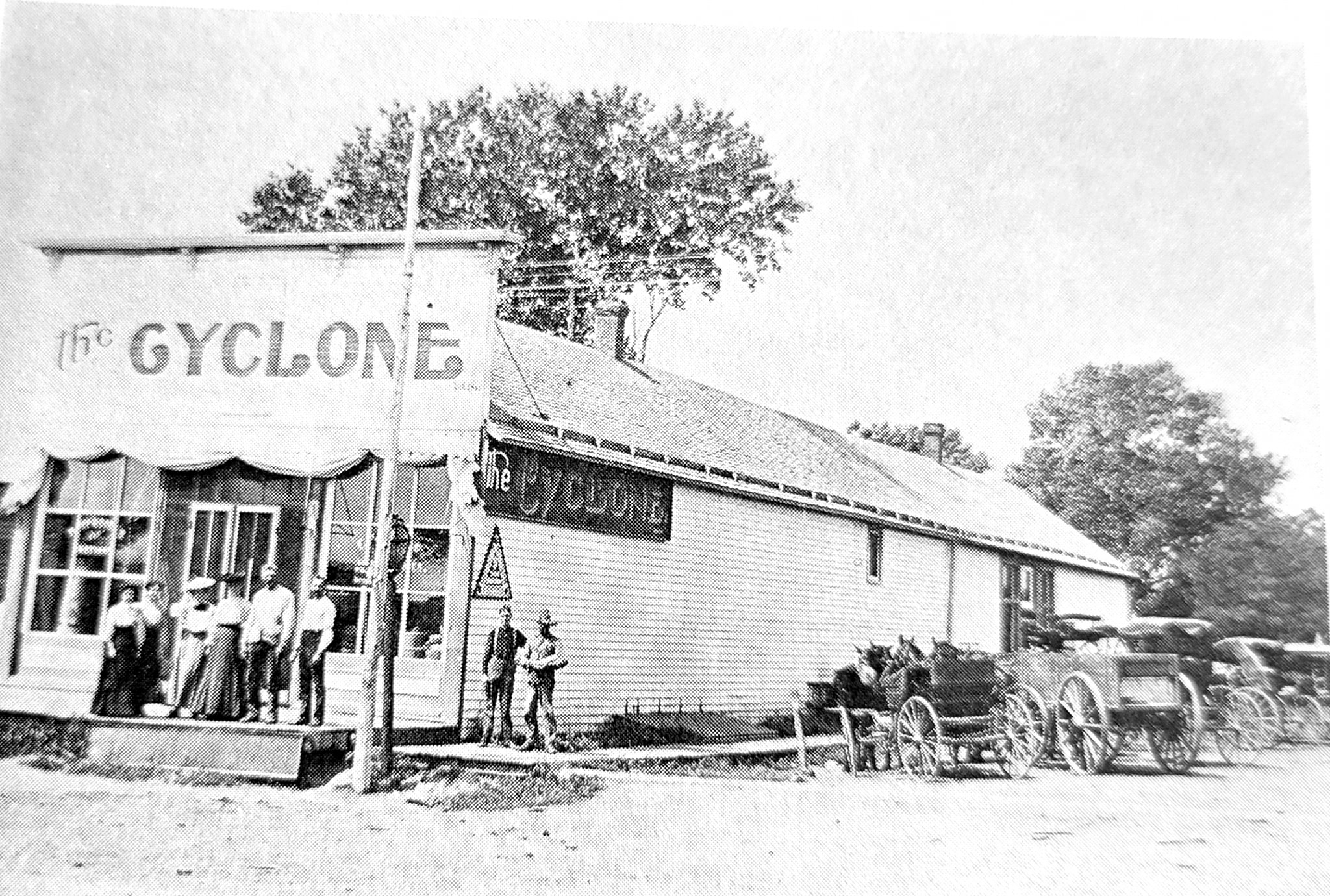 Before it was the HW Schroeder General Merchandise store and The Smoker it was The Cyclone.
Thank you Dana Schroeder, Class of 1963, for this photo and information.

Tony Gomez, Class of 1974 sent this memory.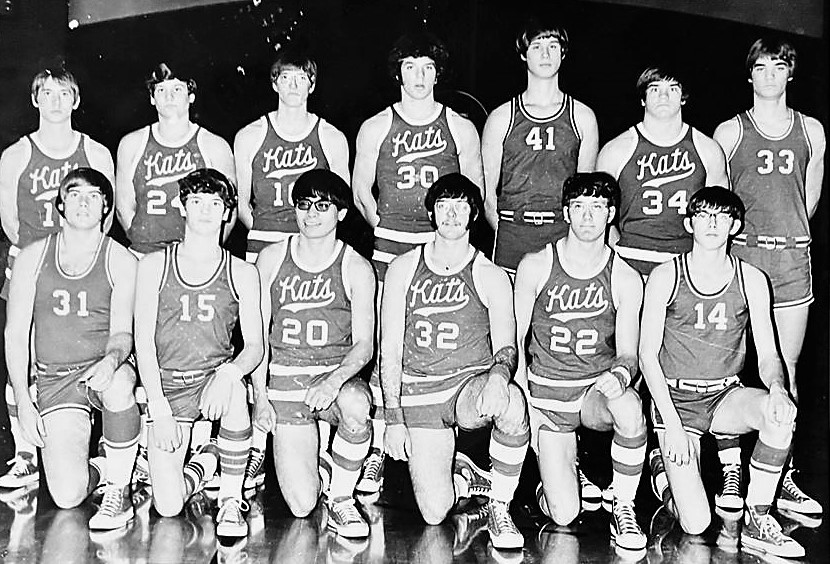 Front row, Richard Pharr, Tracy Poskey, Tony Gomez, Mick Doll, Steve Peterson, Robert Sieker
Back row, David Ball, Danny Starr, Jim Steffen, Paul Coffman, Richard Fiedler, Dale Kandt, Fred Messick

David Peebler ran across these jewels from his Kats Kapers, Feb 28, 1961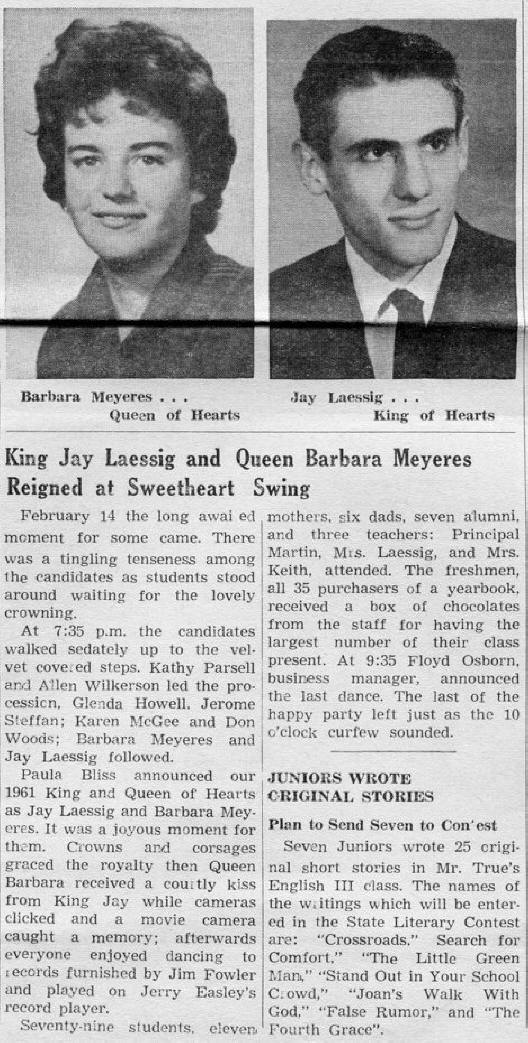 Received these items from Sandi Richardson Hodnett who
found them while going through her Mothers things~~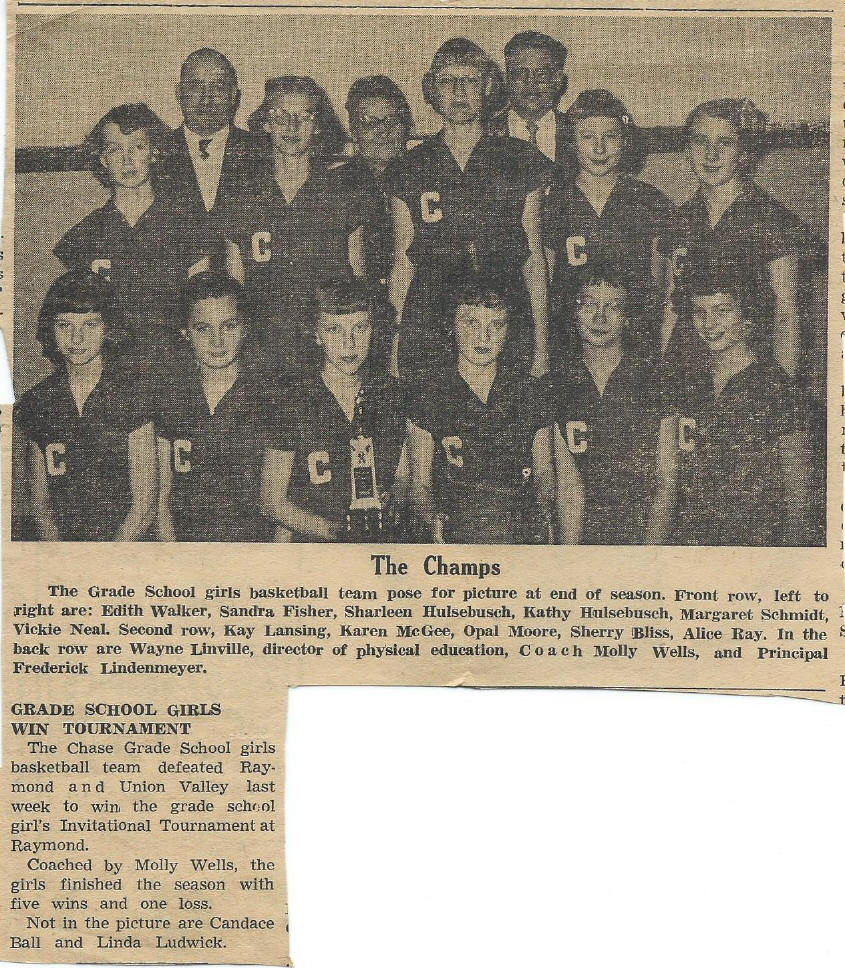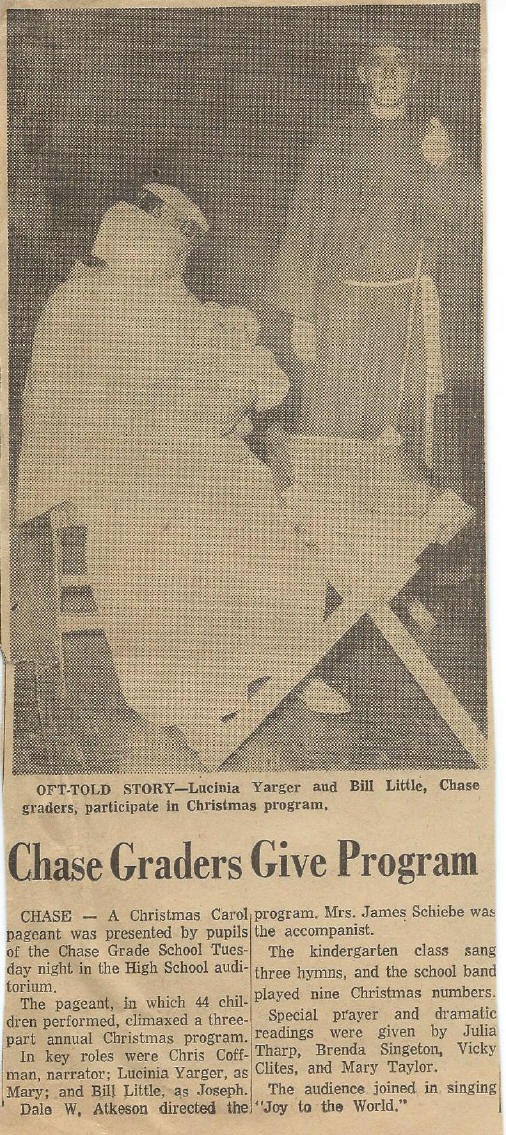 Here is a program from another production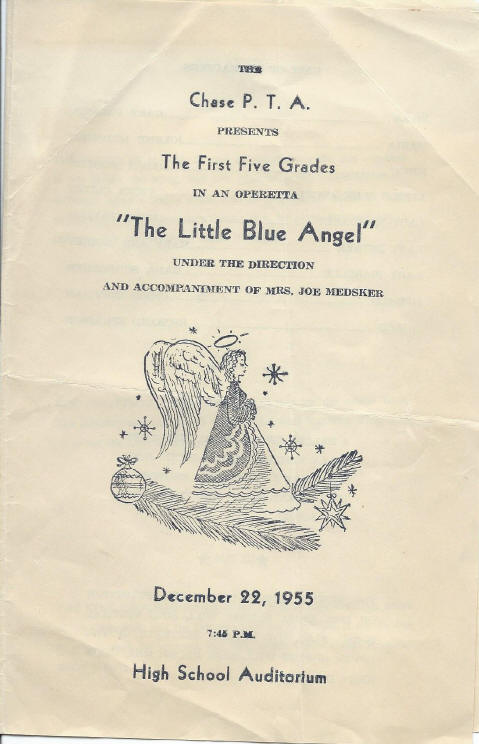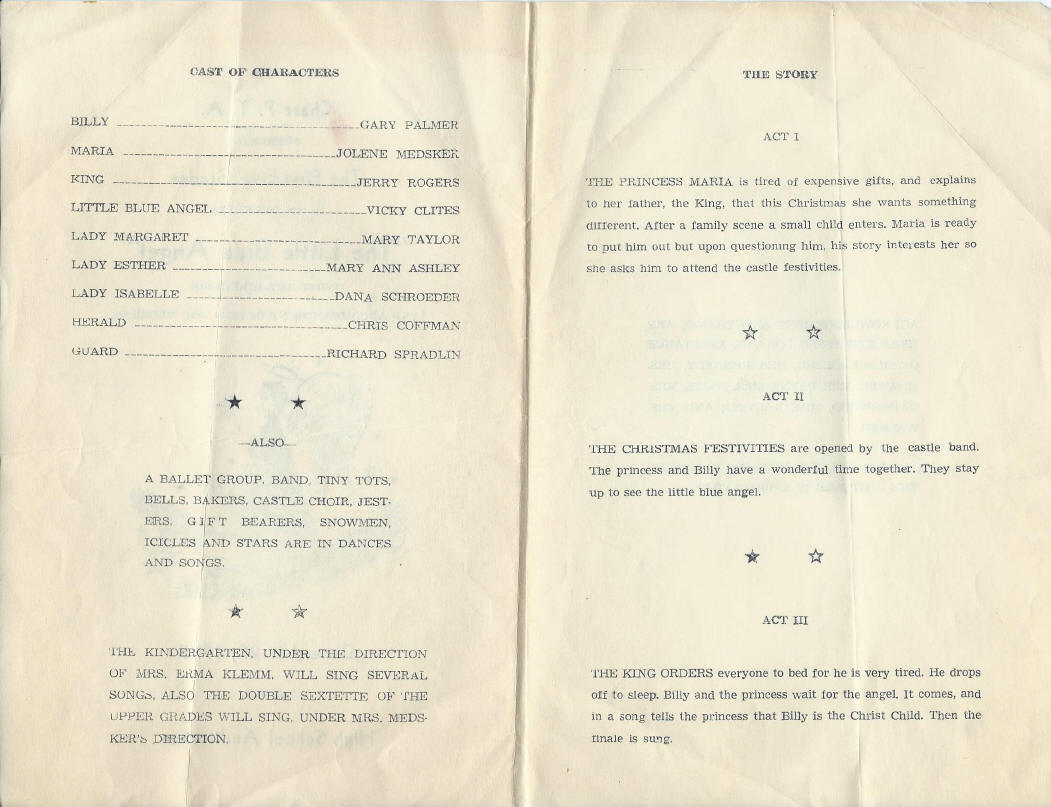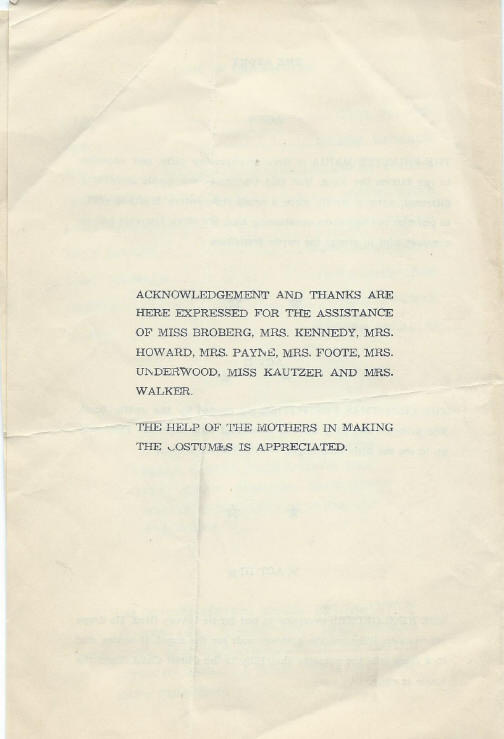 And one more thing, it is a sad memory but impacted all of us


Photo shared by David Peebler, he thinks it is from around 1965.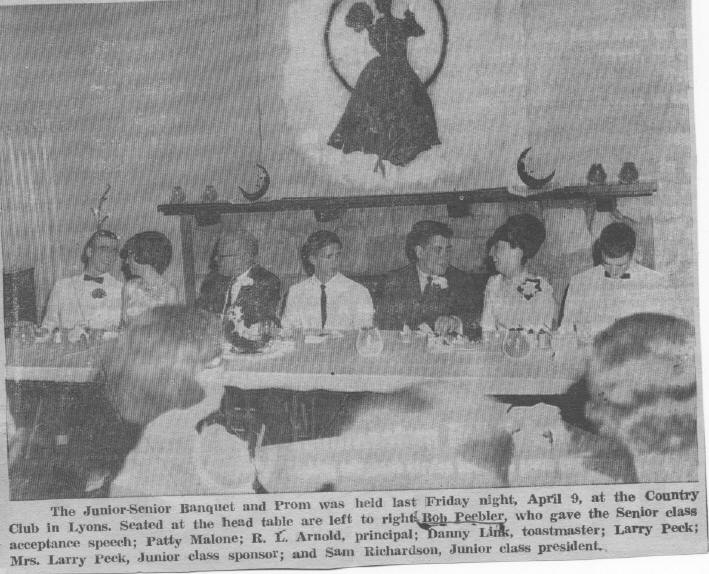 Carnation Chapter, Order of Eastern Star, Chase, Kansas, November 9, 1955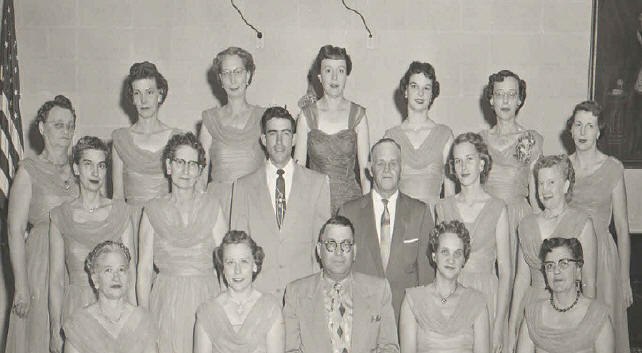 Back row: Anita Hardwick, Sally Peletier, Maggie Brady, _____, Jean Starbuck, Helen Holmes, _____.

Middle row: _____, _____, Bill Starbuck, Howard Campbell, Mary Lou Warren, Jeanie Warren.

Front row: Helen Arnold, Jenny Campbell, Lou Tyrrell, Ceora O'Hara, Lillie Taylor.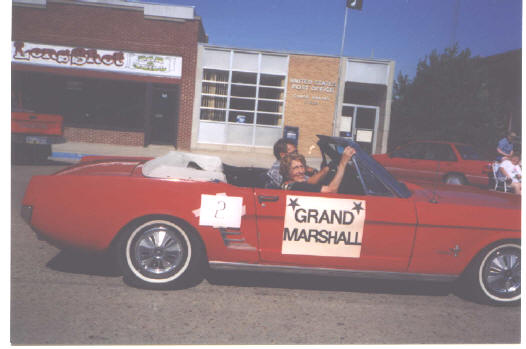 Betty Wood, 1999 Grand Marshall at the Chase Festival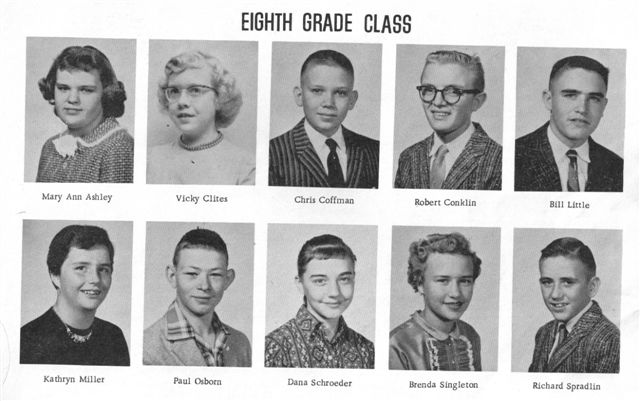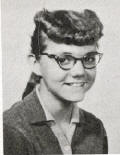 Mary Taylor

David Peebler is sending some interesting blasts from the past as he goes through them,
this is the first item. Click on the photo to see the rest as they come in.
Thanks for the memories, David.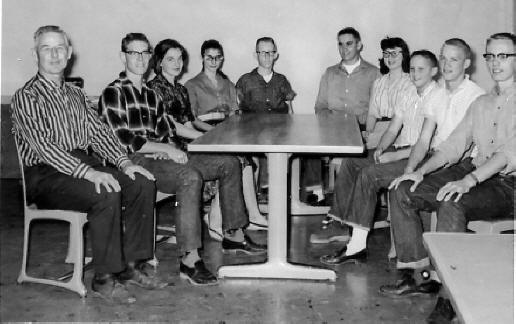 Student Council Meeting?
Mr. Martin, Dwight Smith, Dana Schroeder, Glenda Howell, Don Lindsey, David Peebler,
Paula Bliss, Allen Koen, Floyd Osborn & Dennis Ruckert.
(Please correct me if I am wrong on anyone.)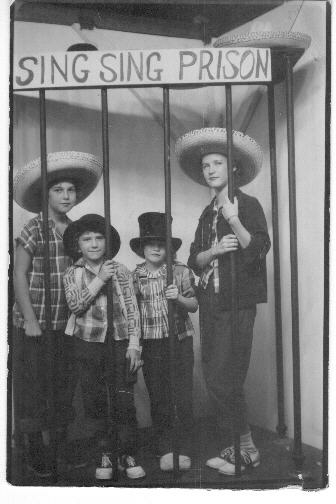 Hutchinson State Fair
Barbara Long, Sharon Long, Barbara Link & Deanna Link

Barbara Long Herbel has shared some more photos with us--
click on the above photo to see the rest of them

Frances Heine received this picture in some memoirs and thought to share.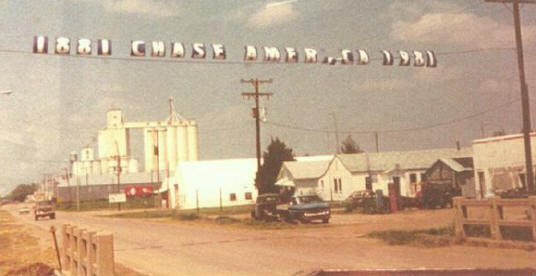 Obviously, these girls remember when!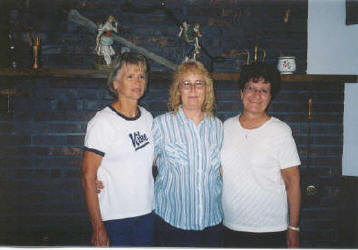 Edie Werther, Sherry Bliss and Sharon Long, '64 Classmates,
during their visit in Palco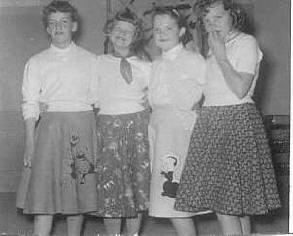 St. Mary's School friends, Barbara Meyers '63 and Barbara Link,
Carmen Malone and Sue Spangler '64.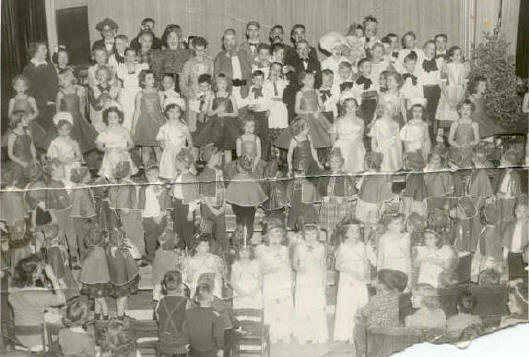 Instead of leaving alot of blanks, I will just roughly identify kids (please help us out with this - it's like a puzzle we can all put together!):
Bottom left hand corner - woman sitting taking picture is Mrs. Medskar (music teacher); front row group of angels - Annette Short, Shirley Beyers, Sharon Long, Barbara Wood, and perhaps Melanie Davis on the end. Three rows from the top - second girl from the left Mary Taylor, Effie Callis, Dana Schroeder (then two little boys) then Jolene Medskar and then the next little boy is Gary Palmer; next row down from left is Vickie Boyd, Judy Poore (below Effie Callis) and three girls to the right of Judy Poore is Vickie Clites (looking backward);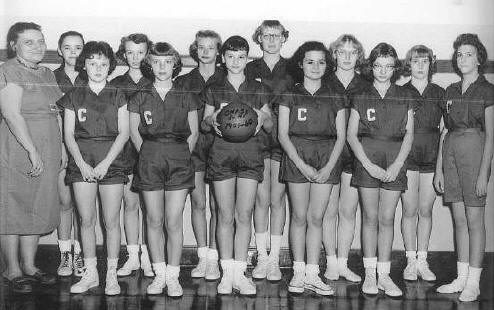 1959 Girls Junior High Basketball Team:
Candy Ball, Kathy Hulsebusch, Kay Lansing, Sharleen Hulsebusch, Karen McGee, Edith Werther, Opal Moore, Sandra Fisher, _________Schmidt, Elma Ray, Carla Garman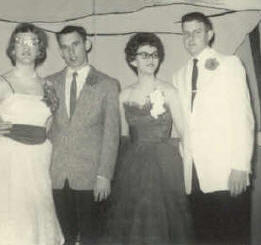 1960 Junior Senior Prom
Mary Taylor '63, Don Honeyman '62, Sheryl Kennedy '62 and Jerry Easley '62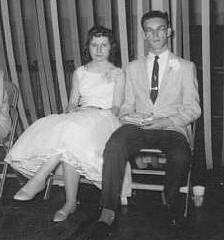 Jim Martin '60 with date Sharon Long '64 at the 1960 Junior Senior Prom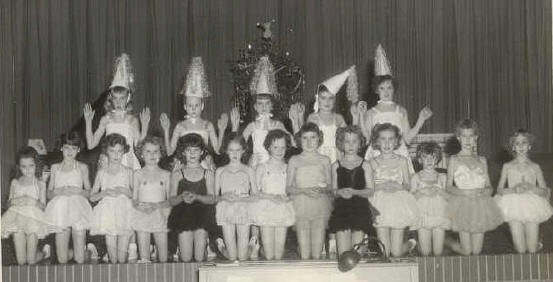 Back row: from left is _____, Sherry Bliss, Edie Werther, Carla Garman, and _____.
Front row: Georgia Stroup, Janet Stroup, Judy Stroup, _____, Vickie Neal, Suzanne Castle, Sandra Richardson,
Sharon Long, Connie Locke, Mary Lou McConnell, Patty Little, Karen McGee, Cathy Coffman.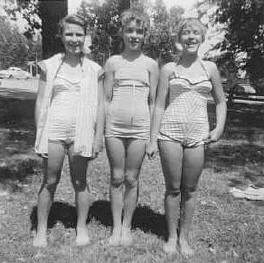 1958 BATHING BEAUTIES, SHARON LONG, MARILYN DEARDORF AND BRENDA SINGLETON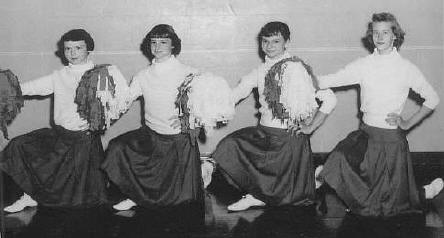 JR. HIGH CHEERLEADERS, SANDRA RICHARDSON, DIANE HONEYMAN, EDITH WERTHER AND KAREN MCGEE
('64 CLASSMATES)

The 1929 CHS basketball team, shared with us by Dr. Eugene Wood: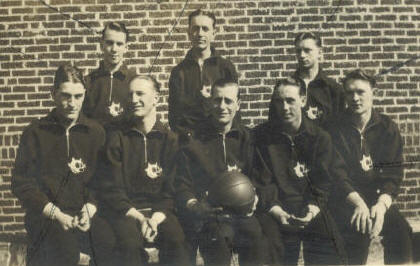 Back row: E. Wallace, R. Linke and Eugene Wood.
Front row: K. Foote, B. Linke, Austin "Toe" Linke, E. Kennedy and G. Moore.
Dr. Wood says the warmups were dark red. Check out the Felix!

The following were shared with us by Marie Wilson Musgrave:
Sadie Hawkins Day 1941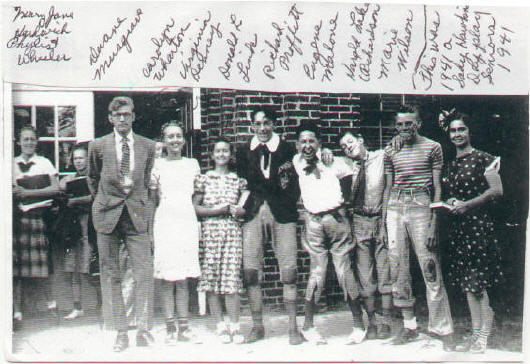 The following were shared with us by Paul Miller:
1948 CHS STUDENT COUNCIL WITH OLA KEITH
CHS 1950 FOOTBALL TEAM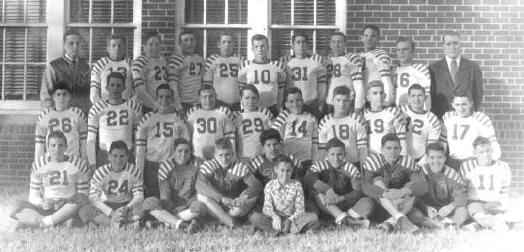 1952 SENIOR FOOTBALL PLAYERS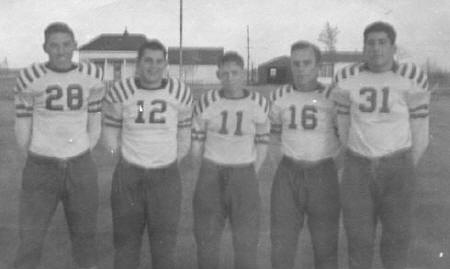 CLASS OF 1952 FIRST GRADE PICTURE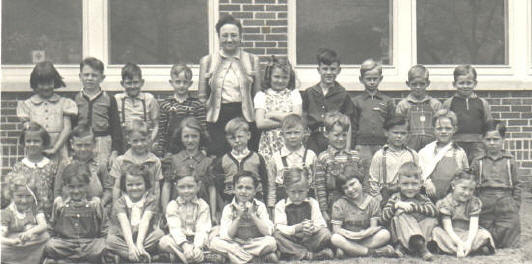 JO HIEBERT AND JANICE PETERSON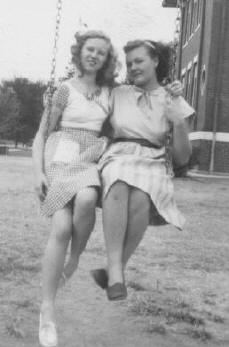 1950 JUNIOR - SENIOR PROM
PAUL, JIM AND JERRY ON A HUNTING TRIP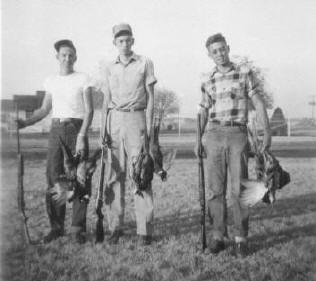 1951 - 52 BASKETBALL TEAM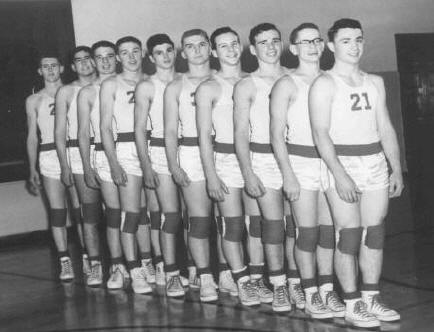 JIM BUSCH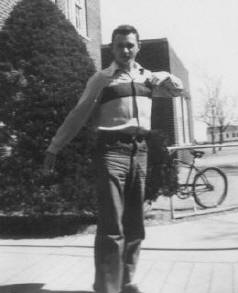 1952 SENIOR TRIP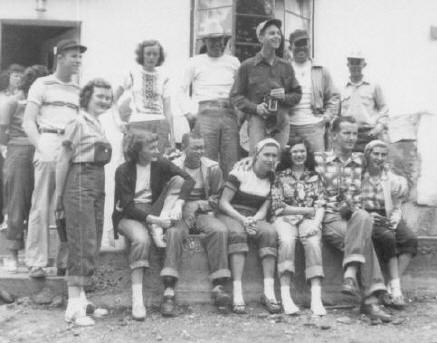 The following shared with us by Pat Werther Douglas:
Jerry Linke, Pat Werther, Mr. and Mrs. Austin Linke, Steve Malone, Beverly Kennedy, Jo Donnell, John Proffitt at the Moose Club when Jerry was home on leave from the service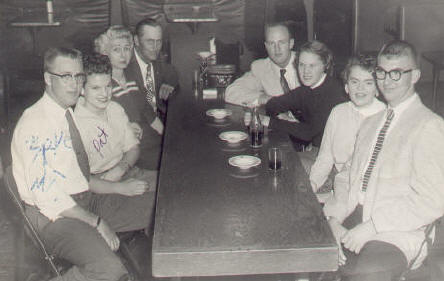 CHS CLASS OF 1960 IN THE 4TH GRADE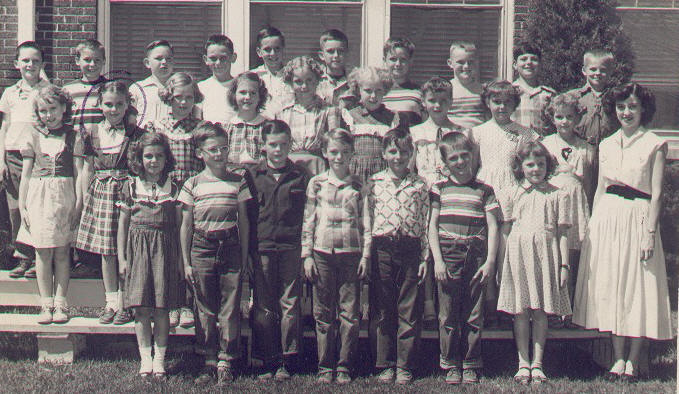 CHASE GRADE SCHOOL TEACHERS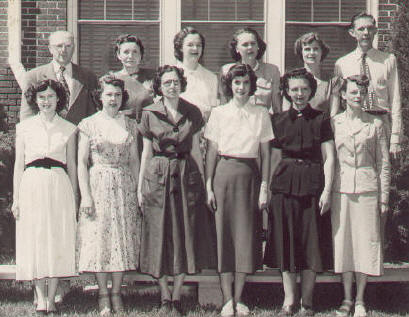 LONG TIME CHASE GRADE SCHOOL TEACHERS
MRS. WALKER, MRS. RICKER AND MRS. PAYNE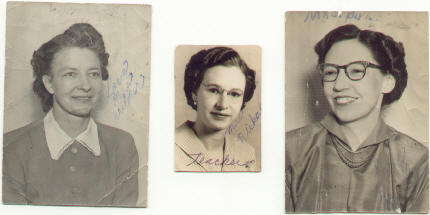 THE FOLLOWING SHARED BY THE CLASS OF 1963:
Barbara Meyeres At Freshman Initiation Fall of 1959

1963 CLASSMATES JOAN DICK, SHARON BOLDT, MARY TAYLOR AND SANDY LAESSIG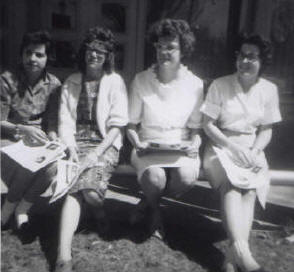 CLASSMATES TIM YOUNKIN AND MARY CAROLYN REEVES
AT FRESHMAN INITIATION FALL OF 1959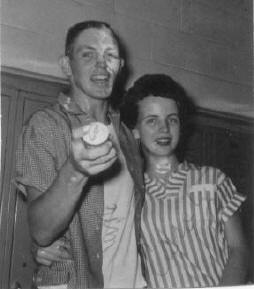 1960 CLASSMATES
PAULA BLISS (TWIRLER) AND PAULA, DWIGHT SMITH, FLOYD OSBORN,
DENNIS RUCKERT AND NADINE LINK
(Shared by Sherry Bliss Cole)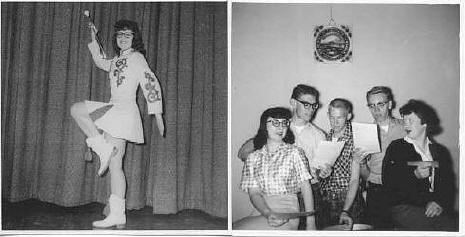 1955 CHASE GRADE SCHOOL SOFTBALL TEAM
(Shared by Sharon Huck Sailsbury)

The Smoker
(Gone but not forgotten. . . . .)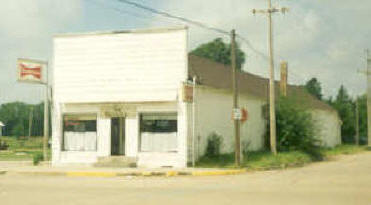 '63 CLASSMATES JULIA THARP, PAT MALONE AND MARY TAYLOR
"DOWN AT THE RIVER"
(WHERE WE WERE NOT SUPPOSED TO BE!)

Homecoming 2013, team and Alumni gathering after the game.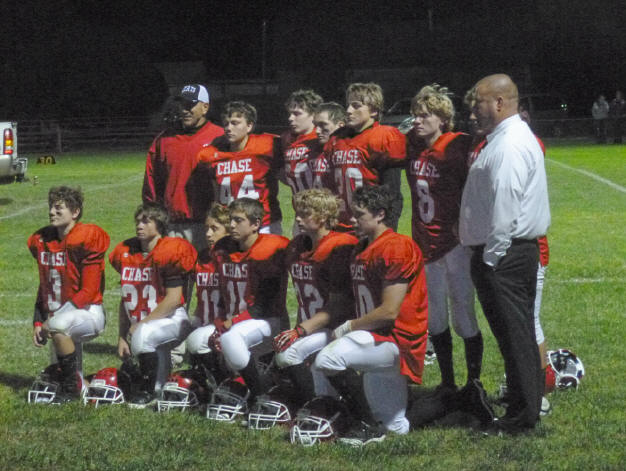 Game called by Burrton on account of an injury on their side. Chase 42 Burrton 0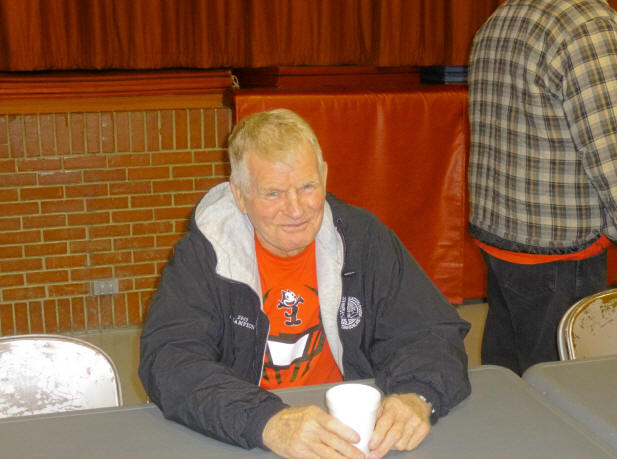 Coffee & cookies enjoyed by the Alumni at the half and after the game. Rex Hoover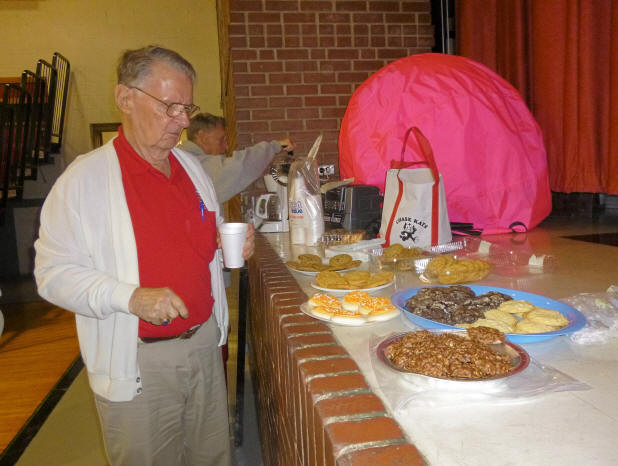 Gene Haas and Carl Helm behind him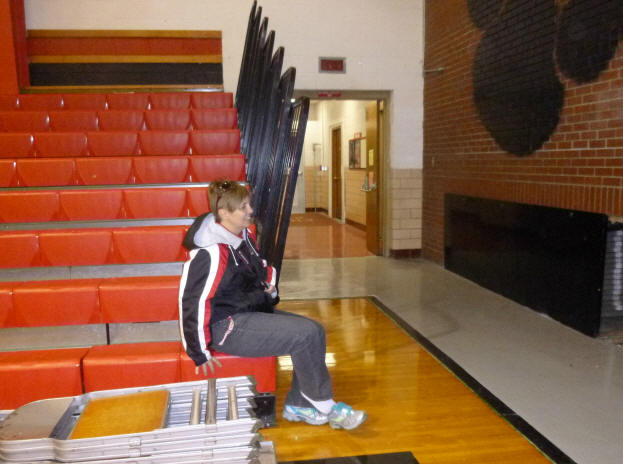 Glenna Grinstead, Principal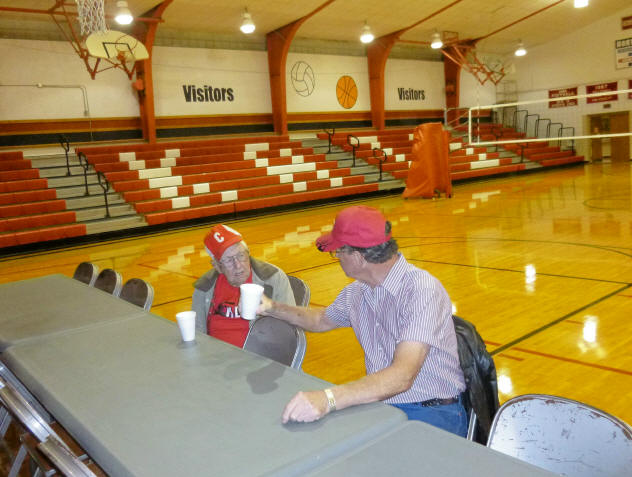 Alvin Heine & Gerald Cole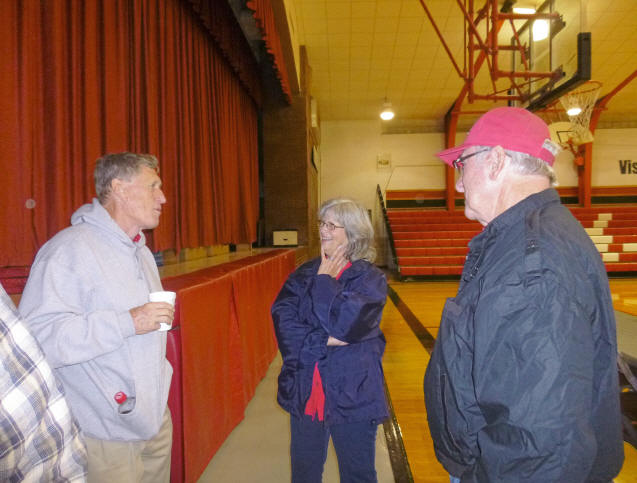 Carl Helm, Superintendent, Vickie Wilkerson, Allen Wilkerson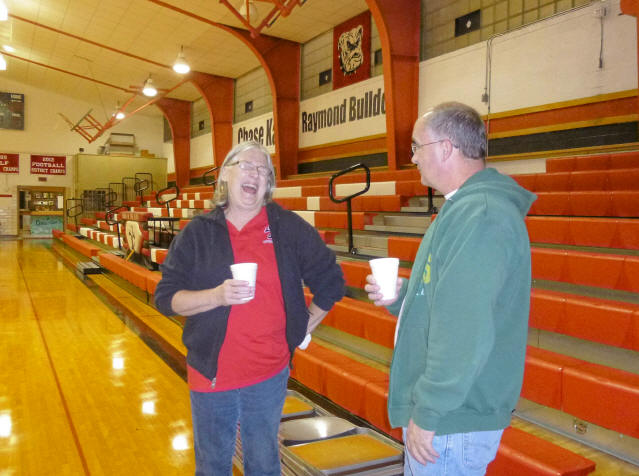 Linda Heine & Stevan Cooper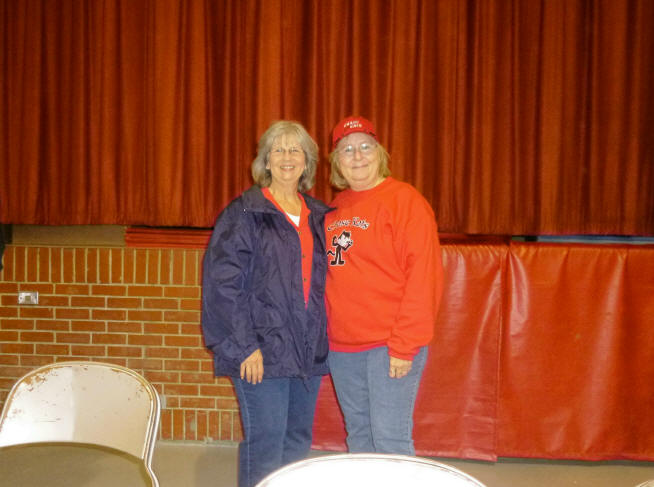 Vickie Wilkerson & Sherry Cole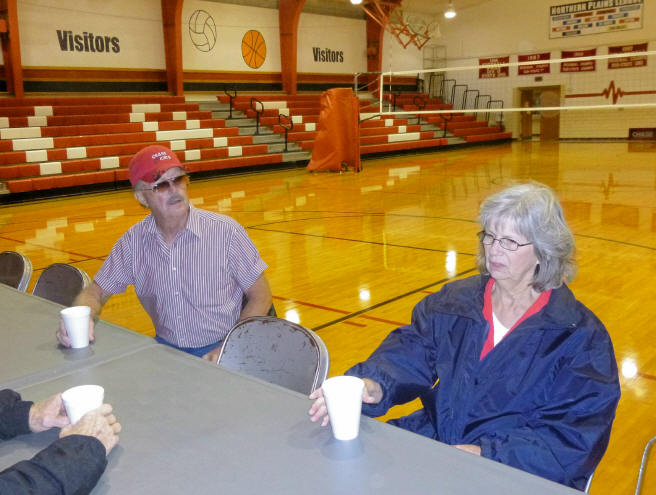 Gerald Cole & Vickie Wilkerson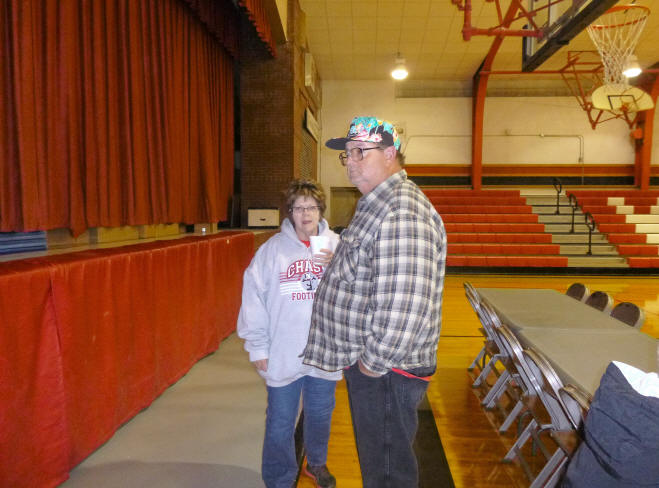 Annette Hoover & Allan Patton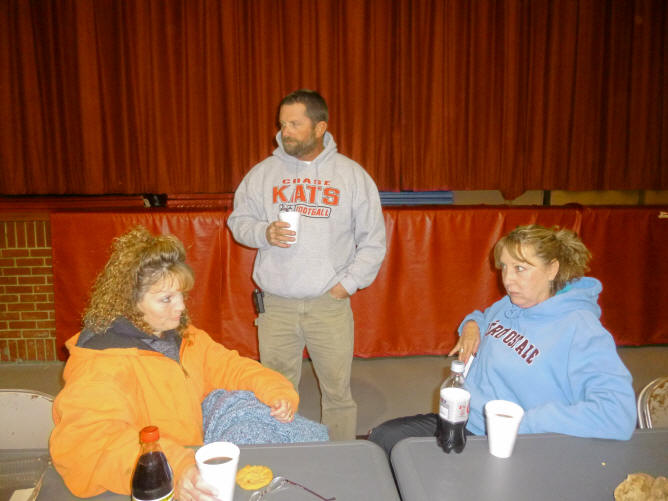 Clinton Hill, Lisa Hill, & Linda Meyeres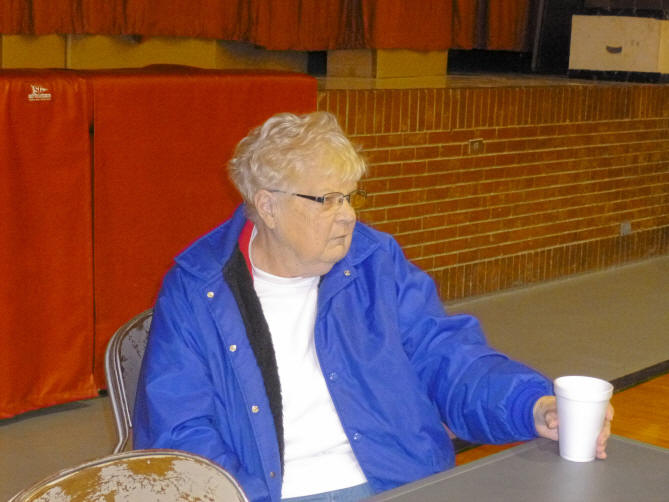 Betty Haas

Class of 1963 at one of the reunions in Great Bend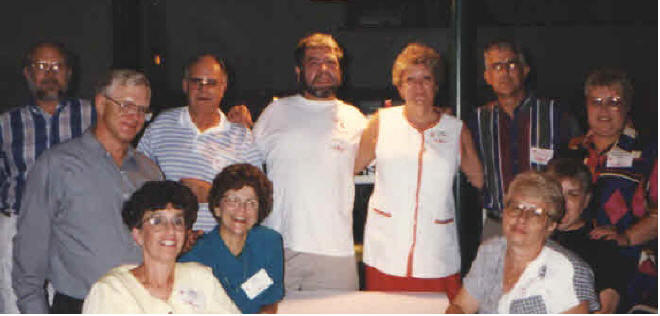 Standing: Chris Coffman, Pat Malone, Jim Fowler, Joe Martin, Mary Taylor, Ron Forshee, Brenda Singleton
Seated: Barbara Meyeres, Sharon Boldt, Billye VanSteenburgh, Mary Ann Ashley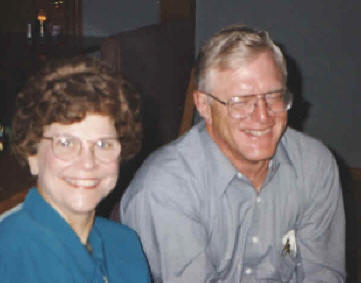 Sharon and Pat Malone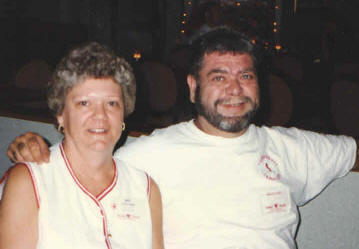 Mary and Joe

Class of 1957 Reunion, this was sent by Jo Donnell Anderson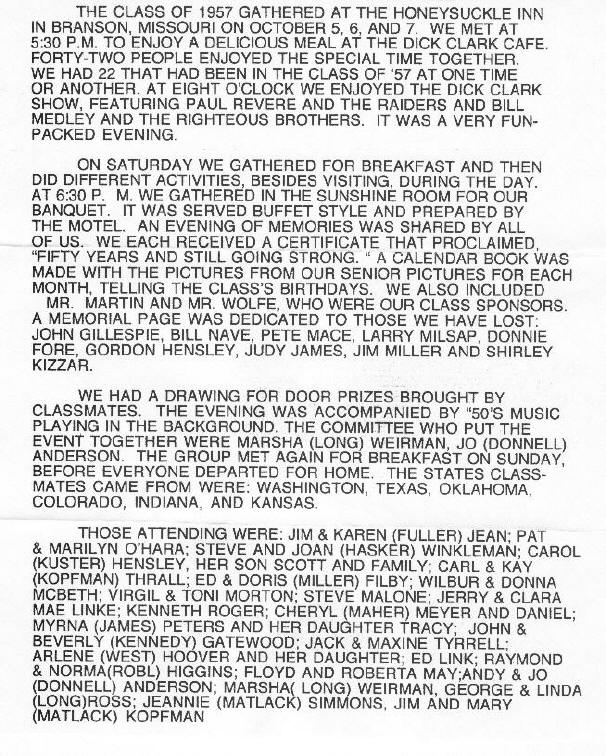 Rod Bowen, Class of 1955
I graduated from Chase High School in the class of 1955. When we celebrated our 50th class reunion a couple of years ago, I was asked to put together a cruise up the Alaska Inside Passage. This cruise will become a reality as we board the Norwegian Pearl cruise ship on May 20th, 2007 thru May 27th. We have only 22 living members of the class of 1955 and 9 are going on the cruise. We will cruise, round trip from Seattle, Washington. Our cruise will take us to the Alaska ports of Juneau, Skagway, Ketchikan, we will cruise all day in Glacier Bay, Alaska, then a stop at Victoria, Canada before returning to Seattle.
It has really been a fun adventure to put this cruise together and have such a good response. As our class members talked to friends and relatives about the cruise, they said "we want to go also".....so, we opened the cruise up to friends and relatives and the cruise quickly grew from 9 couples to a total of 44 passengers from 7 States! The passengers that graduated in 1955 are
Gene Adams, Rodney Bowen, Helen (Hammill) Bybee, Phillip Davis, Tommie (Daniel) Halfast, Melvadean (Manke) Richardson,
Bernice (Bernstorf) Singleton, Kenneth Singleton, and Leland Southern.

Chase High Cruise News +
Volume 21 June 12, 2007
Chase High School class of 1955 reunite on a 7 day cruise!!!!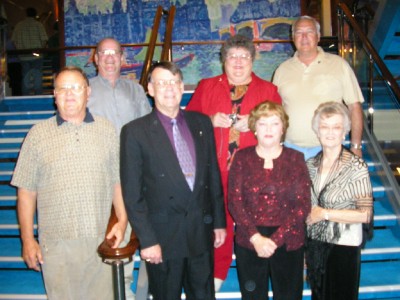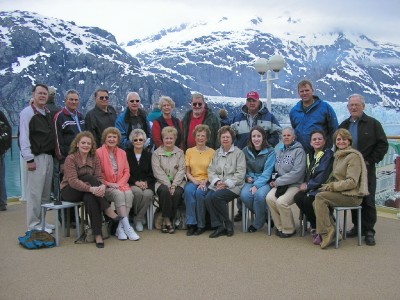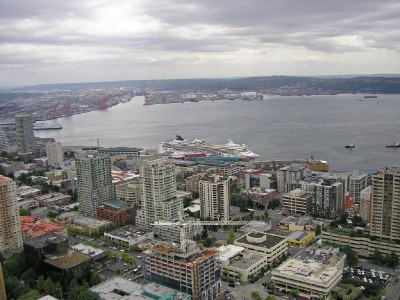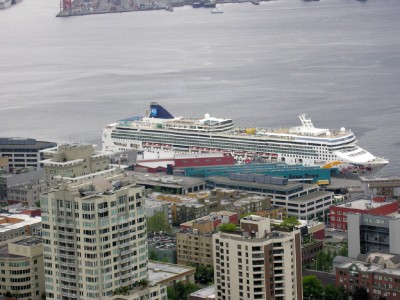 Top Picture: (Back Row) (Left to Right) Phillip Davis, Bernice (Bernstorf) Singleton, Kenneth Singleton, (Front Row) Leland Southern, Rodney Bowen, Helen (Hammill) Bybee, and Tommie (Daniel) Halfast.

Second Picture: (Back Row) (Left to Right) Rodney Bowen, J.R. Adams, Leland Southern, Tom Halfast, Sylvia Luchenbill, Fred Luchenbill, Alan Clark, Troy Martin, Gene Adams, (Front Row) Cynthia Wheeler, Nancy Bowen, Tommie (Daniel) Halfast, Barbara Buckbee, Melvadean (Manke) Richardson, Judy Adams, Jessica Heath, Sharon Clark, Gina Adams, and Starla Lumpkin.

Third Picture: Seattle, Washington in foreground and Norwegion Cruise Line Pearl in background.

The Pearl is also shown below:

The End or the Beginning?

As we packed our luggage to depart from this beautiful NCL Pearl ship on May 27th, we all wondered, "is this the end of our cruise experience or is it just the beginning of our group cruising?" The last couple of days of the cruise, many of our group were asking, when and where we would go on our next group cruise? If we go on another cruise, it will be difficult to find a cruise as beautiful as the Alaska Inside Passage!

This group cruise started out with nine of the twenty-two living class members of the Chase Graduation Class of 1955. We later added friends and relatives of the class and our group quickly grew to fourty-six passengers!

Who?...The following class members met to board a cruise ship! Gene Adams, Rodney Bowen, Helen (Hammill) Bybee, Phillip Davis, Tommie (Daniel) Halfast, Melvadean (Manke) Richardson, Kenneth Singleton, Bernice (Bernstorf) Singleton, and Leland Southern.

Friends and relatives of the nine class members were: Starla Lumpkin, J.R. & Judy Adams, Nancy Bowen, Nadene Bishop, Alan & Sharon Clark, Mary Jane Davis, Tom Halfast, Russ, Melanie & Jessica Heath, Dave & Ebby Jacobs, Fred & Sylvia Luchenbill, Don & Dorma Ramsey, Barbara Buckbee, Troy & Gina Martin, Mark & Betty Pryor, Dennis & Linda Rice, Barbara Pomeroy, Warren, Gleora & Kevin Strauss, Cynthia & Brittany Wheeler, Rodney Charles & Skyler Bowen, Sherry Smook, Tammy Roberts, and Royce & Chris Rogge. You will probably recognize the names of many of the friends and relatives as they are good friends, spouses, daughters, brothers, sisters and even grandchildren represented. Some of these are also graduates from Chase in a year other than 1955!

When?... Cruise dates May 20, 2007 thru May 27th, 2007!

What?... 7 Day Inside Passage of Alaska Cruise. Reunion of the class of 1955 Chase High School Graduation Class!

Where?... The cruise was round trip out of Seattle, Washington, with stops at Juneau, Alaska which is the only State Capitol with no roads available to come and go from the city. To get to or from this State Capital, you will need to take a plane or ship! It is the home of the Mendenhall Glacier, the Alaska State Museum, the famous Red Dog Saloon! Skagway, Alaska is where we saw the path of the Klondike Gold Rush National Historical Park from the narrow gage railway which took us to White Pass which is on the boarder of Canada and Alaska. Ketchikan, Alaska is the site of more totem poles than anywhere else in the world. It also has the title of the Salmon Canning capital of the world. We spent a day in Glacier Bay, where we were able to see giant glaciers that grew to 2,000 feet thick. When the glaciers calve, the pieces of ice falling into the water become ice bergs, no matter how small they are. We saw lots of ice bergs! Victoria, British Columbia has the most beautiful flower gardens you will ever see! Then we returned to Seattle where many of us went on tours of the city, either before or after the cruise. Some of us went up in the Space Needle to eat a brunch....it was high in more than one way!!!!

We had a total of 46 passengers in our cruise group and all had a wonderful experience. There were many first time as well as experienced cruisers in the group. Any Chase High School alumni who wish to be included for future cruises at great rates may contact me!

Rod Bowen

128 South Dartmouth Drive

Manhattan, Kansas 66503

Phone: (785) 539-6207

Chase High School Class of 1956 50th Reunion
September 7-10, 2006 Kansas City, MO

The CHS Class of 1956 held their 50th Reunion in Kansas City on Sept.
7-10, 2006. We had 42 people in attendance including 17 class
members, spouses, several former class members, and a former teacher.
We stayed at the Hampton Inn at the Country Club Plaza. On Friday
morning we had a City Tour of the KC metro area with a tour guide who
was very informative. After the tour our bus dropped us off for lunch
at Arthur Bryant's Barbeque in the 18th and Vine area (Jazz area). This
is the original location of one of the oldest barbeque establishments
in KC. Food was very ample and worth the stand in line wait. In the
afternoon, some of went to an Art Museum where a former classmate,
Marilyn Chastain Larson, had her art featured. She met us there and we
enjoyed talking to her and viewing her paintings. Others went to the
Casinos, shopped and had dinner in the area.

On Saturday morning, we had a tour of the Steamship Arabia Museum.
The Arabia sunk in the Missouri River in the mid-1800's and as the
river shifted over the years, was excavated in a farmers field near
KC. The family who did the whole project has cleaned and preserved
thousands of items that were found on the ship and have them displayed
in the museum. We all marveled at all the items from the pre-civil war
era that were there to view.

Saturday night was our final time together and we were entertained in
great New Orleans/Cajun style at the home of Jim and Karen Becker. Our
class went to New Orleans for our Senior Trip in 1956 and we had hoped
to celebrate out 50th Reunion there, too. After Katrina, we decided
that we should choose an alternate location. Thus, we settled for
Kansas City. Karen Becker is a New Orleans native and she volunteered
to plan, prepare and serve us a "New Orleans" meal to give us a little
taste of the city. We dined on 3 kinds of seafood hors d'oeuvres,
shrimp cocktail, red beans and rice, chicken gumbo, crab pastries,
potato salad and French bread. Then for dessert, the famous "King
Cake" from Mardi Gras, lemon cake with strawberries and pecan pie! It
was a wonderful meal! The house was decorated with red and white roses,
which were our class flower and colors with the dining room having
purple, green and gold Mardi Gras Colors. It was a very special night
and we want to thank Jim and Karen for being such gracious hosts to
our group of forty-two.

After the meal, we introduced Miss Dorothy Blackburn who was our 3rd
and 4th grade teacher at Chase Grade School. She lives in Overland
Park and looks a very youthful 82. She told us a little about what she
had been doing these past years, since she left Chase.

Our class has always loved reunions and we have a new Reunion
Chairman, Doug McConnell, who is already planning our next reunion. We
can't wait!

Pat Lindsay Towns
The list of attendees:
Pat and Major Towns, Lois & Bob Hoppes, Dan & Barb Martin, Willie & Jim Martin, Bob & Marie West, Keith & Leota Boldt, Doug & Karen McConnell, Jim & Karen Becker, JR & Judy Adams, Kenny & Kathy McNutt, Brad and Sandra Pugh Bradford, Russ & Carol Gibson, Jack & Joyce Link, Ray & Barbara Young Grier, Margaret Doll, Nancy Pratt, Barbara Buckbee, Shirley Ingham, Dora Holliday & Valerie Schultz, Gerry Long, Kay Cochrane, Gene Adams, Helen Hamill,
Jean Sink, Dorothy Blackburn, Barbara Pomeroy and Leland Southern.
Here are a few photos---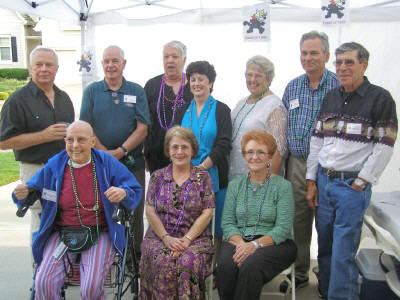 All who attended all 12 years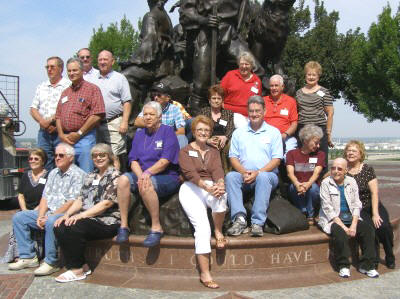 The group in Kansas City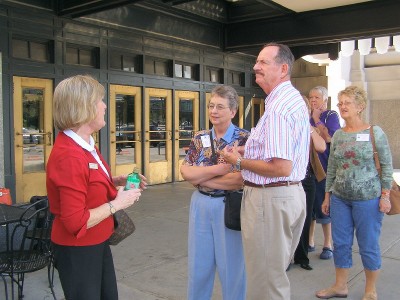 At Grand Central Station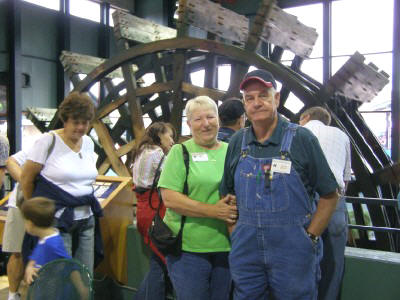 At steamship in Arabia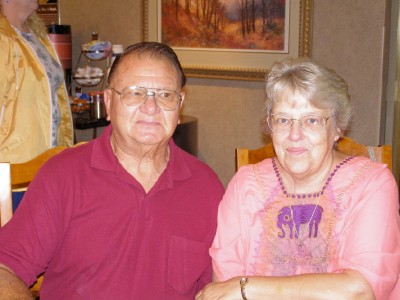 Leland Southern & Barbara Pomeroy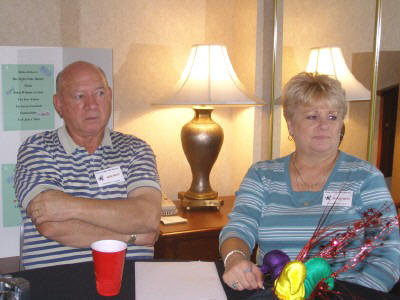 Bob West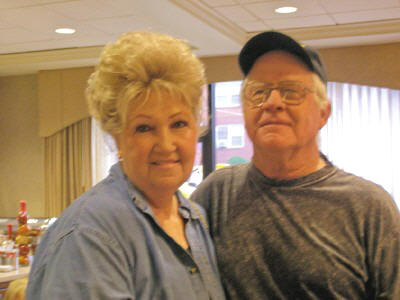 Barb & Dan Martin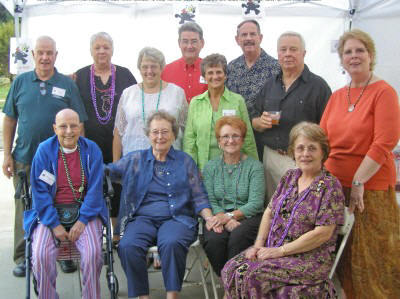 Dorothy Blackburn & her 3rd & 4th grade students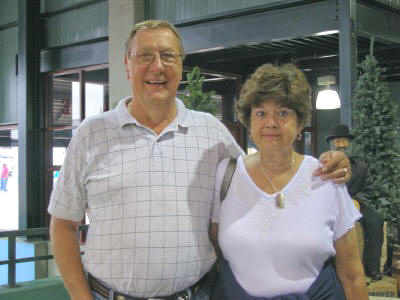 Doug & Karen McConnell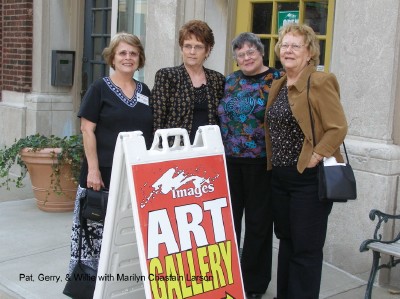 Girls at Art Museum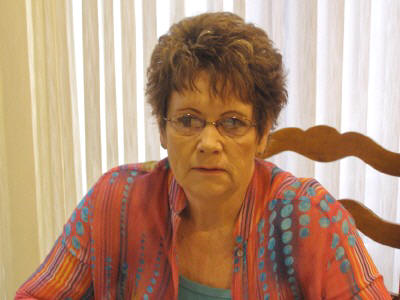 Gerry Long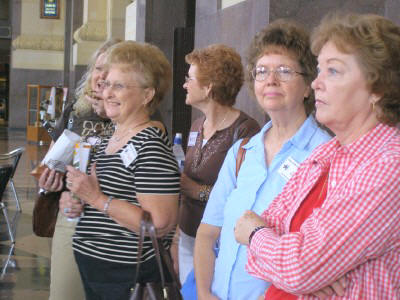 Grand Central Station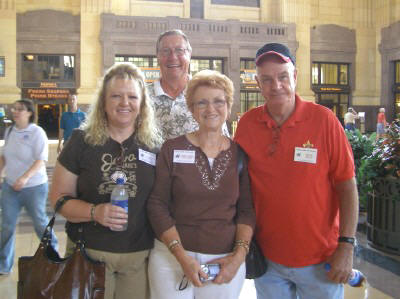 Grand Central Station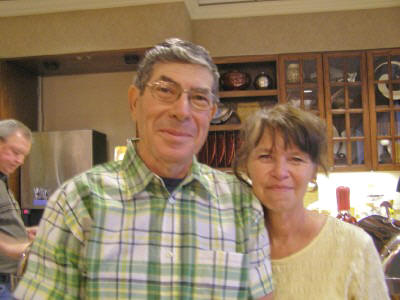 Jack & Joyce Link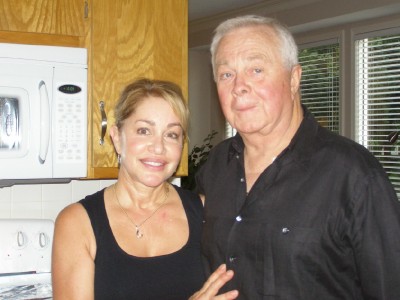 Karen & Jim Becker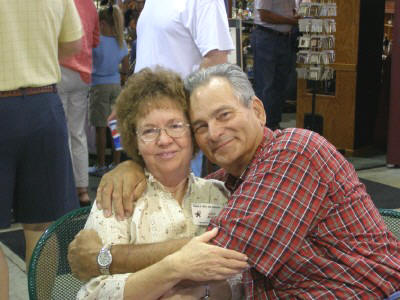 Judy & JR Adams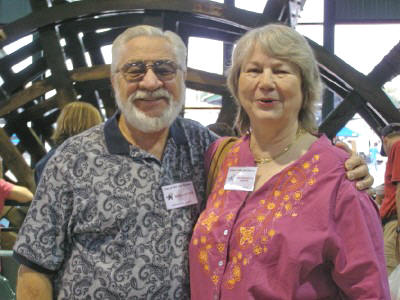 Bob & Lois Hoppes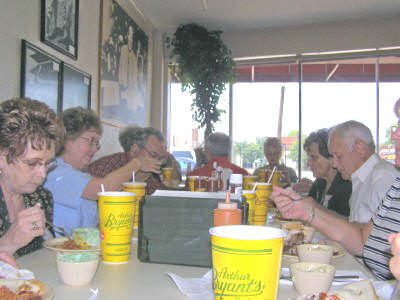 Lunch at Arthur Bryants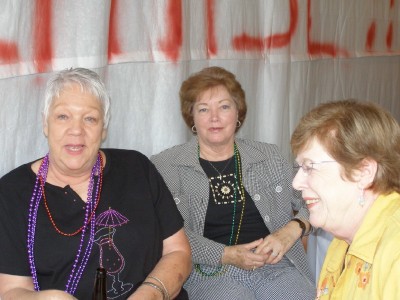 Margaret, Helen, Jean at The Becker's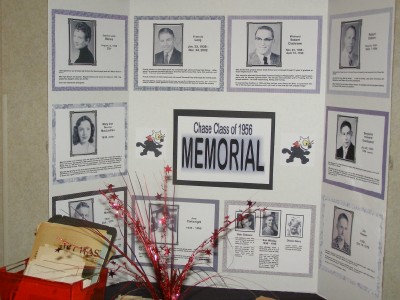 In memory of classmates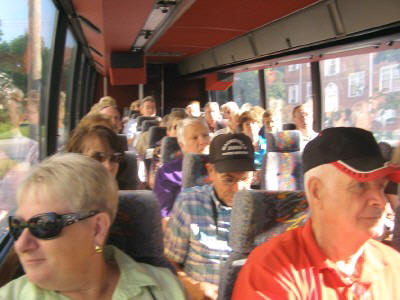 On the city bus tour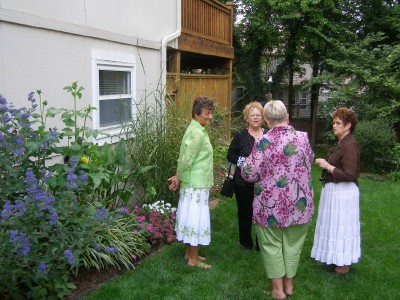 Outside at The Becker's home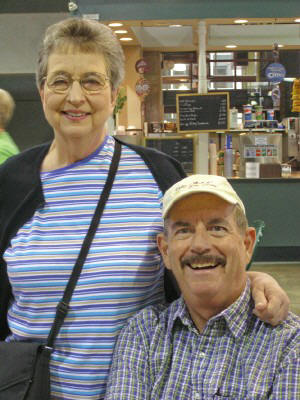 Carol & Russ Gibson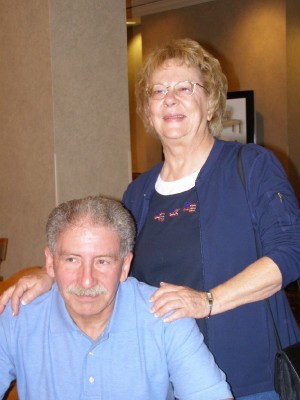 Jim & Willie Shutt Martin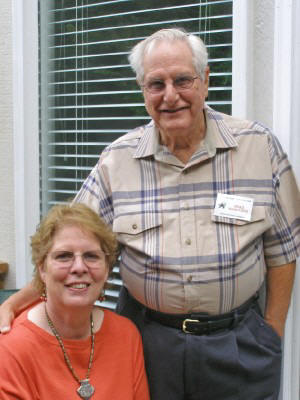 Sandra Pugh Bradford & Jim

Photos from the Reunion at Red River, NM
August 5, 2006
Shared by Barbara Grob, Janice Peterson & Paul Miller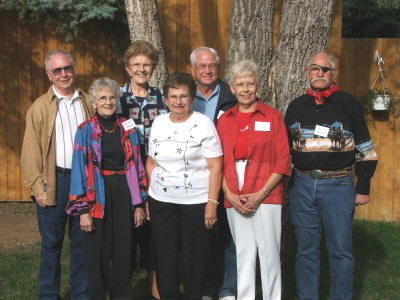 Class of 1951 celebrating 55 years
Back, Jim Hembree, Ann (Harmon) Price, Marion Towns
Front, Rita Sharpe, Linda (Smith) Colberg,
Barbara (Purkepyle) Grob & Bob McClary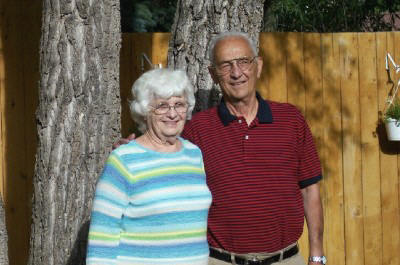 Betty & Bud Fisher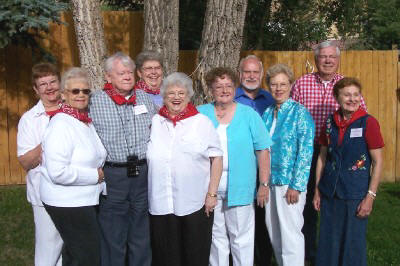 Class of 1952
Back, Janice (Foote) Peterson, Kathryn (Purkepyle) Huschka,
Floyd Bayer, Paul Miller
Front, Helen(Campbell) Inman, Carl Ashley,
Colleen (McPherson) Taylor, Jean (Hiebert) Hembree,
Jo (Gibson) Peterson, & Twila (Coffey) Flowers

A little report on the CHS Class of 1951 - 55th Reunion - held in Red River, NM this past weekend. What a charming little town for a relaxed get-together!
We gathered at the Black Mountain Lodge, owned by Bud and Betty Fisher, for the start of events. Thursday evening we had a cookout in the patio area that was enjoyed by all. Bob and Pat McClary did a great job in making the food preparations and Kathryn (Purkeypyle) Huschka furnished desert. We also had birthday cake in celebration of Bob's birthday. That night Major Towns presented us with his "Chase Memories - Class of 51" DVD that he made and gave to each of us, and what an evening of reminiscing!
Friday evening we went to dinner at Capos Italian restaurant and after, attended the Melodrama, which included local talent. A relaxed day and fun-filled evening was planned by Major and Pat Towns.
Friday and Saturday morning we had coffee, juice, donuts and cinnamon rolls provided on the patio of the Black Mountain Lodge mixed with lots of visiting and looking through old photo albums.
Saturday evening we were invited to Bud and Betty Fisher's beautiful home. Janice Peterson, Twila Flowers, and Roseanne Thomas planned the catered dinner and provided lovely decorations for this event. A delightful evening of visiting, photos, and family updates.
Sunday morning we gathered at a local restaurant to bid our farewells and review plans for our next reunion. They say it can't be too soon!!
Those attending the 55th Reunion of the Class of 1951:
Class of 1951
Olive Ann (Harmon) and Glen Price
Jim and Jean (Hiebert) Hembree '52
Linda (Smith) Colberg and Daughter Debbie Richardson and Paul
Major and Pat (Lindsey)Towns
Barbara (Purkeypyle) Grob
Class of 1950
Mike and Roberta (Halfast) Allen
Class of 1952
Paul and Roseanne (Thomas) Miller
Colleen (McPherson) and James Taylor
Mary Jo (Gibson) and Leif Peterson
Kathryn (Purkeypyle) Huschka
Our Teacher
Verlyn "Bud" and Betty Fisher
Hoping all those attending that took photo's will share a few with you for the CHS web site.
As you can see, planning this event was made easy by all the participation and help of many other classmates. My thanks and appreciation goes out to all of them! They made my job easy.
Barbara (Purkeypyle) Grob

The Class of 1969 (The "69"ers!) held their 35th reunion the
weekend of September 2, 2004, in Wichita at the Four Points Hotel.
Part of the group met on the 2nd for dinner: Mike Crace of
Mendota Heights MN was a special guest at the reunion.
He was with the class of 1968 but considers himself a part of
the "69'ers". Also arriving early were Art & Sandi Younkin
of Haysville KS, Dorothy Link Lamb of Topeka KS, and
John and Judy Truhlar of Turon KS. The following day other
members and spouses arrived at the hotel for an informal night
of fun, food, singing, dancing, and "toasting". Everyone
had a great time. Those joining the above group were:
Jim Campbell of Hutchinson KS, Rick Kloxin of Lyons KS,
Debbie Schmidt Steffan and husband Larry of Chase KS,
Ruth Popp Miller and husband Don of Chase KS; Art Cooper and
wife Janie of Bennington KS, Janie Steffan Haxton and
husband Larry of Claflin KS, Debbie Denny Easterling and
husband of Chase KS, Chuck Gray and wife Janet of McCook NE,
Darren Thornton and wife Charla of Denver City TX, Bob and
Ann Kopfman of Hutchinson KS. On Saturday, the 4th,
all attended the Wichita Greyhound Park for lunch, betting
on dog races and photo ops - no big winners but all had a lot
of fun. Fred Starnes and his wife joined the group for a short visit.
That evening the group went to the Wyldewood Wine Cellars
south of Wichita for the Murder Mystery Comedy Dinner Theater
where the wait staff were the actors in the play. A great meal
was enjoyed by all. After the show most of the group returned
to the hotel for a little more visiting. Sunday morning brought
good-byes with all promising to not let so much time go
by before meeting again! Many thanks to Art Younkin for
sending this info for the web site.

The Class of 1964 held their 40th reunion the weekend of August
28, 2004 at Kenny and Judy Malone's farm southeast of Chase.
Kenny and Judy were perfect hosts and it couldn't have been
any better! Attending were: Co-Hosts Gerald and Sherry (Bliss)
Cole, Edie Werther Couture, Merle and Patty (Link) Lewis, Allen
Koen, Marilyn Dupont Allmon, Jim and Sandi (Richardson) Hodnett,
Larry Ashley, Gary Huck, Howard and Judy Kennedy, Sharon
(Long) Bradford, Annette Short Hoover and Allen Patton, Keith
and Grace Gillespie Lumpkins. Brenda Singleton Nightengale
and myself (from the Class of 1963) also attended. Cook
for the event was J. L. Harold. We celebrated Gary Huck's
birthday. The group enjoyed the many old pictures gathered
for the event (Kenny and Judy had a whole room filled with
yearbooks, pictures and mementoes from school years);
Kenny's wonderful array of John Deere antiques and collectibles;
the farm kittens (!); and Larry Ashley's car! A gift was presented to
Kenny and Judy by Sherry on behalf of all attendees for their
efforts and Judy presented Sherry and myself with beautiful quilted
photo albums with Felix on the covers. We treasure them!
On Sunday morning most of the group met in Lyons for breakfast
before farewells were said. Many thanks to Kenny and Judy from
the entire group for hosting such a special event!
You were the greatest!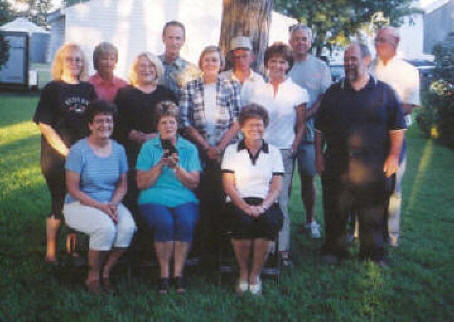 Back row: Sherry Bliss Cole, Edie Werther Couture, Patty Link Lewis,
Allen Koen, Marilyn Dupont Allmon, Kenny Malone,
Sandi Richardson Hodnett; Larry Ashley, Gary Huck, Howard Kennedy
Sitting: Sharon Long Bradford, Annette Short Hoover and
Grace Gillespie Lumpkins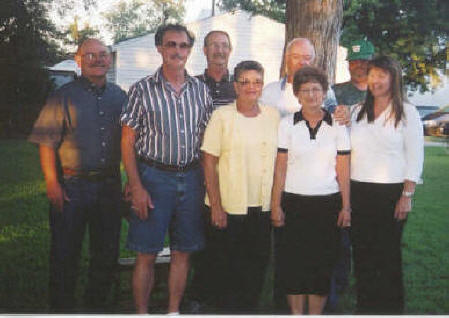 Spouses and Friends: Jim Hodnett (Sandi Richardson Hodnett),
Gerald "Cole" Cole (Sherry Bliss Cole), Merle Lewis (Patty Link Lewis)
Judy Malone (Kenny Malone), Keith and Grace Lumpkins, Allen Patton
(Annette Short Hoover), and Judy Kennedy (Howard Kennedy)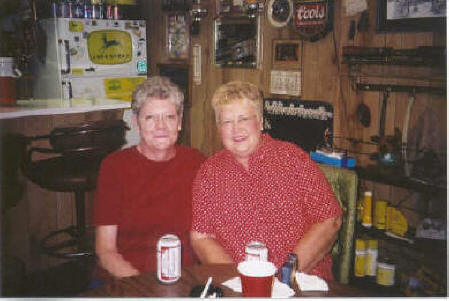 1963 Classmates Mary Taylor Johnson and Brenda Singleton
Nightengale joined in on the fun!

The Class of 1959 met in Hutchinson and Chase to
celebrate their 45th. Attending were Kenny and Dolly Lawler,
St. Paris, OH; Jim and Mary Matlack Kopfman, Platteville CO;
Max Tharp, Ulysses KS; Randol Walker, Topeka KS; Curt and
Hughlene Kinslow Gillespie, Chase KS; Peggy Osborn Sheridan,
Ellinwood KS; and George and Linda Long Ross, Hutchinson KS.
Also visiting with the group was Linda's sister,
Marsha Long Wierman. They stayed at the Holiday Inn Express
here in Hutch on June 4th and 5th. They enjoyed lunch
in Chase on Saturday and drove around the area reminiscing.

Class of 1943 enjoyed themselves on May 17, 2003 at the
CHS High School Graduation. They visited in the afternoon,
toured the school, had supper together and attended
graduation. Jud Dupy, past president of the CHS Alumni
Association, and Alvin Heine, treasurer, presented each
senior with a gift from our association. Class members attending
were Jud Dupy, Alvin & Frances Heine, Jim Hooper and
his daughter, Karen, Abbie Slentz Kenagy and her son,
David, Marilyn Link Muth, Jim and Ella Mae Sharpe,
and Betty Kirsch Wood who is an "honoree" class member.
Pictured below are: Alvin Heine, Abbie Slentz Kenagy,
Jim Sharpe, Marilyn Link Muth, Jud Dupy and Jim Hooper: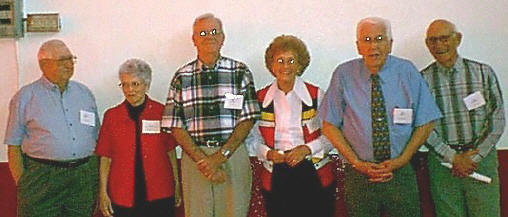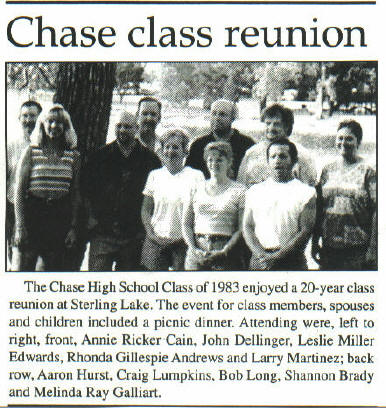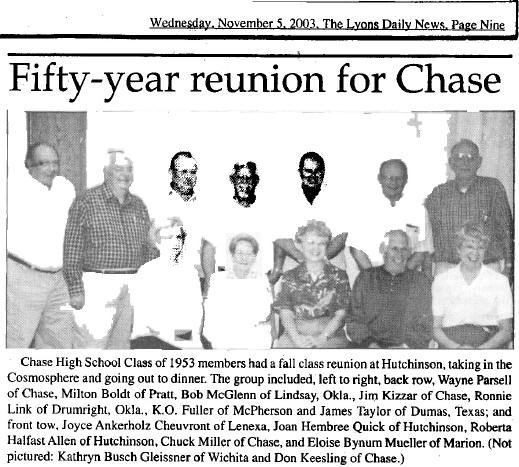 MARILYN PEARCE O'HARA AND KAY KOPFMAN COCHRANE
(JOHN DICK IN THE BACKGROUND)
AT ONE OF THE OLD SETTLERS' DAY REUNIONS IN THE PARK AT CHASE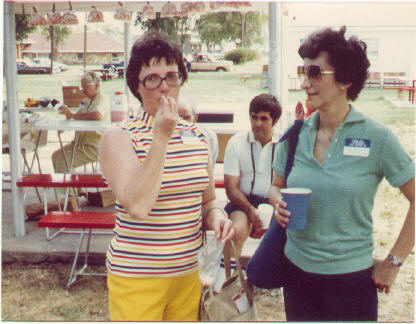 PAULINE ADAMS WITH FRANCIS LONG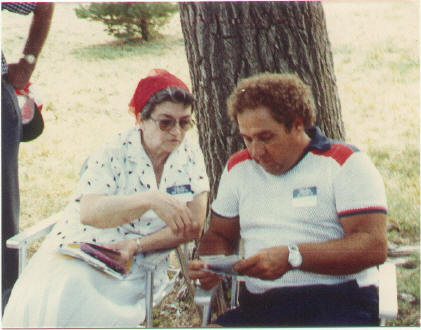 JEAN LINDSAY AND BARBARA LANSING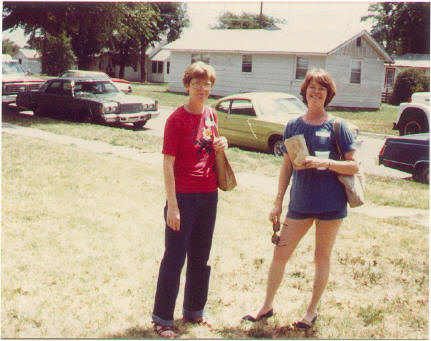 CLASS OF 1961 AT GREAT BEND REUNION
Jack Boyd, Donna Kelso, Paula Bliss, Nadine Link
Bob Reynolds, Jay Laessig, Leonard Reed
(Shared by Sherry Bliss Cole)




CLASS OF 1963 AT GREAT BEND REUNION
Pat Malone, Mickey Wasinger, Joan Dick, Barbara Wood, Ron Forshee, Bernard Martin,
Sharon Boldt, Joe Martin, Mary Taylor, Chris Coffman and Bob Coffman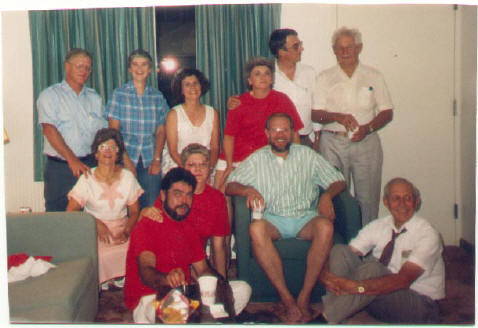 CLASS OF 1964 AT THEIR 30TH YEAR REUNION
(SHARED BY SHERRY BLISS COLE)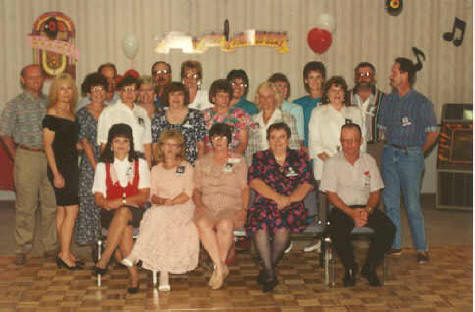 Back Row--Howard Kennedy, Jim Gillespie, Jerome Steffan, Karen McGee Gilkey,
Judy Casey Mares, Marilyn DuPont Allmon, Joyce Casey Brady, Dick Keesling & Allen Koen
Middle Row--Sherry (Bliss) Cole, Judy Stroup Albin, Carol Kirsch Mitchell, Sue Spangler York
Janet Stroup Bybee, Barbara Link Phelan, Sharleen Hulsebusch Reed, Patty Link Lewis
Front Row--Edie Werther Couture, Mary Ann Simmons Johnson,
Annette Short Hoover, Linda Truhlar Miller, & Kenny Malone

CLASS OF 1964 AT 35TH YEAR REUNION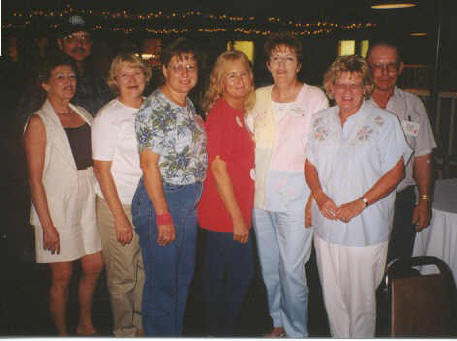 Connie Adams, Jerome Steffan, Patty Link, Carol Kirsch, Sherry Bliss,
Vicki Mernaugh, Barbara Link, Kenny Malone
Click here for Page two of "Do You remember When?"

Back to home page